Fall is synonymous with bread baking in my home. And not just any bread baking. Anything Pumpkin. Squash rolls top the chart every time and no one at home is bored of them. It remains the family's favorite bread, especially the teen's. A few of my friends recently reminded me that I had not sent the squash rolls their way in a long time – Like 6 whole months! And extracted a promise that I would bring them some as soon as I made them.
I tried to fulfill the promise, but this time I had different plans for the rolls. I added some pumpkin spice, and used the Tangzhong method to make the bread. I wanted rolls that were softer even after a day or two. The teen loves to take a few to school for snacking.
I changed up my recipe for the squash rolls and added the tangzhong into it. The result was a soft pillowy texture that I wanted. I ate it with some cream cheese topped with pumpkin spice and pecans.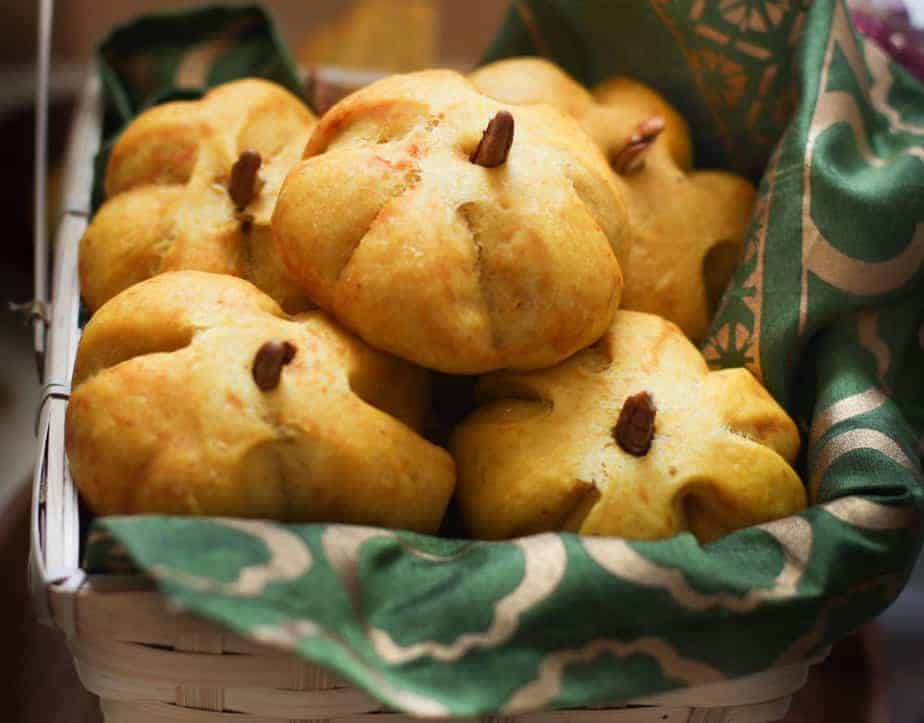 Let's take a look at the other Fall Flavors being shared today by the Bread Bakers. Wendy was our delightful host this month and she choose the theme hearty fall breads . Wendy Blogs at : – A Day in the Life on the Farm
Apple Raisin Bread from A Shaggy Dough Story
Pumpkin Dinner Rolls with Cinnamon Butter from Bread Therapy
Pumpkin Raisin Bagels from Cook's Hideout
#BreadBakers is a group of bread loving bakers who get together once a month to bake bread with a common ingredient or theme. Follow our Pinterest board right here. Links are also updated each month on this home page.
We take turns hosting each month and choosing the theme/ingredient.
If you are a food blogger and would like to join us, just send Stacy an email with your blog URL to foodlustpeoplelove@gmail.com.
Pumpkin Bread Rolls #BreadBakers
Ingredients
For The Tangzhong (Flour-Water Roux)
1/3

cup

all-purpose flour

1/2

cup

water

1/2

cup

milk
For dough
1/2

C

Milk

1

C

cooked squash [butternut

pumpkin]

1/3

C

Tangzhong [made from above ingredients]

1/2

C

unsalted butter

1/2

C

sugar

1

Tsp

Salt

1

Tbs

yeast

1/2

C

water

6- 7

C

of all purpose flour

1/2

tsp

your favorite pumpkin spice

1

egg for egg wash

Pecan halves for using as stems
Instructions
Make Tangzhong
Whisk together lightly the flour, water and milk in a saucepan until smooth and there are no lumps. Place the saucepan on the stove, and over medium heat, let the roux cook till it starts thickening. Keep stirring/ whisking constantly so no lumps form and the roux is smooth.

If you have a thermometer, cook the roux/ tangzhong till it reaches 65C (150F) and take it off the heat. If like me, you don't have a thermometer, then watch the roux/ tangzhong until you start seeing "lines" forming in the roux/ tangzhong as you whisk/ stir it. Take the pan off the heat at this point.

Let the roux/ tangzhong cool completely and rest for about 2 to 3 hours at least. It will have the consistency of a soft and creamy crème patisserie. If not using immediately, transfer the roux to a bowl and cover using plastic wrap. It can be stored in the fridge for about a day.
Make the bread
Warm the water, add yeast to proof.

Warm milk, add the butter. Mix

Add sugar and let it dissolve.

Once the yeast is ready in about 15 minutes, mix all the ingredients and make the dough, adding in the Tangzhong.

The dough will feel sticky but don't be tempted to add more flour. Knead the dough until it becomes a soft pliable dough.

Cover and Let the dough rise to almost double – about an hour

Shape into rolls, line them on a pastry sheet covered with parchment paper.

Let them rise again, covered ,for about 30 minutes, brush with egg wash.

Bake at 350* F for 15- 20 min
Recipe Notes
To make them into pumpkin shapes, Roll the dough balls and flatten each ball slightly with the palm of your hand and using a pairing knife, make six to eight slices around the ball. Don't slice through the middle! As soon as the pumpkin rolls come out of the oven, stick in a pecan half on top.