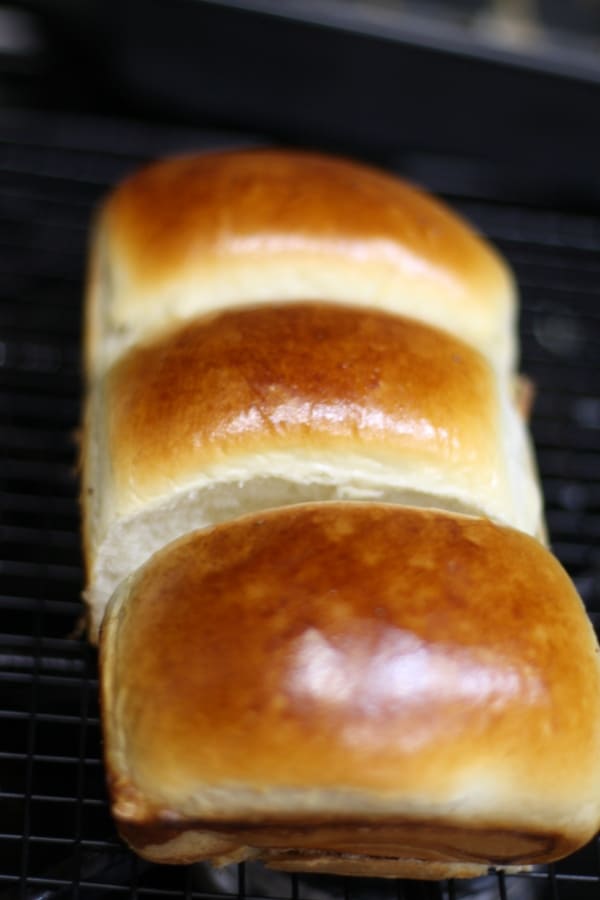 The smell of good bread baking, like the sound of lightly flowing water, is indescribable in its evocation of innocence and delight… – M.F.K. Fisher, from The Art of Eating
I think when MFK fisher said that she was thinking about the Hokkaido bread made with the Tangzong method.  Well may be not really, but a girl can hope, especially when these were the exact feelings I had when baking this bread.
The amazing tangzhong or water-roux method was introduced to the rest of the world by Yvonne Chen who wrote the book "Bread Doctor" in which she reveals her "secret" for increasing moisture in bread, and keeping it fresh as well as soft for long. The reveal was so successful that shortly after her publication was released, the baking and blogging community went berserk and could not stop talking about it.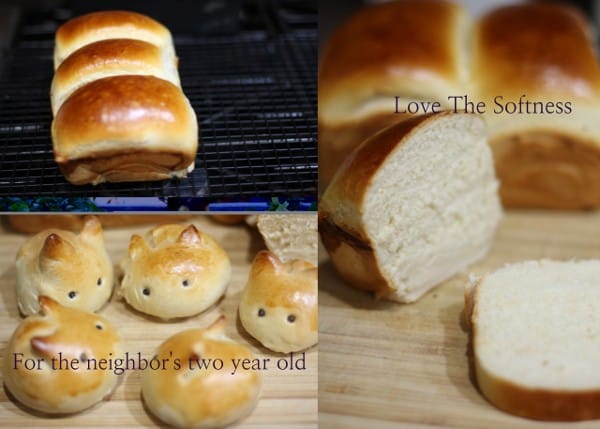 Hokkaido Bread is a soft Asian milk bread which has probably gotten its name from the high quality of milk produced in Hokkaido, Japan. Some people also say that since the bread is so pure and white it resembles the pristineness of Hokkaido. Known for its soft cottony/ pillowy texture, it is a very popular bread in South Asian bakeries across the world. It is also known as Asian Sweet Bread and Hong Kong Pai Bo.
The Hokkaido Mild Bread owes its texture and height to the use of an interesting ingredient called Tangzhong. Basically, the Tangzhong method involves cooking 1 part of bread flour with 5 parts of water (by weight) at 65°C (149 °F) to form a roux.
At 65°C, the gluten in the bread flour and water mixture would absorb the moisture and create a "leavening" action. When the Tangzhong is added into other ingredients of a bread dough, it produces light, tender and fluffier bread.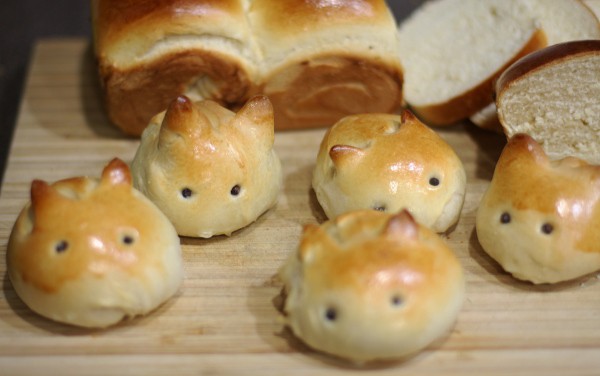 Since this is a very versatile dough, you can make into a plain loaf, or dinner rolls,  stuff  the rolls with sweet or savory fillings or make animal shapes.  Since it is spring and Easter is just around the corner, I decided to shape a few like bunnies for my neighbor's very adorable two year old.  It is quite another story that the said 2 year old thought they were toys and did not want to eat them.   I am not sure if shaping them was such a good idea 😉
This is our Bread #3 with the " We Knead To Bake"  started by Aparna .  Here is where all other beautiful Hokkaido Milk Bread with Tangzhong  made by the group will be shared.  This recipe is adapted from Kirbies Cravings.
Sending this bread to the fabulous YeastSpotting