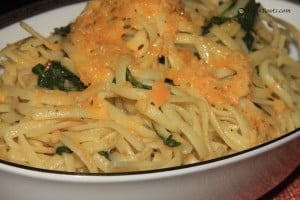 Spinut – spinach and nuts ! A name coined by my most enthusiastic fan, my 10 year old daughter.  She always takes a second helping of this dish . And I am glad because having a recipe for wholesome, nutritious weeknight meal that is ready in 20 minutes is like having a magic wand to cook. But I am serious. You don't need a whole lot of ingredients to make a nourishing meal from scratch. And I will not suggest turning to factory produced sauces for pasta nights. We don't need all the preservatives and high levels of sodium and all those listed and unlisted chemicals from these bottles. This is a recipe that you can modify as you go. Interchange ingredients, use any other cheese, add some kick with chilies , do whatever makes you happy.
(serves 4)
Plan:
8 oz  Spaghetti Pasta or any other pasta of your choice
3 cloves garlic, minced
2 cups  firmly packed (washed and chopped) spinach
2 Tbs mascarpone cheese
4 Tbs pine nuts
½ tsp dry oregano
½ tsp dry parsley
¼ tsp black pepper powder
Salt to taste
2 Tbs parmesan cheese (optional)
Procedure :
Cook the pasta in water for 8 – 10 minutes or until al dente.
Drain the pasta when cooked.
In a non stick pan, put the mascarpone cheese and heat it up on medium heat.
Add the garlic and the pine nuts and cook until slightly roasted.
Add the spinach. Mix well, and cook for 2- 3 minutes, stirring often.
Season with salt, add the oregano, parsley and pepper powder
Add in the pasta. Cook for a minute, stirring until everything mixes well
Serve with cheddar cheese sprinkled on top
I like to serve  baked asparagus as a side dish for this pasta. And sometimes I even add a few shrimp.
(Visited 8 times, 1 visits today)