Recently a friend tagged me on Facebook linking an article about Kashmiri Bread. He said he wanted to make me feel home sick. The article talked about Bagerkhani, a layered crispy bread made in a tandoor. The fact that he is a complete bread head and knows how much I love baking bread might have had more to do with it than the alleged evil plan of wanting to make me feel homesick.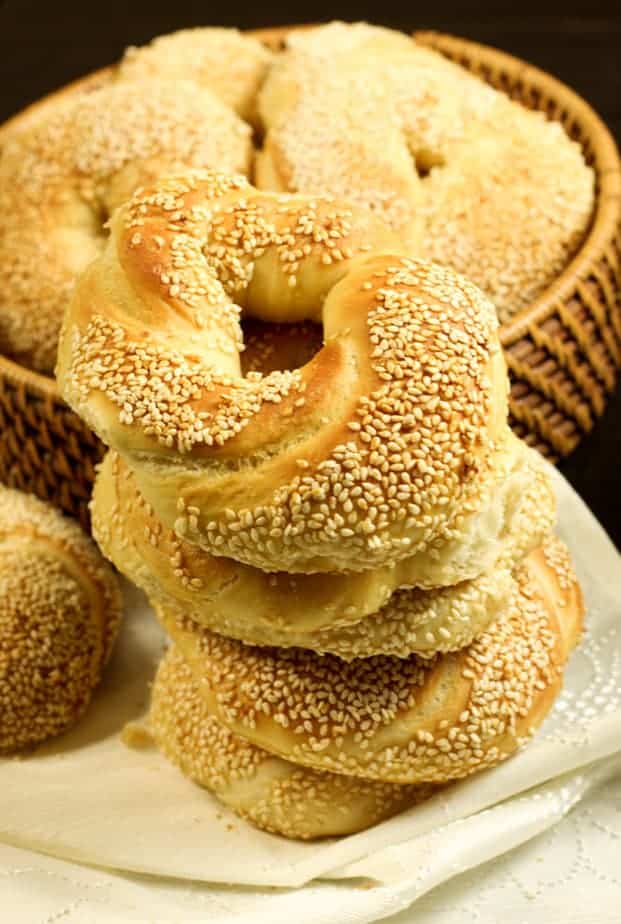 However, discussing the article with him made me realize that I gravitate towards making breads that somehow resemble the ones that I grew up with. The New York style Bagel, which I made as last month's bread baker's theme, was based on Kashmiri Telvor.
And this Month's theme "Seeded Breads" had me instantly yearning to make Simit – the Turkish ring bread. It had been on my list of breads to make for quite a while. May be because I felt I would taste a bit of home, or feel closer to my roots. The fact is that no one in Kashmir makes Telvor or any of the breads at home. And most people in Turkey don't make Simit at home. However, the similarities end here.
Simit is a street food in Istanbul. Sold from carts as a snack or sandwich with savory fillings like olives, cheese &sausages. They do have a distinct flavor that comes from pekmez or the grape molasses. I made a double batch to share with friends.
#BreadBakers is a group of bread loving bakers who get together once a month to bake bread with a common ingredient or theme. This month's theme is Seeds, and is hosted by Karen of Karen's Kitchen Stories. Follow our Pinterest board right here. Links are also updated each month on this home page. We take turns hosting each month and choosing the theme/ingredient. If you are a food blogger and would like to join us, just send Stacy an email with your blog URL to foodlustpeoplelove@gmail.com Don't forget to check out the rest of the delicious breads with seeds:
Anadama Bread from Baking in Pyjamas
Crunchy Seed Braid from A Shaggy Dough Story
Multigrain Bread with Flaxseeds from Cooking Club
Simit – Turkish Ring Bread #Breadbakers
Ingredients
For the Dough
A pinch of sugar

3

teaspoons

dried yeast

500

gm flour

1

tsp

sea salt

350

ml

Water

warm at 110*F
For pre bake dipping
1/4

C

pekmez - grape molasses

1/4

C

Water

1

C

sesame seeds

Toasted and spread on a large plate.
Instructions
Combine the sugar and warm water in a medium bowl, then add the yeast. Set aside for a few minutes, or until frothy.

Combine the flour in and salt in a a large bowl, then add the yeast water mixture and stir until it all comes together. Turn out onto a lightly floured surface and knead until the dough is smooth.

Shape the dough into a ball and place in a lightly oiled bowl, turning to coat.

Cover with plastic wrap and set aside in a warm, draught-free place for 1 hour, or until doubled in size.

Preheat the oven to 420*F and line a large size baking tray with parchment paper. Knock the dough back down and divide it into 10 to 12 equal pieces.

Now mix the pekmez with water in a large bowl.

Roll one piece of dough at a time, using your hands to roll the dough out to make long ropes about 25 inches long.

Fold the dough rope in half so its two ends align, then lift off the board and use twist to form a two stranded "rope".

Then wrap the dough rope around the palm and back of your hand, overlapping the ends. Press the overlapping ends on the counter with the palm of your hand, rocking back and forth to seal. your hand in Repeat with the remaining dough to make 10 - 12 rope circles.

Dip each ring, first into the pekmez mixture, immersing completely to coat, then drain well and toss in the sesame seeds. Transfer to the prepared tray and set aside at room temperature for about 20 to 30 minutes, to let them rise slightly. Bake for 15-18 minutes, or until golden.Transfer to a wire rack to cool and let cool completely before eating.