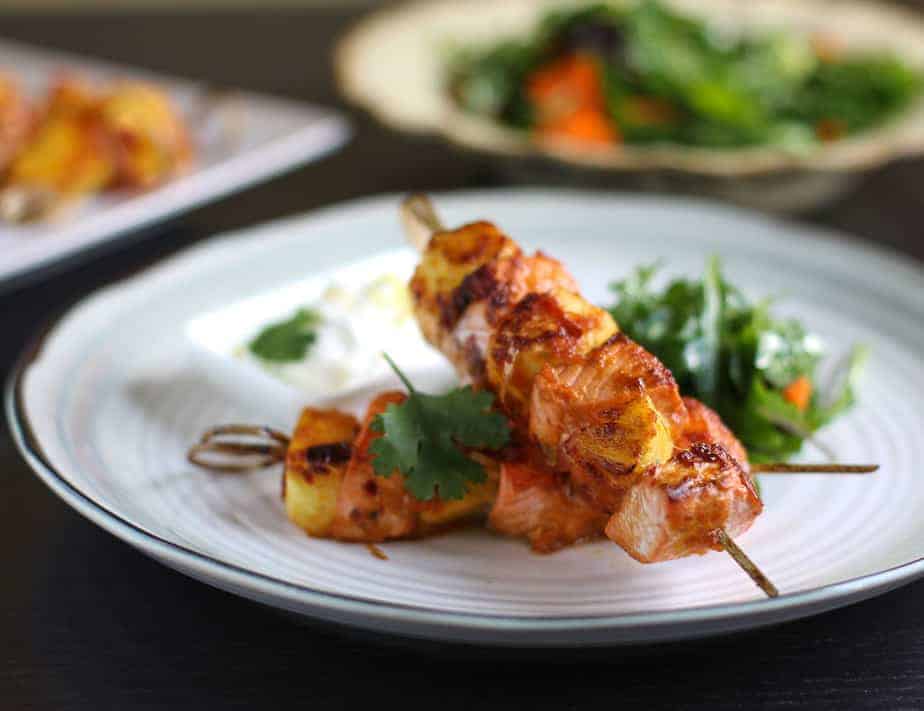 It's game time again. So what shall I have my friends and family feast on while they are watching the Football game? May be something that matches the raw passionate energy in my living room, has the fire power and deliciousness of a touchdown and is juicier than the remarks of the commentators! May be the Lemon grass infused Salmon and Pineapple kebabs with heat from Korean chilies and a good smokiness from dried ancho peppers.
The secret is the glaze. The flavor is the glaze. And the fun is in the glaze. Once you have the glaze ready, you can put this together in moments. Bring out the wine and set out the plates while the salmon and pineapple kebabs are grilling and then sit back and enjoy game time. You will however hear, "oh this is so good" between all the cheering on and 'telepathic' game strategies that boys always have to send to their favorite teams. It is all good when the food you cook reflects the feelings, the joy and the warmth that you have for people for whom you are cooking. In the end, the happy smiles and making memories is all that matters. Food helps make those memories more memorable and thats why we have the Football food tradition.
It is something my daughter waits for and asks about during the week and sometimes even puts in her requests. Given a choice she would love chicken wings with buffalo sauce every single day, but does not complain if there is some form of protein involved.
At first she thought salmon and pineapple kebabs were "too fancy" for football, but after eating a couple of skewers she agreed they were football food. What's not to like about kebabs with hot and sweet glaze eaten straight from skewers?
Salmon and Pineapple Kebabs
Ingredients
For the Glaze
1

Korean hot chilli

It's almost as hot as Thai chilli. Avoid if you can't stand the heat; substitutes :- Thai chili/ Serrano

1

tbs

fresh chopped lemon grass

1

dried ancho pepper

seeds and stem removed, soaked in hot water for about 10 minutes

1/2

C

diced onion

2

tbs

garlic chopped

1- 2

pineapple cubes

from the pineapple you will use for kebabs

3

Tbs

apple cider vinegar

2

tsp

brown sugar

you could add more to make it sweeter

1

tsp

oil

salt to taste
For the kebabs
1

pound

salmon fillet

without skin

1

pineapple

you won't need all of it for the dish. Alternately you could buy a small box of precut pineapple

1

tbs

oil for brushing

10

Metal or wood skewers

more if you want make small servings
Dipping sauce
1/2

C

sour cream

1

tsp

lemon zest

1

tsp

finely chopped cilantro
Instructions
Glaze
Heat the oil in a pan and saute the onions and garlic until slightly browned. Put the onions and garlic in a blender along with the rest of the ingredients of the glaze and pulse to a semi smooth paste. If you can still see bits and pieces of peppers all the more better.
Dipping sauce
Mix the sour cream with lemon zest and cilantro. Chill until ready to serve.
Kebabs
Make 1 inch cubed pieces of salmon and pineapple

Thread on to the skewers - I used 3 salmon pieces and three pineapple. You could use less or more on each skewer.

Brush on the glaze on all skewers from all sides.

Keep aside refrigerated until you need them or cook immediately.

Preheat the oven to 400*F.

Lay the kebabs in a single layer on a baking sheet,cover with foil and bake for 10 minutes.

Remove the cover and broil for a minute or two until you see the charred marks.

Alternately grill them on a BBQ grill for a few minutes each side.

Serve with the dipping sauce.