It took me a few years to warm up to the idea of baking cookies.  It's not that I don't like to bake cookies. I do, but I bake the usual suspects – oatmeal raisin, chocolate chip, shortbread, …. and that's it.  That my friends was the scope of my cookie baking. I would admire the beautifully decorated holiday cookies, the ginger bread house that my daughter made with her girl scout troop, and the cookies my neighbors sent in during Holidays. But I would still stick to my list of three tried and tested cookies and bake them with my daughter.  After all, you could just buy Oreo or Pepperdige farm cookies off the shelf and enjoy the goodness.
This year was not going to be any different. I was ready with my plan of what to cook for whom and bring over for  Christmas gatherings.  Breads, cakes, casseroles, jams, home made vanilla and spice rubs – all planned –  well in advance.  But then my friend Peggy called up and asked if I would like to bake cookies together. Would I? Absolutely!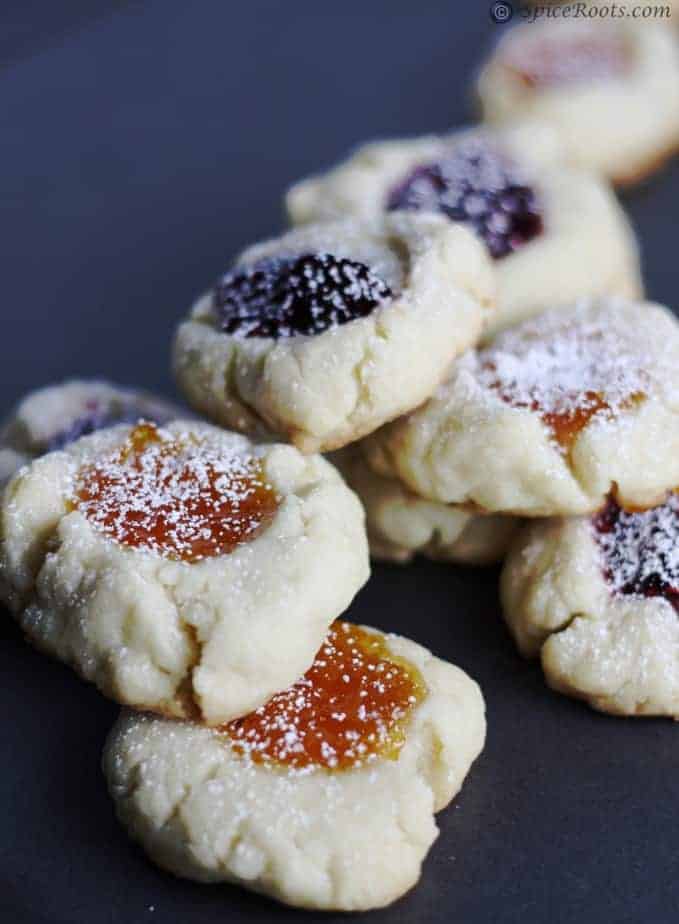 Baking together with a friend is the most soulful thing. The whipping of eggs, beating of sugar and butter, the constant chit chat and the sharing of the work load, especially the washing.  We shortlisted a few recipes from books and got to work.  One of the recipes was  Russian Tea Cookies –  Mrs Fields Way.
This recipe is adapted from  Mrs Fields Cookie Book.
Jam Filled Butter Cookies
Ingredients
For the cookies
1

C

Butter

1/2

C

Confectioner's sugar

powdered sugar

2

tsp

pure vanilla extract

2

C

all purpose flour

1/2

tsp

salt
For the toppings
powdered sugar for dusting on top

Any kind of fruit jams or preserves

Featured are : Raspberry and Apricot
Instructions
Start by heating up the oven to a 325* F

In your stand mixer - cream the butter and sugar together, until light and fluffy

Add in the salt, mix

Slowly add in the flour and mix until combined well and the dough shapes into a ball

Line up a cookie sheet with parchment paper.

Roll the dough into equal sized small balls and place on the parchment covered cookie sheet, and flatten them slightly

Press down the center with your thumb, or a melon baller and form a small well in the cookie dough discs

Ensure you do not press all the way down

Fill each well with preserve or jam of your choice

Bake for 15 - minutes. Keep an eye on them after the first 10 minutes

When they brown on the bottom and look lightly browned on top, they are ready to be taken out

Allow to cool on a baking rack and dust with confectioners sugar