In everyone's life, at some time, our inner fire goes out. It is then burst into flame by an encounter with another human being. We should all be thankful for those people who rekindle the inner spirit. ~Albert Schweitzer
I am thankful for Priti – The person who rekindles my inner spirit by just being there. I have not yet met her in person, but we share a deep connection which started with a food talk on a social network. Really – just a simple talk about a slow cooker and the day's menu. That talk was the beginning of a beautiful friendship.
 A few weeks ago, I sent her a batch of my home made garam masala , along with the Kashmiri veri [ Va ( short a sound) ur and short i ] masala. She had asked me the recipe for my garam masala a long time ago, and since I mostly make a quick batch, I never paid attention to how much of what I put in -It is an instinctive thing. So I never got around to develop the exact proportion ratios. And hence never gave her the recipe.
Sending her the masala was my way of apologizing for being slipshod. I mean, I could very well measure as I went and take notes and type it out for her. But I did not. So I had to do something better. I made my Garam masala AND I made the kashmiri veri masala and sent her both.
Here are the pictures she sent me after she made these:
 &
In one weekend! She made the haakh, razma gogji, chicken daniwal korma, roganjosh, dum aloo and neni pulao. A true kashmiri feast. That does tell a lot about how big a foodie she is and how much she likes to experiment. I was thrilled to the core. Not because she made the food using my recipes as a guideline, but because she was so blissful about the process of discovering a new cuisine and liking it.
You can't help but catch on the enthusiasm and the passion. She makes the "joy of cooking" come to life. And unknowingly, she stirs the enthusiasm in me, to cook up a storm and enjoy the adventure.
While we were talking about what else can she make with the Veri Masala, I shared with her my best kept open secret, go to chicken dish – the chicken rogan josh. No fancy ingredients, very little prep and is usually ready in less than 30 minutes, depending on how many people you are cooking for. Weeknight specials? I think its perfect for a weekend too and Priti did too.  Here is the picture she sent me of the dish she cooked, with just a few twitter like instructions. Told ya she is just amazing.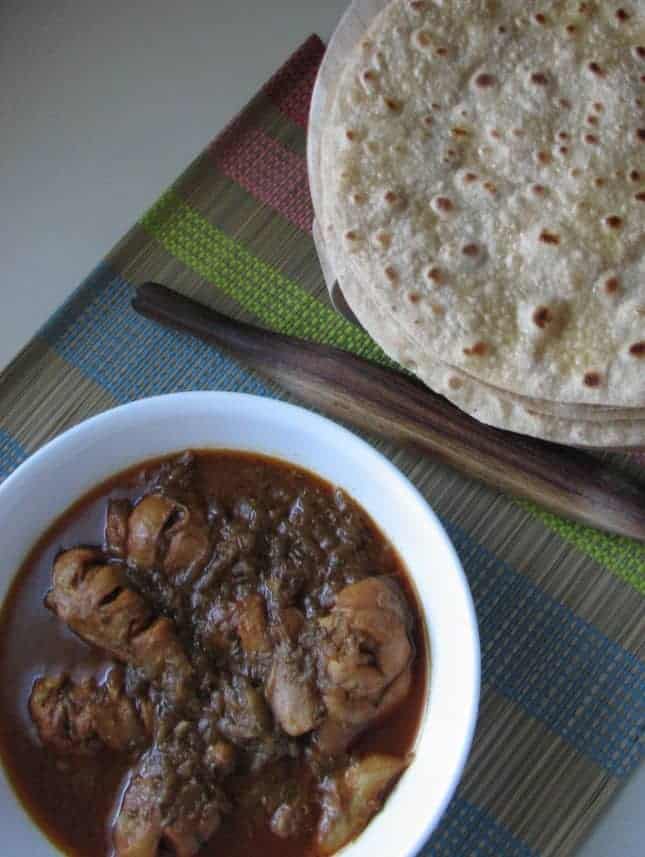 This is one of my go to recipes when my friends just show up.  The kind of friends who don't need, wait for or want an invitation to come see you. They just show up after a quick call which usually goes , " Hey, are you home tonight?" , "yes" " ok!! I am coming over and will stay for dinner".  " Great! See ya.. get some beer on your way here.. will you?"
These  are the kind of friends, for whom you want to cook special meals, yet want to keep it homely and simple.  You also want to finish cooking soon so you can drink that beer before they hand you the empty bottles to recycle.
This recipe does need you to buy the special Veri Masala which is not readily available. I will soon post a recipe to make this at home. Until then enjoy the chicken recipe.
Chicken Rogan Josh in Kashmiri Veri Masala
Ingredients
1

pinch

turmeric

1/4

th teaspoon ginger powder

2

tablespoons

oil

Preferably Mustard

1/4

th teaspoon Garam Masala

preferably the one without coriander

2

cloves

ground

1/4 - 1/2

cup

water

2

teaspoons

Kashmiri Mirch

or hungarian sweet paprika

1

lb

boneless chicken

1/2

cup

thinly sliced onions

1

teaspoon

fennel powder

1

teaspoon

veri masala

powdered - break a small piece and pound it

1

teaspoon

salt

or to taste

Note

Take extra care when you add the chillies. The idea is to infuse the chilli in the oil for it develop the color and flavor but not burn them. It takes just a few seconds to burn them

so keep a couple of Tbs of water handy to throw in to bring the temperature down.
Instructions
1.As always, bring a pan to heat up and the oil. If using mustard oil, heat it up until it

smokes and then cool it down slightly. This step is important else there will be a very mustard like taste in the food which is not appetizing to everyone.

2.Once the oil is hot, add the onions and chicken and saute on medium heat until onions start browning.

3.Bring the temperature down to a simmer, add the chilli/ paprika and immediately add a couple of Tbs of water to bring down heat and allow the chilli to cook without burning.

4.After you see the oil separate from the chillies add the Veri masala, stir to incorporate and then add all other dry ingredients. Mix it all and let the spice infuse in the oil for a bit.

5.Add 1/2 C of water, stir, bring to a boil, cover and cook on medium heat for about 10 minutes or until the oil floats on top.

6.Eat with a Roti or naan or plain brown or white rice and Dal.