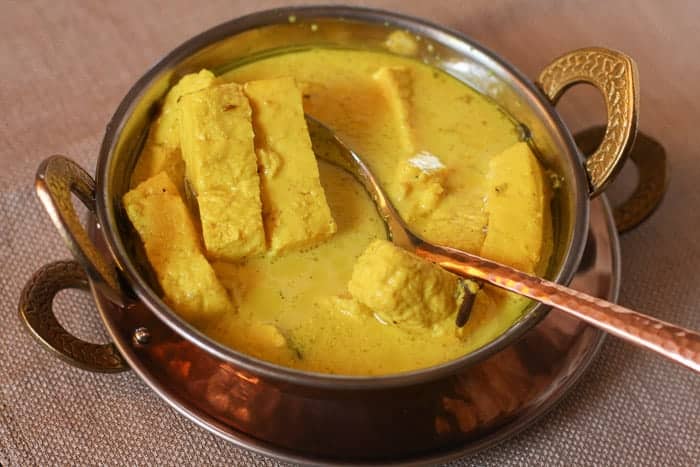 Chaman Kaliya – Cardamom and fennel scented paneer cooked in a whole milk. Rich, creamy and with the right notes of spice. A dish that is so very easy to put together that you might like to make it more often. And often it is made in Kashmiri homes, especially when there is a Vegetarian feast. Kashmiri Wazwaan cuisine is fabled for it's meat dishes, but the vegetarian cuisine when done right, is in fact quite amazing as well.
A couple of days ago, it was the festival of Shivratri. This is the most important of festivals for Kashmiri Pandits. Called Herath in the local language, the festival of Shivratri marks the beginning of the spring season in the valley. Kashmiri Pandits have been followers of Shaivism for eons. Back in the days, it used to be a fortnight of celebration starting with 'Hur okdoh' which was the day that homes would be cleaned and prepped for the upcoming festivities.
On the thirteenth day of the festival, a fast is observed and the "Vatak Pooza" begins. Along with flowers, fruits, milk, yogurt an offering of rice flour bread and food is offered to the 'Vatuk'.
When I was a kid, the most important part of the festival was the day after after the Puja. It was the day when the morning started with my Grandpa giving us fresh currency notes as a "Herath Kharach" ( Money to spend ) You can compare this to opening the presents on Christmas morning. All elders gave money to kids on this day. All we had to do was go from one elder to the other and say, "Herath Mubarak" ( May your Herath be blessed) The elders would in return give us the money and bless us.
We would count and recount the money and keep a tab on if any of the siblings got more. Then we would sit and play a game with sea shells. We all had our own small bags of "haar" or sea shells and we would sit in a circle and play. When it was time for lunch, we all would quickly gather our winnings and sit for lunch. Food was another highlight for me on Herath. My mom made at least a dozen dishes and on that first meal she served them all. The leftovers were eaten on subsequent days one at a time, but this one meal was when we got to eat it all together – just like in a feast.
This Chaman Kaliya was my mom's signature dish. I made it for Shivratri this year along with some Dum Aaloo, Nadir Yakhin and few other dishes. Dinner was good. The leftovers were finished the next day. We leave no trace 🙂
Chaman Kaliya – Cardamom and fennel scented Paneer
Ingredients
400

gms Paneer

home made

2

C

Milk

2

cloves

3

Green cardamoms

1

tsp

Cumin

1

Tbs

Ghee

1/2

tsp

Turmeric

1 1/2

tsp

fennel powder

saunf

A pinch of saffron

1/8

th tsp ginger powder

salt to taste

1/2

tsp

Kashmiri Garam Masala

Or use your favorite brand
Instructions
If you have freshly made

Paneer

cut it into squares or rectangles.

If you have store bought paneer, Soak it in hot milk for at least 30 minutes before cooking the dish. (this milk is in addition to the two cups you need to make the dish)

Heat ghee and add the cumin, cloves and the cardamom. It helps if you slightly whack the cardamom with a pestle or a heavy spoon.

Add in the milk, bring it to a boil add in the rest of the spices, except saffron and garam masala.

Simmer this for about 2- 3 minutes , then add the paneer and bring to a rolling boil.

Bring to a simmer again and let it cook undisturbed for 10 - 15 minutes or until the paneer looks creamy, yellow and soft.

Finish off with Garam masala and saffron and let it stand for 30 minutes before serving. Reheat gently and serve with rice.