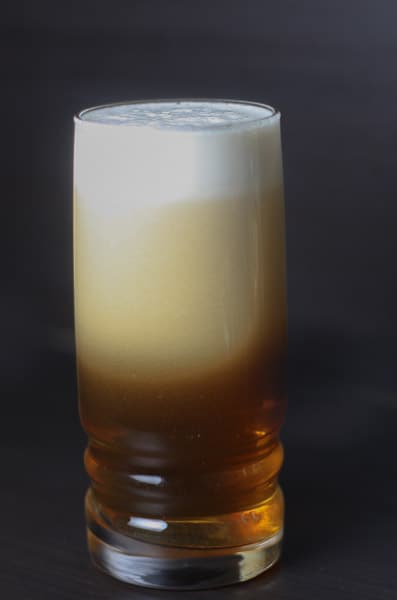 It took me a while to catch up on the phenomenon called the Beertails. I love my ales in their pure form and the occasional cocktails. And when the Spice guy started developing his own Beertails, I had to give in. After all he usually mixes new drinks to pair with the food I cook. And the least I can do is to taste them. Right? Well that's a very valid excuse to drink. Don't you think?
If you have ever enjoyed a michelada, a Mexican beer cocktail that has hot sauces and peppers and lime juice that give it an extra kick or the shandy, that has beer & lemonade or apple juice mixed in you have had a beertail.
Beertail is a cocktail and a beer all in one. Take your favorite cocktail and add in a beer that will not only go with the flavors of the cocktail, but also enhance it. Since the drink is essentially layered you get to experience the taste of the beer, the beer & cocktail and then the cocktail. Now that is quite a drink!
The sweet aromatic flavor of the St. Germain Liquer shines through the  creamy, malty, sweet flavor of the Boddingtons. Pairs well with fried and spicy foods.
Boddingtail or The Boddingtons Beertail
Ingredients
2

oz

tequila

1

oz

St Germain liquor

1

oz

Cherry brandy

1

oz

simple syrup

1

can chilled Boddington's Pub Ale

a few cubes of Ice
Instructions
In a cocktail shaker, take about 4 to 5 cubes of ice

Add the tequila, St Germain, Cherry brandy and simple syrup

Shake till its mixed properly and chilled

Strain and pour the mix in a high ball glass

Open a fresh can of Boddingtons and pour it in the glass up to the brim

Let it stand for a minute and then serve