To say that the blackforest is our favorite cake would be an understatement. Cherry, chocolate and whipped cream create a magical combination. Though I have posted my recipe for a traditional Blackforest cake, I was really looking forward to convert  the cake into a bundt cake. Hence the Blackforest Bundt cake. This is my first time posting with the Bundt Bakers and after a couple of tries at bundt baking ( last month was coconut ) I have arrived at the following life changing decisions.
1) Buy a decent Bundt pan. I have no idea where I got the bundt pan that I have right now. It just doesn't impart the beautiful ridges that bundt pans usually do. So please feel free to mention your favorite bundt pan.
2)
Never bake a bundt cake on the night of  posting
. Yes I know
Kelly from Passion Kneaded 
would raise her eyebrows. I just lied to her yesterday that I was going to bake it Yesterday.  But I didn't. I baked it today.
3) Never Lie about  plans to bake a bundt cake. It's bad bundt Karma. Plus they will catch you.
4) Learn how to photograph a Bundt Cake.  This was one difficult cake to photograph.  Add the added pressure of last minute baking, and photo taking and post writing. Back to decision no 2.
So there you have my story. Now that my life has been irrevocably changed by the bundt cake decisions, I am hoping I will do better next time.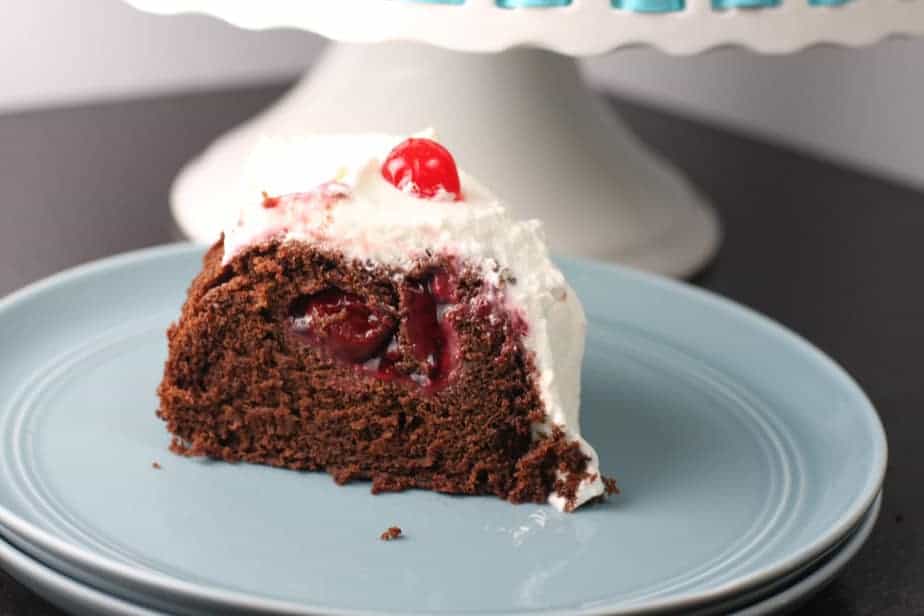 #BundtBakers is a group of Bundt loving bakers who get together once a month to bake Bundts with a common ingredient or theme.  Follow our Pinterest board right here. Links are also updated each month on the BundtBakers home page.
We take turns hosting each month and choosing the theme/ingredient.
If you are a food blogger and would like to join us, just send Stacy an email with your blog URL to foodlustpeoplelove@gmail.com.
Here are February's Chocolate themed Bundt Bakers:
Blackforest Bundt Cake #BundtBakers
Ingredients
6

eggs

1

cup

sugar

1

tsp

vanilla extract

1/2

cup

all purpose flour

1/2

cup

cocoa powder

1/2

cup

unsalted butter melted
Icing
1

cup

heavy whipping cream

2

Tbs

sugar

1

tsp

Vanilla extract
Instructions
Preheat oven to 325*F

Prepare your bundt pan with coating it with butter

whisk the eggs with the sugar and vanilla in a large bowl, until thick and pale.

Sift the flour and cocoa over the mixture and gently fold in. stir in the melted butter.

Pour into the pan ; Top it with half the cherry pie filling and bake for 35- 40 minutes.

During the baking the cherries go to the centre of the cake making a nice filling.

The cake should be raised and springy to touch and u can always do the toothpick test.

Allow the cake to cool in the pan before inverting it on a wire stand.
Icing
whip the cream in a bowl until it starts to thicken, then beat in the confectioners sugar and vanilla extract until the mixture begins to hold its shape.

Top the cake with the icing and serve. You can use the other half of the cherries to decorate the cake or serve it with the cake.