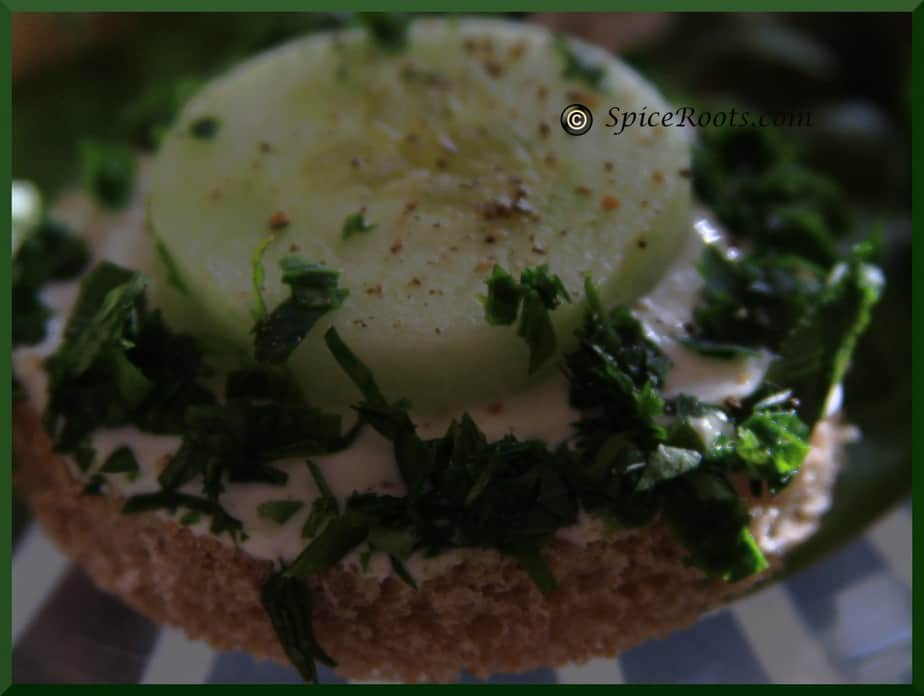 It was my turn to host the book club at home. We usually meet at a quiet location, but sometimes we do get together at homes too. Deciding the menu for my book club buddies posed a great challenge. Why?
Well – it had to be bite sized, so we could munch on while we gossiped about the characters in the book .
It had to be non messy  foods, no one likes to get their Kindle/books messy. Now I don't ! Really really don't like to get my kindle messy!
It had to be finger food, because who would want to make a scene about eating with silverware when we are animatedly discussing .
And it had to be passing the platter friendly – for one or all the above mentioned reasons.
The book club snack is named so, because these became very popular at one of the book clubs' meeting I hosted. 'One of the book clubs' – well YahA! One is not enough 🙂
so how do we make these?
Get :
1 English Cucumber peeled and sliced in rounds
1 loaf of sliced bread
salt
pepper
chopped parsely
1/4 c cream cheese
2 Tbs greek yogurt
finely chopped onion and green chillies ( as much or as little as you like)
spl equipment:
cookie cutter in the shape that you fancy
Now proceed as follows:
Add the green chillies and onions to the yogurt. Mix.
Now add in a pinch of salt, mix and add the cream cheese.
Mix until smooth.
Now take slice of bread and cut it with a cookie cutter in the desired shape. I cut mine in round this time.
Do the same with the cucumber slices too. If  for example,  if you cut the bread in heart shape, then do the same for the cucumber too.
Apply the cheese mix on the bread, sprinkle on the freshly chopped parsely, put the slice of cucumber on, add a few specks of ground pepper!
Enjoy the conversations that follow!
PS: It is a great party appetizer too, and you can make the preps  ahead of time and bring the dish together in jiffy when needed.
(Visited 34 times, 1 visits today)