Before I get on with the Tequila lime chicken wings, allow me to start this post with a fun memory of my Dad. When we moved to the US, a little under a decade ago, my daughter missed family back home. So she would call up her grandparents – my parents, and talk to them. They talked for hours and she would give them glimpses of life she was adjusting to.
One day I get a frantic call from my Dad after my daughter hung up the phone. He wanted to know "what does buffalo wings mean"!! He really did think it had something to with a buffalo. I could sense where this was headed. And a huge smile spread across my face. Being a Hindu, the meat from bovines is off limits. So he was wondering why I let my kid eat buffalo and what kind of meat is buffalo wings.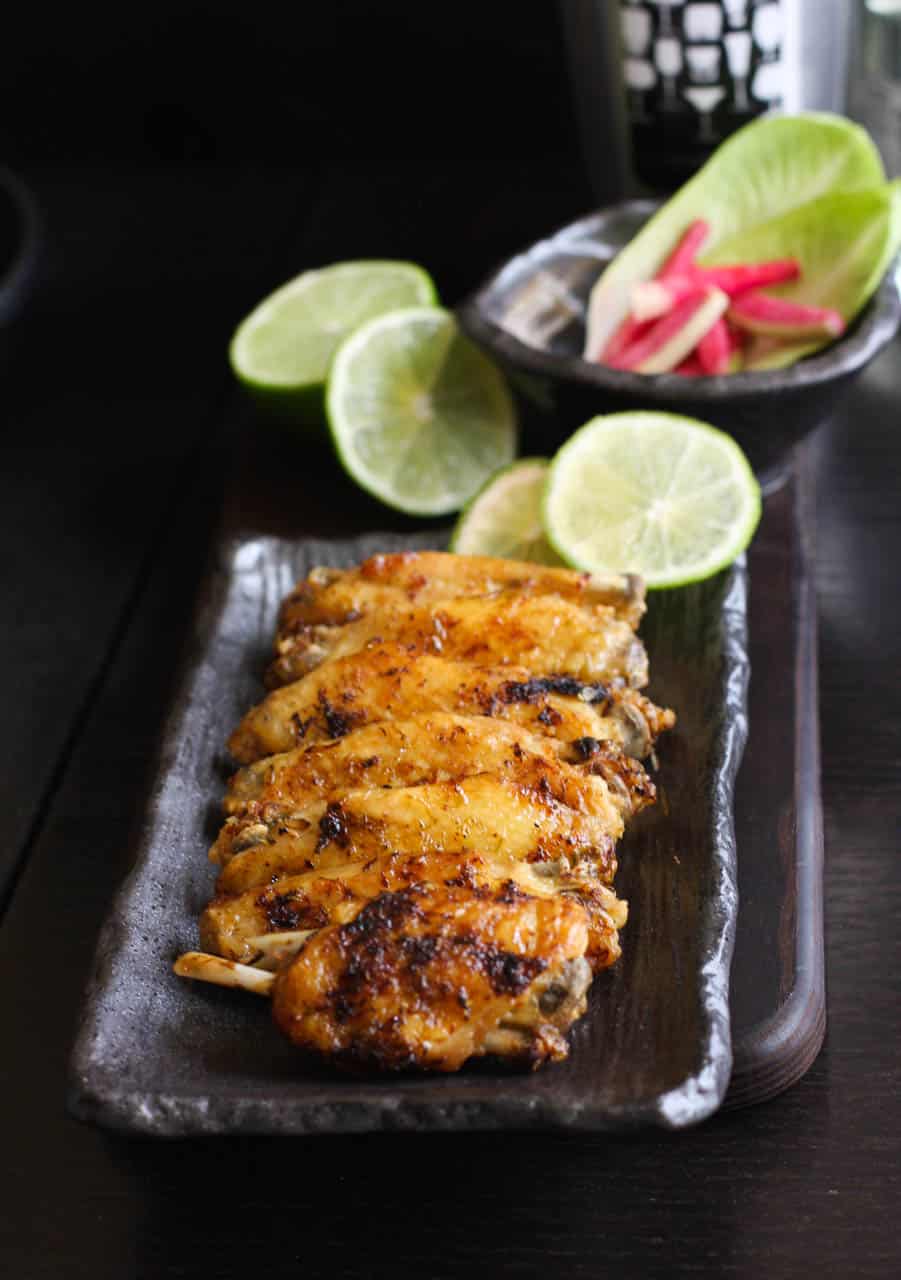 We did the explaining about the origin of the sauce and the chicken wings and tried to explain that no buffaloes were hurt during the process, only poor chicken. But It took some convincing. And every-time after this, my daughter would roll with laughter at the mere mention of Buffalo wings for quite some time.
My first introduction to chicken wings being a dish by themselves was when I ate Chicken Lollipops. Lollipoped chicken is a common snack in Hyderabad and boy do they know how to make those irresistible.
Now back to chicken wings and the Tequila Lime Chicken Wings. These wings are crisp on the outside, juicy inside with flavors of citrus, spice and Tequila. I pressure cooked the wings first to make them tender without drying them out. And then added the spices and tequila. Bake and Done. You could fry them and then dunk them into a tequila lime sauce, but if you believe me, these were great and I don't see how frying would improve anything except the fat content.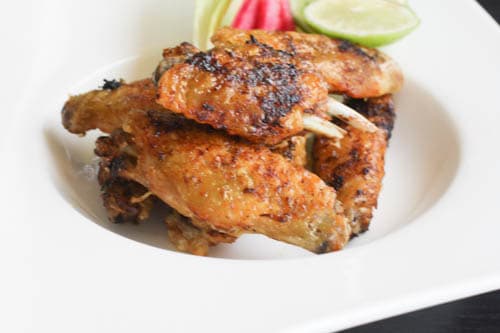 I had to save a few wings after steaming for my teen who doesn't like anything with alcohol. Not even when it's mostly cooked off. She poured a ton of hot sauce over the plain ones after baking and said she loved them.
Why make Tequila Lime Chicken Wings ? Because it is Progressive Eats time of the month and our theme is Boozy Cooking. Hic. I cook with Tequila and sometimes I even add it to the recipe *Source Unknown* And for more Boozy recipes check out what the Progressive Eats bloggers have come up with!
Boozy Cooking
Appetizers
Soups
Main Course
Desserts
Tequila Lime Chicken Wings
Ingredients
2

pounds

Chicken Wings

1

C

Water

1/2

tsp

coriander powder

1/2

tsp

cumin powder

1/2

tsp

Aleppo pepper crushed/ chilli flakes

1/2

tsp

garlic powder

salt to taste

black pepper ground – to taste

1/2

C

Tequila

Zest of 1 lime

1/3

C

Lime juice

2

Tbs

brown sugar
Instructions
Put the one cup of water in your pressure cooker

Put a trivet or steaming basket inside the pressure cooker

Add in the chicken wings

Pressure cook for 10 minutes in an electric pressure cooker/ 7 minutes in a stove top one

Allow to release the pressure naturally – about 30 minutes

While the wings are cooking and then cooling, make the marinade

Put the zest of lime, lime juice, salt, brown sugar and tequila in a bowl and mix

Mix the rest of the dry ingredients together and then toss into the marinade

Once the pressure releases from the cooker, place the cooked wings on a baking tray lined with parchment paper

Brush with the marinade on both sides

Reserve the rest of the marinade

Let the wings sit in the fridge for at least 30 minutes

Bake in a preheated oven at 425*F for 10 minutes, then turn them over and cook for another 10 minutes on the other side.

While the wings are baking, in a small saucepan cook the remaining marinade until shiny and slightly thickened

When the wings are cooked through, dunk them into the saucepan and toss to coat

Serve with some crunchy salad
Recipe Notes
If you don't use a pressure cooker, you can steam the wings for 10 to 15 minutes and then follow the same method. Increase baking time by about 10 minutes.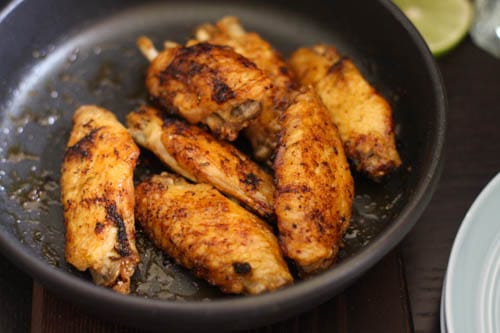 Welcome to Progressive Eats, our virtual version of a Progressive Dinner Party. This month's theme is Boozy Cooking and is hosted by Megan Myers, who blogs at Stetted. For our Boozy Cooking dinner, we all created recipes using beer, wine, or spirits.
If you're unfamiliar with the concept, a progressive dinner involves going from house to house, enjoying a different course at each location. With Progressive Eats, a theme is chosen each month, members share recipes suitable for a delicious meal or party, and you can hop from blog to blog to check them out.
We have a core group of 12 bloggers, but we will always need substitutes and if there is enough interest would consider additional groups. To see our upcoming themes and how you can participate, please check out the schedule at Creative Culinary or contact Barb for more information.