When the theme for April's Progressive eats was announced, I imagined myself making a Dacquoise or a Mille-feuille. Having already made the Gateau Opera a few dozen times and enjoyed the Croquembouche challenge with Jenni, I was ready to make a switch and make something else. The decadent Dacqupiose was tempting me. But then I thought, I do need to go out of my comfort zone and make something new and something that showcases the sublime beauty of regional French Cuisine.
I am really proud of the Tarte á l'Oignon – French Onion Tart. You may ask why. After all it is just a pie, some might say. I know. But if you asked my friend Barb @ Creative Culinary, she would tell you how utterly terrified I was of making pies. She was also amused and told me on certain occasions that I was being silly since I was someone who didn't blink before taking on complex desserts and was terrified of a pie. So she took on the mantle of a mentor and called me over and we baked pies. And I was allowed to use her Grandma's rolling pin too.
The good thing about pies is that they are simple. And that's what is terrifying too. I think simple dishes should be executed flawlessly because they rely on technique more than anything else.
Today's Tarte á l'Oignon – French Onion Tart is the Appetizer course for Progressive Eats. I hope I made my friend and teacher proud. And I am really thrilled with this. I did it!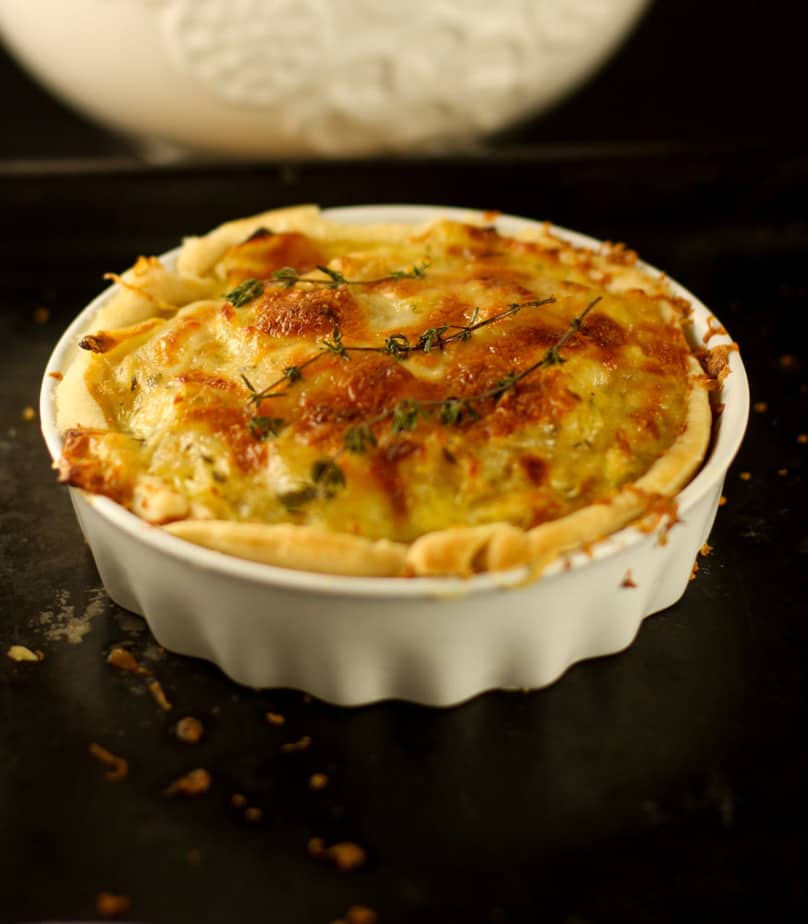 Caramelized onions, cooked slow and long to coax their sweetness out, freshly made dough for the base, a touch of salt and pepper, a few eggs, a little cheese  and a sprig of thyme. Ingredients that you probably just have on hand. Why not give this a try? If I can do it, anyone can! Honest!
Have a taste of the French Cuisine with my Progressive Eats friends and see what they have cooked up.
Join us for the Flavors of France!
Appetizers
Salad
Soups
Main Course
Bread
Veggies/Sides
Zucchini Summer Squash Tomato Gratin from Jeanette's Healthy Living
Drinks
Desserts
Welcome to Progressive Eats, our virtual version of a Progressive Dinner Party. This month's theme is the Flavors of France and is hosted by Jane Bonacci who blogs at The Heritage Cook. Join us and make something unique and delicious!
If you're unfamiliar with the concept, a progressive dinner involves going from house to house, enjoying a different course at each location. With Progressive Eats, a theme is chosen each month, members share recipes suitable for a delicious meal or party, and you can hop from blog to blog to check them out.
We have a core group of 12 bloggers, but we will always need substitutes and if there is enough interest would consider additional groups. To see our upcoming themes and how you can participate, please check out the schedule at Creative Culinary or contact Barb for more information.
Tarte á l'Oignon – French Onion Tart
Ingredients
For the Tart base
1

stick cold unsalted butter

1

cup

unbleached all-purpose flour

¼

teaspoon

salt

2

tablespoons

cold water
Filling
1

tablespoon

olive oil

2

tablespoons

butter

4-5

large onions

thinly sliced

Salt to taste

2

eggs

whisked

1/2

C

gruyere

3

Tbs

whole milk

2

Tbs

crème fraîche
Instructions
Make pastry: Step1
Blend together flour, butter and salt in a bowl with your fingertips or a pastry blender or pulse in a food processor.

Mix until most of mixture resembles coarse meal with some small (roughly pea-size) butter chunks. Gradually add in ice water and gently stir with a fork (or pulse in processor) until incorporated.

If the pastry holds together, it's ready. if it doesn't add a bit more water and work it in. Be sure to not overmix the dough.

Gather dough together and flatten into a disk. Wrap in plastic wrap, chill until firm, at least 1 hour.
Step 2
I made three smaller tarts out of the dough, but you can simply roll it out to cover a 9 or 10 inch tart pan.

Roll out the disk of dough on a floured surface with a floured rolling pin into a round to fit into your tart pan. Trim excess dough, leaving a 1/2-inch overhang, then fold overhang over pastry and press against side to reinforce edge. Lightly prick bottom with a fork and chill until firm ( about 30 minutes)

Partially blind bake the tart shells for about 10 minutes ( I had three small so it took lesser time) at 400*F. You may need more time for a bigger tart shell.
Tarte á l'Oignon
Preheat the oven to 425ºF. In a heavy pot combine olive oil, butter, sliced onions and salt. Sautee the mixture until it starts to sizzle, then turn the heat down to a simmer, cover, and cook for 30 minutes, stirring occasionally until the onions are sweet and caramelized. Add in pepper to taste.

Set aside to cool.

Combine eggs, milk, creme fraiche with onions. Spread the onion mixture on top of the partially blind baked shells. Top with cheese and a sprig of thyme. Bake in the middle of the oven for 30 minutes or until the top is golden brown.

Serve at room temperature.