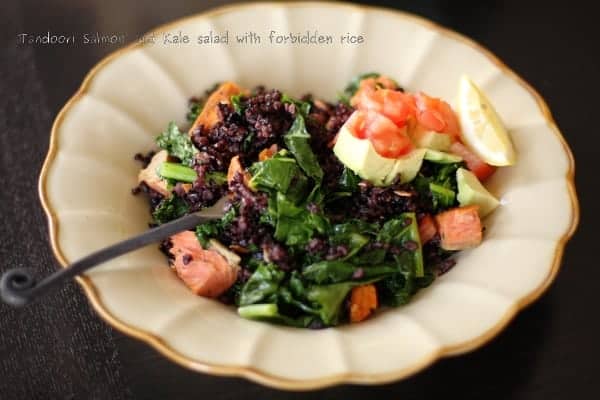 It is a bitter sweet moment, writing this post today. Today is the last post of the Power Foods Blogging Group. I learned a lot on this journey of 38 power foods with the blog group. The stories from each one of the bloggers kept me entertained and the facts about power foods kept me amazed. There was so much about these foods that I did not know and there still is so much to learn. The blogging group helped me stop and take notice and ask the food, "So what are YOU going to help me with?"
As we wind up this journey and get ready to embark on another one, I do have one more power food recipe for you.  It is the Indian version of pan roasted, Tandoori Spiced Salmon With Black Rice and it is a no fuss recipe.   Just to make life easier for my friends who keep complaining that they have to go with a huge spice list to buy everything they need to make my dishes, I have for once used a ready mix of Tandoori spices. I can see you grinning ear to ear.  Yes,  it is really as simple as that. And as for cooking black rice, you can use this method or follow your own method.
For well researched health benefits of Salmon read the article on WHF. 

And for one last time, here are the fellow bloggers who were in this journey with me, discovering power foods and sharing stories and recipes.:-
Jeanette at jeanetteshealthyliving ; Martha at Simply Nourished Living ; Mireya at Myhealthyeatinghabits ; Alyce at More time at the table ;  Minnie at thelady8home.com ; Casey at  Sweetsav  .
Tandoori Spiced Salmon With Black Rice
Ingredients
2

Fillets Wild caught Alaskan Salmon

1/2

C

Black Rice cooked

1

C

Chopped Kale

1

tsp

Tandoori Masala

I recommend using Shaan Brand

1/2

tsp

lemon juice

1

tsp

olive oil

1/2

tsp

salt

1/2

tsp

ginger paste

1/2

tsp

garlic paste

oil spray
Instructions
Mix in the lemon juice, ginger, garlic, salt and tandoori Masala.

Marinate the fish pieces in this mix for about 15 minutes, ensuring to coat all both the sides of the fish.

Heat a skillet on medium high heat and spray with a little oil.

Cook the marinated fish for 3- 5 minutes on each side depending on how you like it cooked.

Mix in the olive oil with the kale and massage it a little.

Serve warm black rice with the tandoori salmon along with the massaged kale.
Recipe Notes
You can shop up the cooked salmon and mix everything together for a salad for work.
The link to the shaan brand for Tandoori spice is reference only. You can buy it cheaper at any Indian grocery store.