According to wiki, Fusion cuisine is cuisine that combines elements of different culinary traditions.  And that is exactly what my mom did when she made the Tamatar Chaaman – paneer with tomatoes,  though she did not label it as fusion.  She took elements from the Kashmiri Muslim cuisine and elements of the Kashmiri Pandit cuisine and made an extraordinary dish called the tamatar chaman – Paneer with Tomatoes.
Use of onions, shallots and garlic is prevalent in the Kashmiri Muslim cuisine, be it the home cooking or the much fabled "Wazwaan". On the other hand Kashmiri Pandit cuisine is sans onions and garlic especially in the "saal", which is the equivalent of Wazwaan. The use of onions, in Pandit homes was allowed to an extent, in certain homely dishes but the use of garlic and shallots was unheard of.
Having lived and worked most of her life in the beautiful Kaprin, the population of which is  99.9% Muslim, she was introduced to their wonderful cuisine. And with that introduction, her fusion dishes started to make way into our daily food. For most part, she would eliminate the onions and garlic and base the dish on a traditional Kashmiri Pandit technique and use some elements of the Muslim cuisine. The resulting dishes were sublime.
The tamatar chaaman is a fusion between the wazwaan style Ruwaangan chaaman and the saal style Wozij chaaman. The main elements in the Ruwaangan chaaman are tomatoes, fried onions, garlic and red chillies with silky soft paneer, whereas the wozij chaaman is silky soft paneer cooked in fennel seed powder, red chillies and a dash of yogurt.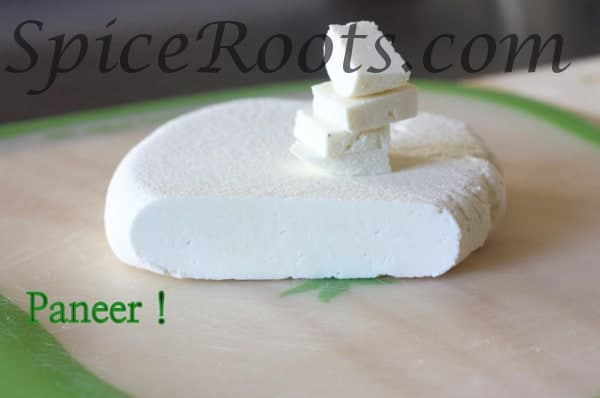 Taking the onions and garlic away, and introducing the tomatoes to the paneer and fennel preparation makes this dish a great fusion. It also makes it a quick and easy weeknight dinner.
Enjoy and Stay Blessed
Ansh
Tamatar Chaaman – Paneer with Tomatoes a Kashmiri fusion Recipe
Servings
10
servings as one of the dishes in an Indian meal.
Ingredients
1

pound

paneer

1

pound

tomatoes - Local organic / heirloom preferred - chopped

salt to taste

2

tsp

kashmiri chilli powder

1/4

tsp

hing

1/2

tsp

shahi zeera

black cumin

1/2

tsp

sonth

ginger powder

2

tbs

saunf

fennel powder

1/2

tsp

kashmiri garam masala

Or use Shaan Zafrani garam masala

1

tsp

turmeric

Mustard oil for best taste. You can also use canola/ peanut.
Instructions
Put about 2 cups of hot water in a bowl. Add in the turmeric into to. Keep aside.

Slice the paneer into thick rectangular slices.

Heat some mustard oil (or any other oil you are using) for some shallow frying and fry the paneer one or two slice at a time. You basically just want to get a golden hue in places.

Remove with a slotted spoon and dunk it in the waiting water turmeric mix.

Continue to fry and dunk until all paneer gets the treatment.

Take 2-3 tbs of the oil in which you fried the paneer in a different pan and add in the tomatoes to it.

Add in the hing, cover and cook for about 10 minutes on medium heat.

Stir and add salt. Cover and cook again for another 5 minutes or until the tomatoes are almost cooked to a paste.

Add in the spices,except garam masala and zeera. Mix and cook until oil floats to top.

Add in the paneer and along with the water it was basking in.

Cook until oil floats to top again and you reach the desired consistency in gravy.

Ideally this is slightly thick.

Finish off with the garam masala and zeera . Cover and let it rest for 30 minutes before serving.
Recipe Notes
Best Made with freshly made paneer.