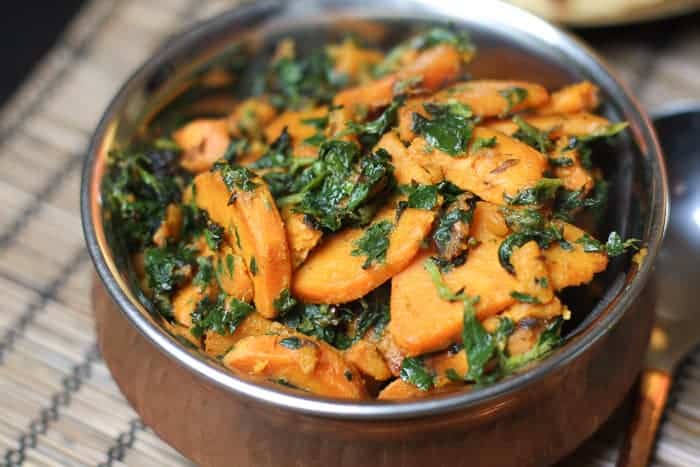 The sweet potato and fenugreek curry combines the nutritional benefits of two super foods, sweet potato and fenugreek. Add in some fenugreek seeds and you have yourself a delicious, super healthy food. In the ancient medicine systems in India and China, Fenugreek is used to improve metabolism in addition to using it to regulate blood sugar levels.
The Shakariya (sweet potato) Methi (fenugreek) nu shaak is my mother in laws's favorite dish. She saw a bunch of fresh fenugreek leaves in the refrigerator, the day she landed here from India and was really pleased. The first thing she asked me if I knew how to make this dish. Well! I hadn't even heard of the dish. So I asked her to teach me how.
And that's when the trouble started.
She was ready to make the dish one fine morning and started the prep. I got hold of my notepad to take notes and started to take notes diligently. The trouble started when she like all mothers started to put in a pinch of this and dash of that! Slow down Lady! I wanted to say. I have to know how much of what you put in so I can tell my blog visitors how to recreate the dish at home. But she was in her zone, stirring now, adding something then and just going on about the business. I should have known better! That is exactly what my mom used to do and I do when I cook. It's only when I am thinking about a recipe to put on the blog that I measure out things, try the recipe, get a feedback from the 'Tasting Minions' and then post.
Long story short, she made the dish. We ate it with some whole wheat rotis and a side of dal. But I had to make the dish one more time, measuring out the spices and noting them down. So I set to work a few days later and made the dish again going by the assumptions of a pinch of this and that. Then I wrote down the recipe and made one more batch to see if it was consistent. Don't worry. No food was thrown away in this process and no one's ego was hurt. It was all for a good cause.
In addition to being low carb, nutritionally power-packed this dish is super super easy to make for a weeknight dinner. Got 30 minutes and a pack of frozen fenugreek leaves? Lets get started.
Sweet Potato and Fenugreek – Shakariya Methi Nu Shaak
Ingredients
1

pound

fenugreek leaves

1

medium sweet potato

1/4

tsp

fenugreek seeds

slightly crushed

1/8

th tsp asafetida

1/2

tsp

cayenne powder

1/2

tsp

brown mustard seeds

salt to taste

2

tsp

oil

a pinch of sugar

optional
Instructions
Peel the sweet potato and cut it in half lengthwise. Then slice it in 1/4th inch thick pcs.

Heat oil in medium pot ( it should have a tight fitting lid).

Add in the mustard seeds, wait for them to crackle.

Add in the asafetida,fenugreek seeds and then add in the sliced potatoes.

Stir to coat and then reduce heat to medium low, cover and cook until potatoes are slightly cooked.

You don't want them cooked through at this point because they will cook more along the fenugreek. You can do a simple test to check for partial doneness - If you insert a fork in the potatoes they will offer a some resistance.

At this point, add in the cayenne, salt and the fenugreek leaves. Stir gently to coat and cover and cook until the fenugreek leaves are sautéed completely and the sweet potatoes are cooked through.

For the authentic Gujarati taste, use a pinch of sugar in the end, mix and serve.
Recipe Notes
Best eaten soon after cooking for the freshest flavors.