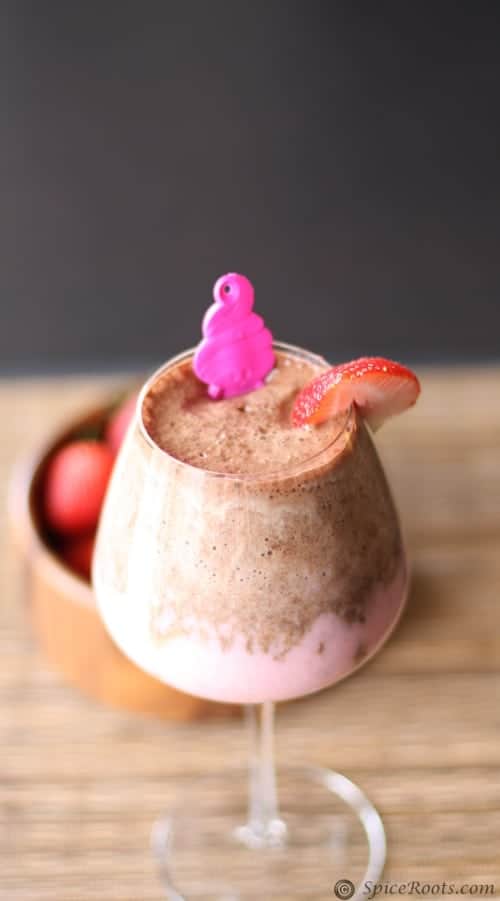 Chocolate + Coffee + strawberries = LOVE
LOVE + honey + yogurt = berrychococoffee smoothie!
I might not have done so well in a Math class with that equation;  but I can say this for sure. I did well with this smoothie! It was just the thing I needed to get through the cloudy sad day. Rich, creamy and yet low on calories.
This year I am on a mission to stay fit. While I don't count calories, I make it a point to avoid eating too many empty calories. If an ingredient won't benefit me much, it doesn't go into my system. As simple as that. Cutting down on processed sugar has not been a challenge. Even as a kid, I never really liked carbonated, artificially flavored drinks, hated candy and ate chocolates only if they were a certain brand. If you must know, Cadbury's Fruit and Nut used to be my poison.
So keeping with the theme of only good things go into the system, I made this smoothie as a test recipe to surprise the significant other with a delicious breakfast drink. I used valrhona cocoa powder , which has no sugar added. All the sweetness in this smoothie comes from the strawberries. I was so pleased with the resulting smoothie, that I couldn't keep it a secret till the Valentine's day breakfast.  I immediately posted it on my blog's facebook page and the guy who never ever sees a blog post from me,  pings me and asks if this smoothie was waiting for him at home!  Finally something worked to make him believe in Valnetine's day! Thank you St. Valentine!
Strawberry Mocha Smoothie
Ingredients
1/2

cup

low fat yogurt

4-5

strawberries

1

tsp

instant coffee

1

tbs

good quality coco powder

1

tsp

honey

optional - I didn't use any in mine, but the honey asked for some honey

crushed ice
Instructions
Blend the strawberries with some crushed ice and half the yogurt.

Pour into the glass

Blend the coffee, chocolate, honey, with the rest of the yogurt and crushed ice

Pour on top of the strawberry mix