It has been a while since I baked with the creative cookies Exchange. Things have been topsy turvy these past few months including but not limited to my blog being hacked by someone to spread malicious content through a wordpress plug in. As soon as Google notified me about the hack and possible malware distribution through my blog, I took the blog offline. Then my poor husband had to work relentlessly to debug it, find the malicious virus and bring the blog back online.
Once that was done, a friend of the teen landed here to stay with us. And with that came the barrage of friends that both of them know. My house is full of always hungry teen girls and boys. It gives me the perfect opportunity to bake.
So here we are with a brand new recipe for Spiced Parmigiano Scones scones. Although not technically a cookie, a scone is sort of in between a cookie and a quick bread. And I do apologize for the rushed photos. There isn't much you can do when a bunch of teens are hovering around you to see what you made and if they could eat it.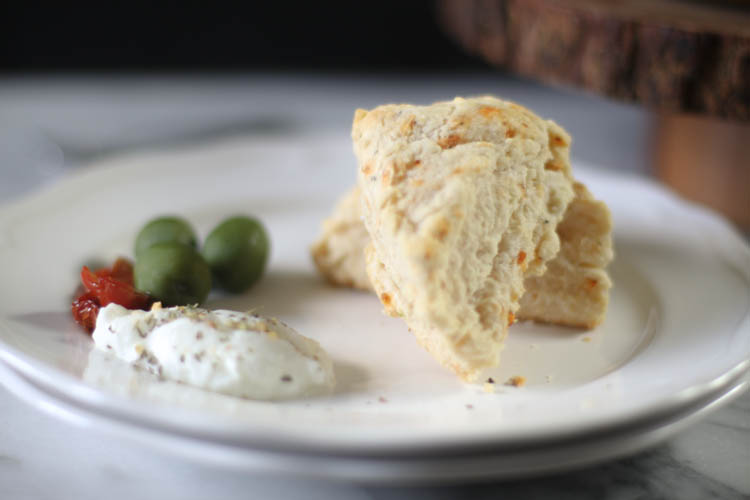 Cheese makes everything better–even cookies! Sweet or savory, you can find them here!
You can also use us as a great resource for cookie recipes. Be sure to check out our Pinterest Board and our monthly posts (you can find all of them here at The Spiced Life). You will be able to find them the first Tuesday after the 15th of each month! Also, if you are looking for inspiration to get in the kitchen and start baking, check out what all of the hosting bloggers have made:
Spiced Parmigiano Scones #CreativeCookieExchange
Ingredients
3 cups all purpose flour
2 tbs baking powder
1 tsp salt
1 tsp catanzaro spice blend
1 tsp crushed alleppo peppers
6 oz cold butter cut into 1/2 in cubes
1 cup finely grated parmigiano reggiano cheese
1.5 to 2 cups milk/ heavy cream
Instructions
Mix flour, baking powder, salt, catanzaro spices, alleppo peppers in a bowl. Sheet in the cold butter until mixture resembles a coarse cornmeal. Do not overmix.
Add in the cheese and stir.
Gradually add the milk/ cream, a little at a time and mix until the mixture just begins to hold together.
turn out on a working surface and fold the mixture onto itself once or twice.
divide the mixture into two disks.
flatten each disk to a 1/2 in to 3/4 in thickness
wrap in plastic and chill for at least an hour
Preheat oven to 400F
cut each disk into 8 triangles and place them on a sheet pan lined with parchment paper
brush the top of the triangles with milk
bake for 10 to 12 minutes
serve slightly warm with sun dried tomatoes and olives and some greek yogurt.
Notes
The Catanzaro blend is a Savory spice shop speciality. You may use any other herbs you like.
https://www.spiceroots.com/spiced-parmigiano-scones/
(Visited 307 times, 1 visits today)