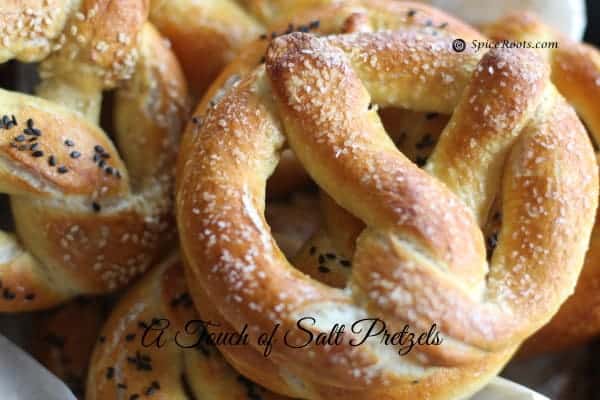 Back to School month! You think you have it all planned and take it easy and suddenly it dawns on you that there is still so much to be done. You run like a headless chicken in all directions and that of course doesn't make matters solve themselves, neither do you burn any calories running that way!
So even though we bought the school supplies and uniforms before time, scheduled assessments and had most doctor's and dentist appointments done with, the days leading to the back to school filled themselves with work – On their own! H*O*N*E*S*T !
Well let's see – the teen is becoming more style conscious and even though there is a dress code at school, it doesn't stop her from expressing her style. So the shoes shopping did not go as smoothly as I had expected. A pair of Toms, a pair of cross training shoes, a pair of flat dress shoes and a sigh for the perfect boots for fall. Agreed, a girl has to have her shoes, but my girl has to have THE shoes. And off we went shopping for the perfect style that would make a statement, yet be under the uniform code.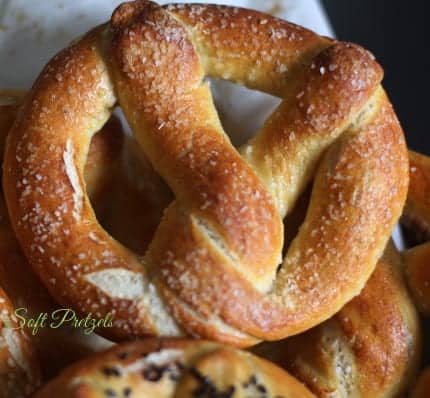 So in all of this back to school happy and fun madness I completely forgot to keep track of other things. Like the #wekneadtobake with Aparna. This morning, when I saw all beautiful pretzels on my Facebook wall, I suddenly panicked. Was it already 24th? I had not even baked them yet. Leave alone writing about the experience and try and make a couple of batches.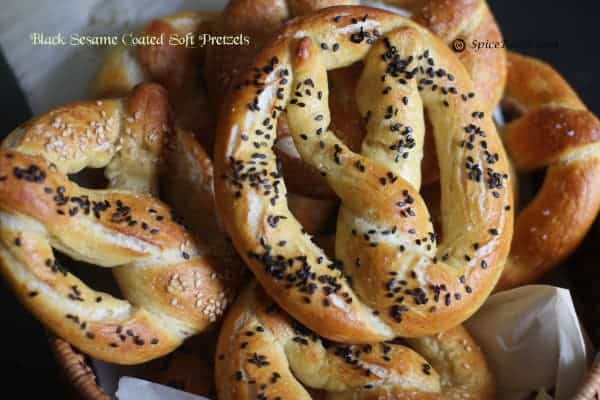 And when the teen got to know about this month's bread, she offered to help. The only condition she wanted soft pretzels. Dark, salty and chewy!
I got the dough ready and she watched a couple of youtube videos to learn making the shape. I think she did a great job – better than I could have in my panicked state.
The Pretzels are the 8th Bread in Aparna's We Knead to Bake and are also being sent to Yeast Spotted .
Soft Pretzels – We Knead to Bake # 8
Ingredients
2

tsp

dry yeast

1 1/2

teaspoons

sugar

1

cup

warm water

3 1/2

C

all purpose flour

1

teaspoon

salt

1

tsp

oil

6

cups

water

2

tablespoons

baking soda

1

teaspoon

water

2

teaspoons

kosher salt

2

tbs

cream
Instructions
Line two cookie sheets with parchment paper

Dissolve yeast and sugar in warm water in a large bowl, and let stand for 5 minutes.

Stir the flour and spoon flour into measuring cups; level with a knife.

Add 3 cups flour and 1 teaspoon salt to yeast mixture; stir until a soft dough forms.

Knead until smooth and elastic.

Add more dough if you need to - 1 tablespoon at a time, to prevent dough from sticking to hands.

Place dough in a large bowl coated with cooking oil, turning to coat top.

Cover and let rise in a warm place for at least 40 minutes or until doubled in size. (Gently press two fingers into dough. If indentation remains, the dough has risen enough.)

Punch dough down; cover and let rest 5 minutes.

Preheat oven to 425°.

Divide dough into 12 equal portions. Working with one portion at a time (cover remaining dough to prevent drying), roll each portion into an 18-inch-long rope with tapered ends. Cross one end of rope over the other to form a circle, leaving about 4 inches at end of each rope. Twist the rope at the base of the circle. Fold the ends over the circle and into a traditional pretzel shape, pinching gently to seal. Place pretzels on a baking sheet lightly coated with cooking spray. Cover and let rise 10 minutes (pretzels will rise only slightly).

Combine 6 cups water and baking soda in a stainless steel pan. Bring to a boil; reduce heat, and simmer. Gently lower 1 pretzel into simmering water mixture; cook 15 seconds. Turn pretzel with a slotted spatula; cook an additional 15 seconds. Transfer pretzel to a wire rack coated with cooking spray. Repeat procedure with remaining pretzels.

Place pretzels on the baking sheets. Combine 1 teaspoon water and the cream in a small bowl. Brush a thin layer of cream mixture over pretzels; sprinkle with kosher salt. Bake at 425° for 12 minutes or until pretzels are deep golden brown. Transfer to a wire rack to cool.