I have to admit, baking has taken a back stage at my home right now.  It is after all Summer and we spend more time out than in.  Grilling food and eating on the patio or packing a picnic is what we enjoy doing.   So this Savory ( Savoury for the rest of the English world )  Kugelhopf came at the right time.  I hadn't baked in a while so it was a good project to work on.  And since summer is also a time when I do tend to rise earlier than usual, making this bread early in the morning to bring it to hubby's work buddies to enjoy with coffee was a bonus.
When you hear the term Kugelhoph, a sweet, tall, raisin and nut filled yeast cake comes to mind.  But this one is a bit different. It is a savory Kugelhopf.  And it is as good as the sweet one and in my opinion actually better because as you know – I do have a thing or two for savory.
So I baked this from start to finish one morning and packed some for hubby's work buddies, packed a little to enjoy with my daughter at the neighborhood lake.  It was almost divine. Baking a fresh bread does that. It feels completely satisfying to have made and shared a good loaf of bread.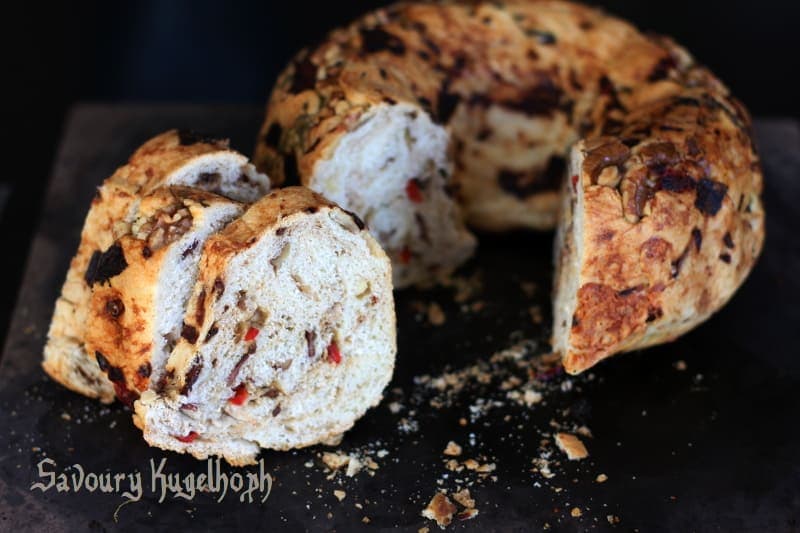 Savory Kugelhopf – We knead to Bake #7
Ingredients
3 to 3 1/2

cups

all-purpose flour

2

tsp

instant yeast

1

tsp

salt

or to taste

75

gm butter

at room temperature

3/4

cup

milk

2

eggs

beaten lightly

1

tsp

oil

1/3

cup

chopped red bell pepper

1 /2

cup

onions

finely chopped

1/2

cup

diced Gouda

1/3

cup

walnuts

1 1/2

tsp

coarsely crushed black pepper

2

Tbs

fresh Thyme

1

C

Turkey Bacon

crisped up and chopped
Instructions
Put 3 cups of flour, yeast, and salt in the bowl of the stand mixer

Stir to mix.

Add in the butter, a little at a time, and process till all butter is incorporated.

Add the warm milk , gradually and mix well.

Add the eggs and stir in to mix.

You will now have a soft and sticky dough. Knead some more, adding more flour, a little at a time and just enough till the dough pulls away from the sides of the bowl.

Do not add more flour than absolutely necessary.

Once the dough is soft, elastic and just short of sticky, transfer the dough to an oiled bowl, cover and let it rise until double in volume. ( about 1 - 2 hours)
Make the filling
Heat the oil in a pan. Add the chopped green bell pepper, onions and salt and stir-fry till tthe onions are transparent. Keep aside.
Assemble the Kugelhopf
Grease an 8" kugelhopf mold or bundt pan well especially around the center. Place some of the chopped walnuts in the bottom of the mold.

Once the dough has risen, punch it back.

Then add the cheese, stir-fried onions, bell pepper, bacon and the remaining walnuts, black pepper and thyme into the dough.

The easiest method is to just knead it into the dough. After that roll the dough into a log, long enough to fit into the mold comfortably.

Place the dough log in the mold in a circular fashion and pinch the ends together

Cover and let the dough rise for about an hour or so, until it reaches the edge/ rim of the mold.

Bake the Kugelhopf at 200C (400F) in a Pre-heated oven to 400 degrees for about 30 minutes or until the top is golden brown and sounds hollow when it is tapped.

Wait a few minutes before unmoulding, then let it cool ( as with any bread) before slicing.