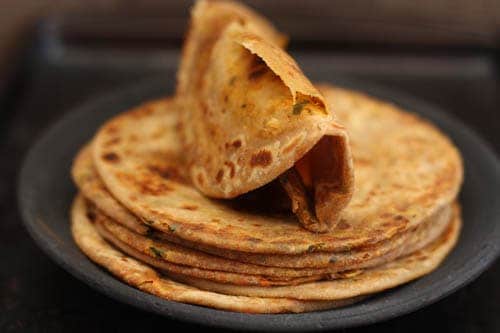 There are very few aromas that stir my appetite as the smell of bread being freshly baked on a griddle does. Fewer still invoke longing and memories of a life gone by.
My earliest memories of Roti / Paratha are those of waking up to the aromas of chai boiling away and the freshly baked roti's being slathered with Amul butter. Mom never made the breads in advance. She always ensured we get fresh off the griddle paratha or roti to enjoy for our breakfast.
I can still see her in my minds eye, rolling the bread and baking it on an iron griddle. And then serving it with a dollop of butter and a dryish egg/ meat/ vegetable breakfast bhaji.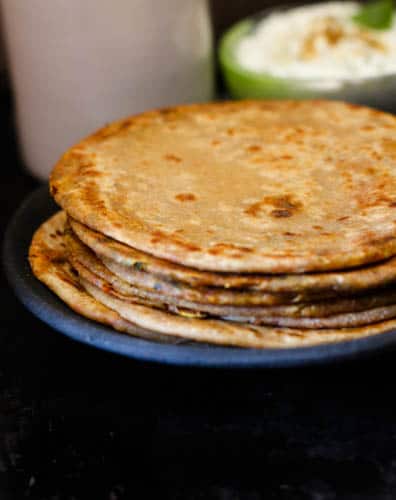 My other experiences of griddle breads are from my Mother in Law. If I was in awe of my mother's speed at making the griddle breads, I was totally floored with my MIL's skills. Especially when I observed my MIL making super soft, perfect circle, always puffed to perfection ( it is a good thing for a roti to be puffed), paper thin rotis. And she is the one who got me hooked to Satpadi – Spiced Griddle Bread.
It is my go to bread when I have to make a quick snack for my teen. It's filled with aromatic spices, tickling pickle, and has the goodness of whole wheat and ghee. It is also a bread that travels well for a picnic in the mountains or a road trip.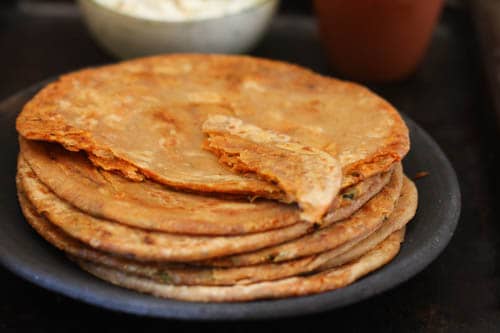 Satpadi – Spiced Griddle Bread does require the exact spice mix to make. Most Indian Groceries will have the two main spice mixes used in it.
The first one is the " Sambhaar" – a mix of fenugreek seeds, mustard seeds, red chillies and other spices. The second one is the " Jiralu" – a combination of Black Salt, Cumin, Chilly, Salt, Turmeric, Dry Mango, Dry Ginger, Black Pepper, Cinamon, Clove, Asafoetida etc.
These spices are what give the Satpadi it's spiced kick.

I am hosting the #Breadbaker's this month and I chose griddle breads as the theme. I feel griddle breads are versatile, interesting and should be talked about more. I am glad my bread-baking friends felt the same way and came up with a variety of griddle breads for you all. Check their breads after the recipe section.
Here is a step by step process of making the  Satpadi – Spiced Griddle bread :-
Satpadi – Spiced Griddle Bread
Ingredients
2

cup

Aata

Stone ground (fine whole wheat flour)

2

tsp

cooking oil

1/2

tsp

salt

1

cup

Water

2

Tbs

Coriander powder

1

tsp

Cumin powder

2

Tbs

Sambhaar

2

Tbs

Jiralu

3

Tbs

Chopped Cilantro

2- 3

Tbs

Spice and oil from a mango pickle jar.

Ghee to brush on the baked bread.
Instructions
Make the dough
Mix the oil and salt into the aata.

Add the water gradually and mix to make a soft pliable dough. You may need 3/4 C to 1 1/8th C water depending on the age of the flour and humidity. So add water gradually.

Let the dough rest for a few minutes
Make the Satpadi Masala
While the dough is resting, make the spice mix

Add the coriander powder, cumin powder, Sambhaar, cilantro and jiralu to the mango spice and oil mix.

Stir to combine well.
Make the Satpadi
Heat a non stick griddle / cast iron griddle and keep it on medium heat.

Divide the dough into 7- 8 equal parts and roll each one into a ball.

Working with one dough ball at a time, dip the dough ball in some flour and roll out into a thin circle with a rolling pin.

Brush on about 2 tsp of Satpadi Masala mix on the rolled out circle.

Starting from one end of the circle, start rolling in towards the other - like a swiss roll.

Take one end of the roll and place back it on the counter. Now wrap the rest of the dough rope around this end to form a coil. Once you reach the end of the dough rope, place the end under the coil and press down with your palm.

Roll this coil out into a 6 in circle .

Bake on the griddle for about 1-2 minutes on each side and then brush with ghee - one side at a time and cook again for about 30 seconds on each side.

Serve with chai and raita.
Griddle Breads
#BreadBakers is a group of bread loving bakers who get together once a month to bake bread with a common ingredient or theme. Follow our Pinterest board right here. Links are also updated each month on this home page.
We take turns hosting each month and choosing the theme/ingredient.
If you are a food blogger and would like to join us, just send Stacy an email with your blog URL to foodlustpeoplelove@gmail.com.