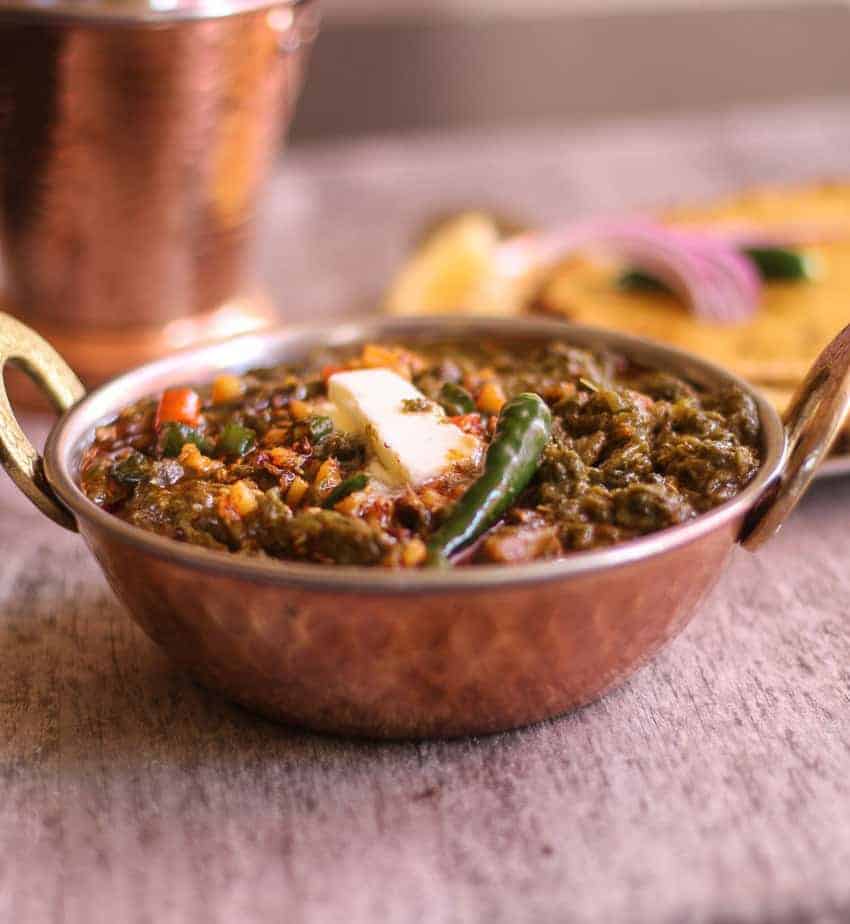 Sarson Ka Saag – Mustard Greens in Punjabi style is a winter time, huddle around the fireplace and eat sort of dish.  Sarson Ka saag ( mustard greens) paired with Palak ( spinach) and Bathua (Chenopodium ), slow cooked to a creamy consistency. Serve with freshly churned butter and hot off the griddle Makki ki Roti( Corn Flatbreads).
This is another dish that Biji of The Punjabi Chole and Dal Makhni fame taught me to cook. As long as we stayed neighbors, I would get my fix of sarson ka saag at her place. On the days she cooked it, she would wait for me to return from my work. As soon as I would turn my car off in the driveway, her gentle voice would confirm from the other side of the fence, "aa Gaye beta?" ( Are you home, child). "Haan ji, Biji" (Yes, Biji). And then she would hand me a container full of sarson ka saag and makki ki roti to go with it. And just like that, I had dinner. A dinner made with love and good ingredients.
This is a modified recipe. Chenopodium or Bathua is sort of hard to find here. And it isn't easy to grow in Colorado. Enjoy the Sarson Ka saag with some warm corn tortillas or if you want to go truly traditional, with some Makki ki roti.
Remember to make it on a day when you can truly allow it to develop the texture and flavor. A good sarson ka saag needs time, fresh greens, delicious butter and a lot of elbow grease.
Sarson Ka Saag
Ingredients
2

pounds

Mustard Greens

1

pound

Spinach

not the baby spinach

5

Tbs

Corn Meal

Made from Yellow Corn - Go for "Makki Ka Aata" from an Indian Grocery store
Tempering
2

Tbs

Ghee

2

Tbs

Chopped Garlic

1

Tbs

Chopped Ginger

2- 3

Chopped Thai Green Chillies

Add More if you like it hot

1

tsp

Hungarian Paprika
To Serve
A Dollop of Fresh Butter and Some Makki ki Roti
Good to Have
A Pressure cooker to Speed up the process
Instructions
1st Stage of Cooking!
Assuming you have washed and rinsed the greens - Trim the stalks of the mustard and spinach. If the stalks are tough, you may need to trim off the stringy exterior, but don't discard the stalks.

Using a Pressure cooker, cook the greens with very little water ( about 1/8 C). I usually wait for the greens to cook down a bit before putting the lid on.

Once the steam builds up the greens should be done in about 5 minutes. If you don't use a pressure cooker, Cook the greens until tender.

When the steam releases, put the pressure cooker back on the heat.

I usually take a big wooden ladle and stir the greens rigorously until the greens are mixed in and creamy without turning them into a paste.

But in times of great hurry, I have been known to use a hand blender and give the greens a whirl with that. Not too much though, Just enough to make them blended in.

Now add in the corn meal and stir until the liquid from the greens dries up and the corn meal is cooked through. At this stage the greens splatter a LOT. So be sure to use a long spatula stir constantly. The saag is ready when the liquid is no longer separate from the greens.
Second Stage of Cooking
Just before serving, Reheat the Saag.

In a small pan, ghee and add the ginger, followed by garlic and green chilli. Cook until aromatic and then add the Hungarian Paprika. Quickly transfer this on top of the Saag and serve with a Dollop of butter on top.