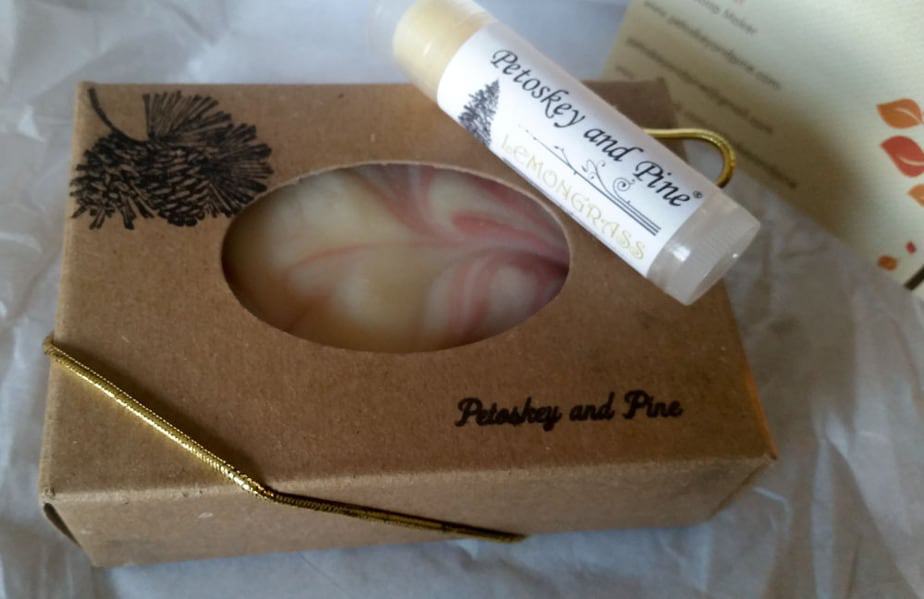 A few weeks ago, Wendy of A Day in the Life on the Farm created a panel of bloggers to try out artisnal handmade bath products from a company called Petsokey and Pine. She asked if we would like to try the product and asked us for an honest opinion. The company gave the bloggers the choice of picking up the soap for trial and once we sent in our choices, they promptly shipped it with a sweet handwritten note and a lip balm.  I was really excited to try the soap because I loved the sound of Orange Tea Tree.
This review is for the Orange Tea Tree soap, but since there is always a recipe on my blog, I did not want to leave you all without one. So I thought of sharing my weekly Rosemary Hot Oil Treatment recipe with you. The only time you need to spend on this recipe is the time it takes to mix a batch of oil and rosemary and heat it through to help the rosemary release it's oil. Leave it for a week before using for the first time.
Now back to the Petsokey and Pine. This budding new company prides itself for making all natural products. Which is why I had to try the product. All natural, environment friendly and free from any artificial scents. The Ornage Tea Tree with ingredients like Distilled Water, Olive Oil, RSPO sustainable Palm Oil, Coconut Oil, Castor Oil, Mango Butter, Sodium Hydroxide (lye), Rosemary Oleoresin, Alfalfa Powder, Rose Kaolin Clay, Turmeric Powder, 100% Pure Essential Oils was right up my alley.
And may I add I was not disappointed.
What I loved about the soap was that it lathered well, it was not overwhelming in the scent department – Just a hint of orange and it was moisturizing. If you live in a place like Colorado, you will know that hard water and the weather here makes our hair and skin dry as a twig. So it was really nice to have a soap that left with me a lingering citrus smell and soft touch of the oils. Exactly what I need from my bath product and minus the harmful colors and chemicals.
My peppermint lip balm was really refreshing and healing and what I loved best was that all the lip balms and soaps are vegan. Though I do eat meat, I like the fact that so many of my vegetarian and Vegan friends will have access to a product that is in line with their lifestyle and philosophy. I can finally gift a vegan product to my Mom in Law that she will love.
I think these little gift boxes will make an excellent choice for a Mother's day gift. And if you want to win one for yourself all you have to do is enter the giveaway. You could win yourself a $35 Boxed Gift set.
Here are the other bloggers who tried the products. You can take a look to see what they have to say about the products. Good Luck!
Amy of Amy's Cooking Adventures
Camilla of Culinary Adventures with Camilla
Nichole of Cookaholic Wife
Sarah of The Pajama Chef
Paula of Smidgens, Snippets and Bits
Chrisite of A Kitchen Hoor's Adventures
Rebekah of Making Miracles
Traci of Burnt Apple
April of Angels Homestead
Sid of Sid's Sea Palm Cooking
Shilpi of Simply Veggies
Bari of Live Laugh Run Breathe 
Disclaimer :- All views expressed about Petsokey and Pine and their product are my own. I was given a sample of the product to try and in return had to honestly write about the product.
 And now the promised Rosemary Hot Oil treatment recipe 
Rosemary Hot Oil Treatment
Ingredients
3

Tbs

Coconut Oil

6

Tbs

Castor oil

1

Tbs

dried rosemary

1

tbs

Jojoba oil/ Almond oil

1

Tbs

Rosemary oil
Instructions
Mix all the oils and rosemary together in glass jar.

Heat the oils - you can do this in a microwave or double boiler method on stovetop. I usually take a shallow pan and put half a cup of water in it. I put the glass jar in the pan, ensuring the jar is at least 1/2 in the water. Don't fill too much water

Gradually heat the pan and using a wooden spoon, stir together all the oils until coconut oil melts and the oils are warmed through.

Switch off the heat and let the jar cool down.

Store for a week before using.

When you are ready to use, heat the oil to a warm ( 30 sec intervals in the microwave or double boiler method)

Filter out the rosemary. Use the warm oil on the scalp with a gentle massaging motion.

Cover your head and hair with a towel that has been heated in the dryer and relax for about 30 minutes. Wash with shampoo and say hello to beautiful nourished hair.

You can store the rest of the oil for later uses and make a fresh batch when this one is almost over.

For really dry and damaged hair, leave the treatment on for a few hours and repeat a few times a week.
Recipe Notes
*Don't use if you are allergic to any ingredients in this recipe
* Warm the oil slightly. Hot oil can cause burns and damage, so please be careful.
* This recipe is to be used at reader's discretion.
*All facts, details & recommendations on this recipe are provided for information purposes only and are not intended to diagnose, prescribe or replace the advice of professionals.