Smoky, smoldering and clandestine. That has been my affair with the guy named clove, ever since we got together for the Alu matar Smokin'.  We have been meeting off and on, more on than off for he is just too irresistible.  What's not to like in a guy who makes me look like I am the greatest cook?  He makes me look good, oh yes he does!  But since it is a brand new year and I really don't want to keep him a secret anymore, I am declaring it out loud.  This is going to be the year of clove in my kitchen.  There ! I said it.
In addition to the smoky pungent taste, the cloves have therapeutic properties and have some of the richest antioxidants of all spices.  And did I tell you that they act as wonderful breath fresheners?
A fire roasted eggplant is quite flavorful by itself.  The best baigan bharta  is made on smoldering coals or a wood fire. Slowly roasted eggplants on wood or coal fire have a taste that can just not be matched by any other method. However, cooking them on an open stove top flame comes a close second and so does roasting them in an oven. No matter which method you use, a baigan bharta with cloves added in takes it a few notches up.  The already smoky flavor gets matched with pungent smoky clove. The result is worth a try.
Serve this Roasted Egg plant dip (for want of a better description for baigan bharta) as a game day appetizer.  You will in fact make them stop watching the game for just a bit to ask you what's in it 😉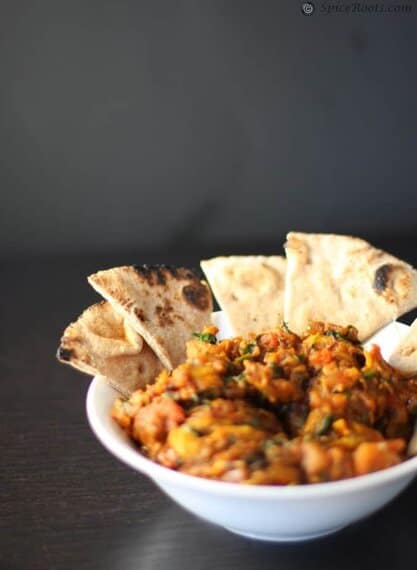 Roasted Eggplant Dip – Baigan Bharta
Smoky, smoldering and sensational.
Ingredients
2

Globe Eggplants

1

C

chopped onion

1.5

C

chopped tomato

1/4

C

chopped cilantro

salt to taste

1/8

tsp

clove powder

1- 2

thai green chillies

1/2

tsp

turmeric powder

1/2

tsp

red chilli powder/paprika/cayenne

2

tbs

chopped garlic

1

tbs

chopped ginger

1

tsp

cumin seeds

2

tbs

mustard oil

1

tsp

mango powder

amchur
Instructions
prepare the eggplants
make deep incisions all around the eggplants and cook them on open flame/ grill.

Alternately cut them in halves lengthwise, and roast cut side down in the oven at 450*F for 25- 30 min

Once the eggplants are cooked through ( tender all through), allow them to cool off.

Then peel the skin off and keep the eggplant aside.
make the dip
Heat the mustard oil and allow it get slightly smoky

Reduce heat to medium and add the cumin and wait for it to splutter

Add in the onions and let them cook until they get transparent and start browning on the sides.

Add in the ginger and garlic and saute until garlic browns slightly.

Add in turmeric, chillipowder, and tomatoes and cook for about 4- 5 minutes on medium heat.

Add in the eggplants and mix well. Now add in the cilantro, green chillies, mango powder, salt and clove powder.

Cook for another 2-3 minutes stirring every now and then, until everything mixes in well.

Serve with strips of pita bread as a dip or with roti and dal as a side dish.