Sun kissed beaches, glorious ocean waves and a big sip of a tropical drink. That's how I picture a tropical vacation which is the theme for our BundtBakers this month. The theme made me think of Raspberry Mojito Bundt Cake only after I had exhausted my options and myself in making a kick ass mango coconut bundt cake. I tried. I really did.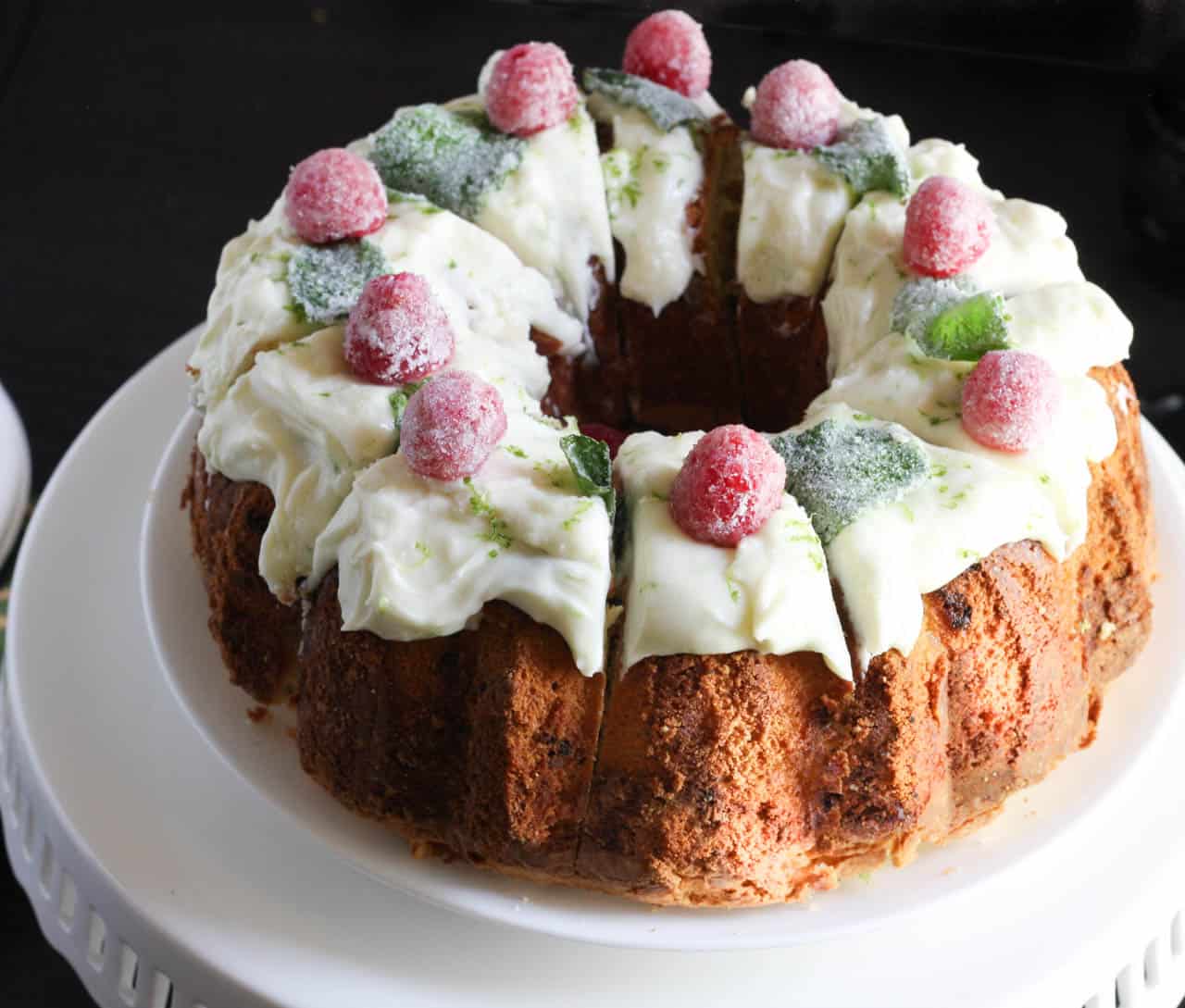 But tropical themed cakes and me don't see eye to eye in first or the second try. Guys! I repeated the story that I had with my Tropical surprise bundt cake! As they say, third time is a charm. But this time, I did a complete change of plans and instead of mango and coconut which are my absolute favorite tropical flavors, I chose to go with a Raspberry Mojito Bundt Cake.
My mango and coconut cake was baked well, came out of the pan ok. But it just didn't have enough mango or coconut flavor. The whole exercise seemed pointless. I mean why add mango and coconut if you cant even taste them. So I baked again, this time adding more mango and some mango puree and some more coconut. You should have seen the mess it was after baking. It looked like a well baked cake, only it was not. The portions around mango chunks were too moist and the rest of the cake too dry. So I scratched the idea. And decided to go with a different cake.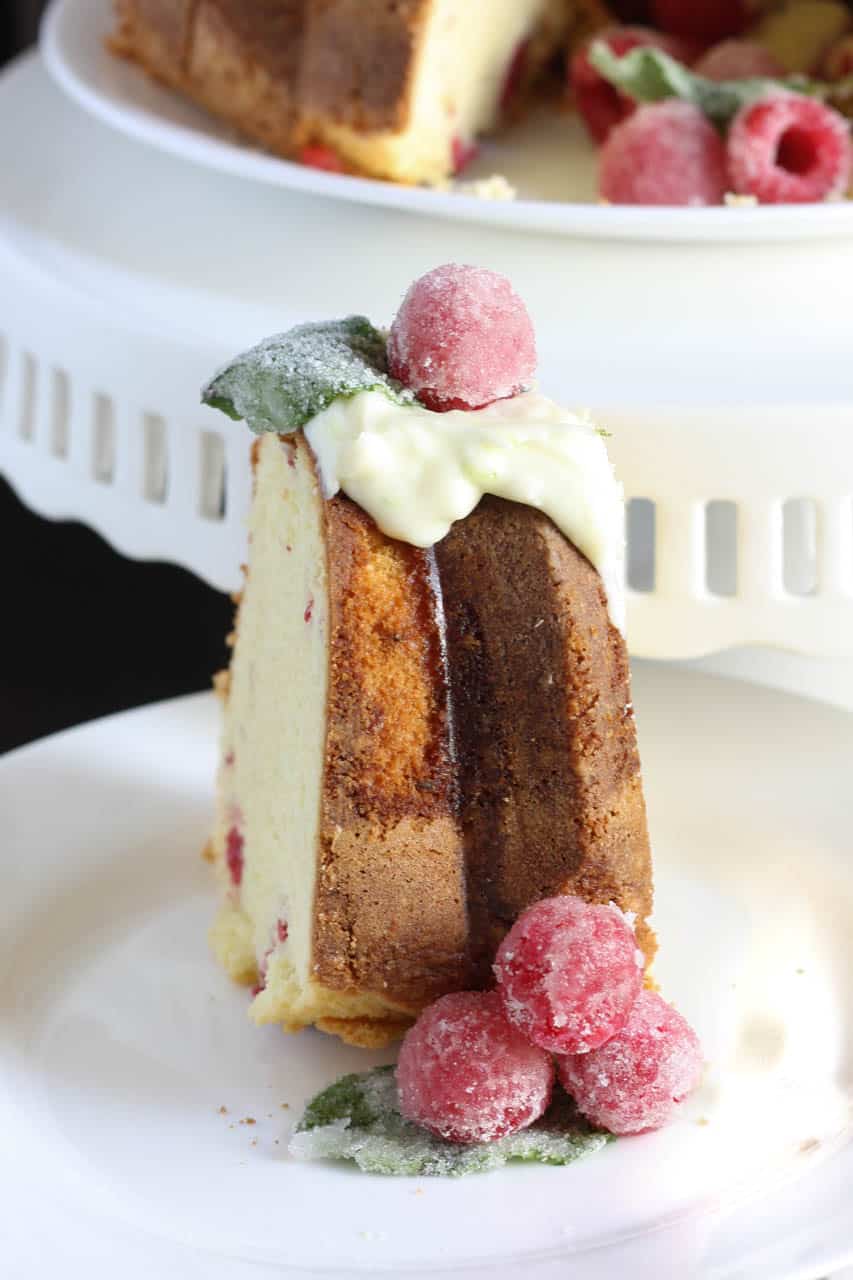 I am so totally glad that I did. At one point I just gave up and said I won't do it this month. But then I didn't want to be defeated by a cake, so I put my big girl pants on and started on this cake. And the resulting cake is every bit a Raspberry Mojito, only in the  Bundt Cake form! And to top it, Colorado has been sunny and warm this past week, so it feels like a vacation. Only not near the beach.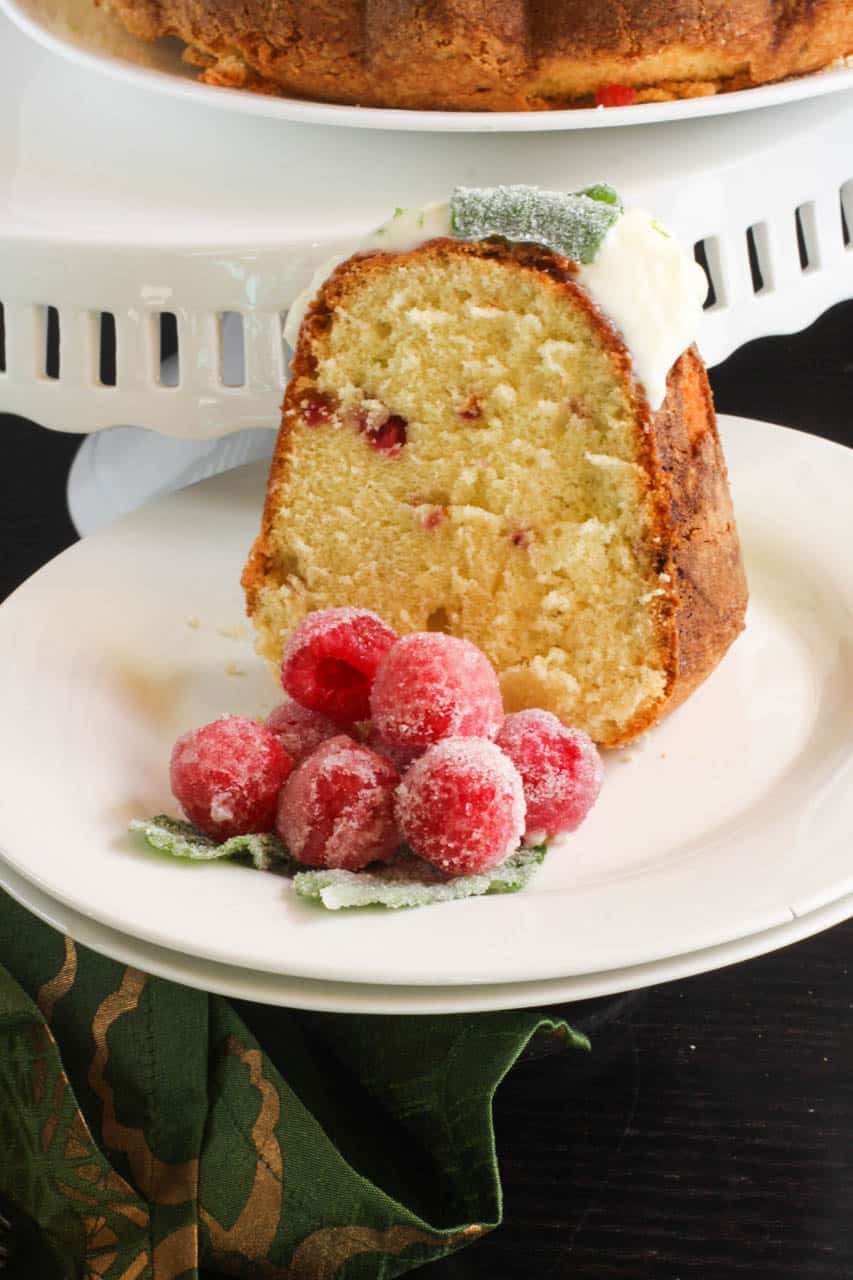 Since the cake tasted so much like the real deal, I decided to go a step further and make some candied raspberries and mint leaves. It was a lot of fun to do while the cake was cooling. And the resulting raspberries look so pretty!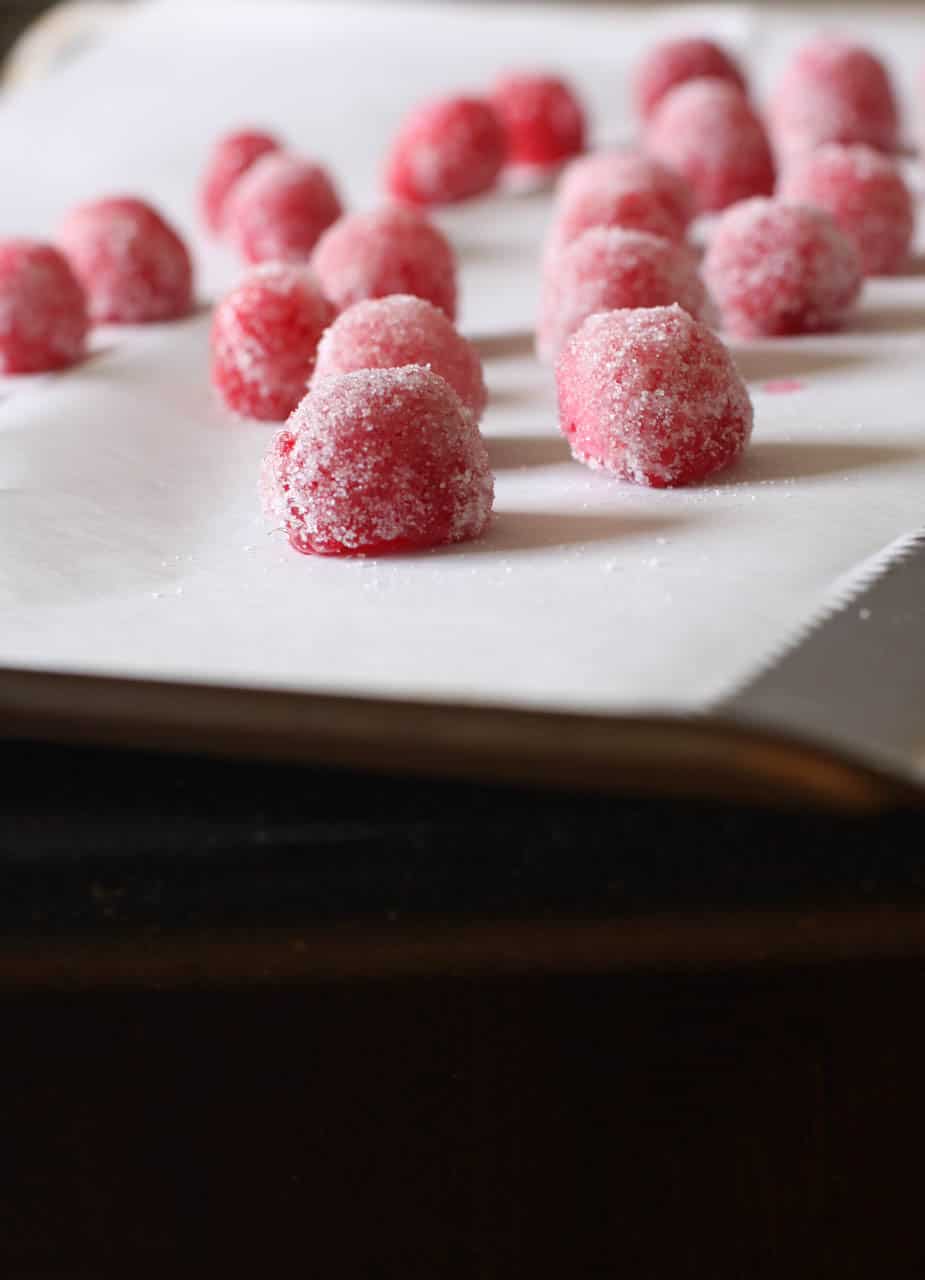 Many thanks to Christiane for this wonderful theme. It made a lot of bundt bakers wish they were on a real vacation. Christiane blogs at The Mom Chef : Taking on Magazines. I can't wait to check out what the rest of the bakers have made this month. And hope you check out their posts as well.
Here they are in Alphabetical Order!
#BundtBakers is a group of Bundt loving Bakers who get together once a month to bake Bundts with a common ingredient or theme. You can see all of our lovely Bundts by following our Pinterest Board.
We take turns hosting each month and choosing the theme or ingredient.
Updated links for all of our past events and more information about BundtBakers can be found on our homepage.
Raspberry Mojito Bundt Cake
Raspberry Mojito Bundt Cake
#BundtBakers
Ingredients
For the Cake
3

C

all-purpose flour

2

tsp

baking powder

1/4

tsp

baking soda

3/4

teaspoon

salt

1

C

unsalted butter

room temperature

2.5

cups

granulated sugar

6

large eggs

2

Tbs

lemon juice

3

Tbs

Rum

1

cup

cream cheese

1

tbs

lime zest

1

Tbs

chopped mint leave

1/2

cup

raspberries for batter

more for garnish ( garnish is optional)
Syrup
2

tbs

sugar

2

Tbs

lemon juice

1

tbs

rum
Icing
1

cup

cream cheese

1/2

cup

powdered sugar

2

tbs

milk

1

tsp

lime zest.
Garnish (to be done a few hours ahead)
1

egg white

sugar in a bowl

some raspberries and mint leaves
Instructions
Preheat the oven to 350*Prepare the bundt pan - grease and flour thoroughly to ensure nothing sticks into the pan after baking.

Sift together the flour, baking powder, salt and soda - at least a couple of times.

Beat the butter and cream cheese until light and creamy and then add in the sugar and beat until thoroughly aired and mixed. (About 5 minutes in my stand mixer)

Add in the eggs and yolks; one by one. Ensuring the batter is combined well before the next addition. Scrape down the sides as and when needed.

Add the lemon juice, lemon zest, rum and beat to combine.

Mix in the dry ingredients into the wet. Mix on low speed or by hand. Do not overmix. Finally add the raspberries and mix.

Pour the batter in the pan and bake on middle shelf for about 60 minutes or until a cake tester inserted comes clean.

Let it cool completely before unmoulding.( about an hour )

Just before unmoulding, prepare the syrup.
Syrup
Add the sugar and lemon juice into a small pan and set it on medium heat. Do not stir. Once the sugar melts, switch off heat, add in the rum and keep side.
Icing
Cream together the cream cheese and sugar until sugar sort of dissolves. Add in the milk and mix again.
Garnish
With a small brush, apply egg white on to a raspberry, roll it in sugar , lift and let it dry on a parchment paper. Repeat with all raspberries one by one.

Repeat with mint leaves.

Complete the cake

Unmould the cake, and pour the syrup over the cake making sure to evenly distribute it.

Ice the cake and apply garnish.
Recipe Notes
The candied raspberries and mint leaves were dipped in egg whites hence making them unsafe for consumption by small kids and elderly. Although I used a pasteurized egg while, I still would not recommend this technique for the said population for health risks.