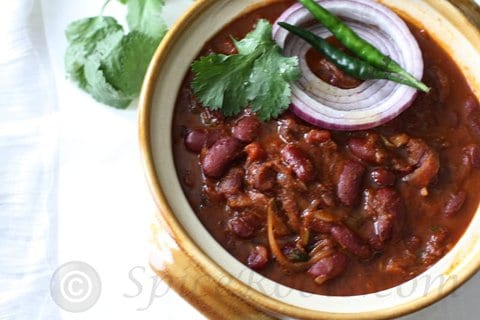 Has it ever happened to you, that you presented the idea of making the best dish from your hometown with so much enthusiasm that you could barely resist the urge to get going and make it but your baloon of excitement was burst with one simple " Sure! But I don't understand what the fuss is about this dish."
A lightening strikes and then there is a deafening silence. While you scurry for an appropriate response, your mind is racing with responses that you want to utter in a thundering voice so high pitched that every crystal in the house could shatter. You want to tell the person in question that the big deal about this dish is the same big deal there is about sushi, kimchi, hand made pasta, hand tossed pizza, freshly made cheese, the good old BLT, crawfish boil and on and on. But        you         don't. You are saying all this in your head, while trying to find a calm and composed response.
So you calm yourself and say, "I just want to make this for the guests coming over tonight and I have a feeling they might like it," and leave it at that.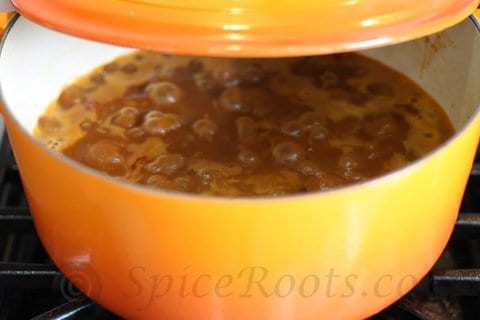 Then you slowly gather whatever is left of your enthusiasm and set to work. The delectable aromas wafting from the wok with the frying of onions and the boiling of the sauce help you get back in the zone and you forget the previous conversation ever happened.
 You finish cooking the main dish and the sides and set the table, air out the cooking aromas and light candles, select a sophisticated playlist, fluff the cushions and head over to get the last minute brushing done on your hair and apply a hurried lip gloss before the guests knock at the door.
Conversations happen, there is quiet laughter and some hearty laughs. There is sharing of food and wine and compliments galore and then one big voice that gushes " Oh Now I understand what the fuss is all about!"
And you say out loud, "Well, Thank you!" and smile a sweet smile while secretly placing this in the part of mind that keeps track of all things he did wrong. Husband! You should have known better!
So dear reader's let me tell you what the fuss is all about! This recipe is for red kidney beans from the Jammu region of Jammu and Kashmir, one of the states in India.  The kidney beans from this region are smaller in size, sweeter in taste and the texture is far more superior than the regular kidney beans. Also the process of cooking Rajma in Jammu region is different from the rest of the Northern India, even though the spices and ingredients used are almost the same. The first difference is  that Jammu style Rajma is cooked with a stick of cinnamon at the time of boiling them. The other major difference is that we use more onions than tomatoes in the dish and we make it in ghee and serve it with rice with ghee topped over it.  And if you can get hold of Rajma from Doda in Jammu, you got yourself a Beany jackpot!
Do try out and find out what the fuss is all about.
Rajma – Indian Style Kidney Beans
Ingredients
2

cups

red kidney beans soaked in 8 cups of water for 8 hours or in hot water for 2 hours

6

cups

water

3

tbs

cumin coriander powder

or 2 Tbs coriander +1 Tbs cumin powder

3

tsp

kashmiri red chilli powder

1

tsp

mango powder

amchoor

1

tsp

pomegranate seed powder

anardana powder

3

cloves

slightly pounded

3

cups

sliced onions

about 400 gms

1 ½

Cups

chopped tomatoes

seeds removed

2

tsp

garam masala

kashmiri preferred

2

tbs

minced ginger

2

tbs

minced garlic

¼

C

cilantro

2

tsp

salt

or to taste

1

stick of cinnamon

6

Tbs

ghee

non negotiable

1

tsp

cumin

1

tej patta

Indian bay leaf
Instructions
Rinse the soaked kidney beans and put them into a pressure cooker along with 6 cups of water and the cinnamon.

Put on medium- high heat and let it come to a boil before closing the lid of the pressure cooker.

When the water starts boiling, close the pressure cooker, reduce heat to medium low and pressure cook for about 12 minutes.

After 12 minutes, allow the pressure to gradually come down on its own. Place a do not disturb sign on it 😉 Once the pressure releases check if the beans are done. Perfectly cooked beans will hold their shape, but yield easily to pressure.

Heat the ghee in a pan, when its hot add the cumin. Wait for it to crackle. Add in the bay leaf, cloves and then add in the onions and cook until the onions are browned.

Add in the ginger garlic and cook until fragrant. Now, Add in the red chilli and the cumin coriander powder, stir to mix and add in the tomatoes.

Reduce heat and cover and cook for 5 minutes, stirring every now and then. When this mix oozes the ghee out, add in the rest of spices, salt and add the beans in along with the broth.

Stir to mix, bring to a rolling boil, cover and cook for 15 minutes on medium low heat.

The ghee separates once again and the consistency look like you see in the picture.

Finish with the cilantro, mix it in.

To serve them how my peeps in Jammu do, take some fluffy basmati, ladel the rajma on top and put some hot ghee on top. Add in a sliced onion and green chillies and understand what the big deal about Rajma really is.