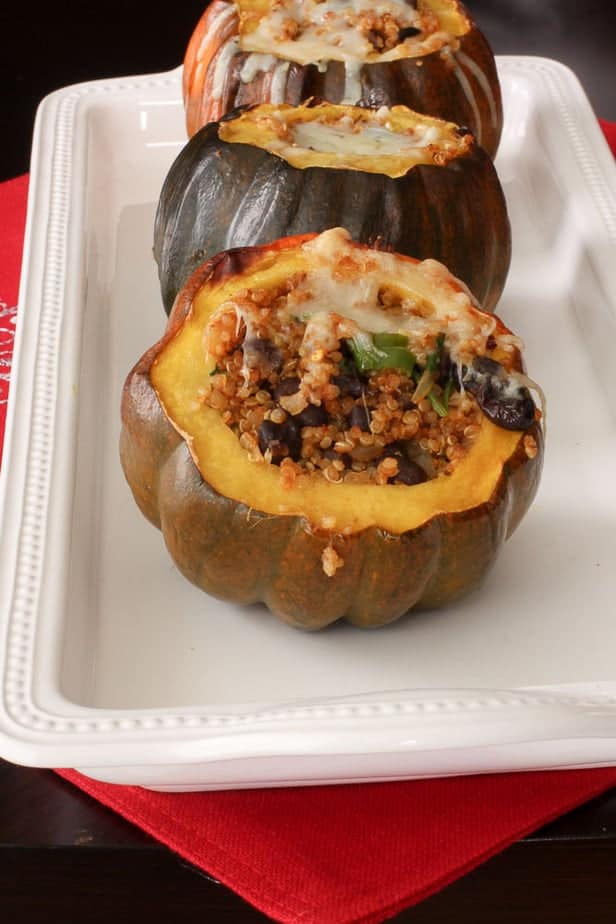 A couple of weeks back, I bought small acorn squash to recreate a recipe from one of my favorite restaurants for stuffed squash.  I have eaten the dish so many times that I felt it was only proper to make a cheat recipe. Then, as luck would have it, the influenza struck and took me on a spin. The last year has been that kind of a year – where I have been more in the house than out because of health or injuries. At times it felt like I was not going to catch a break. EVER! But it was fleeting feeling. I did catch a few good breaks though they were intercepted with challenges.
Anyhow, since the energy levels were low all around, and shopping for ingredients was not a possibility, I decided to just make something for dinner with whatever I had at home. Turns out, there is a lot you can make with things in your home. That is something my friend Karen from Savoury Table has been blogging about for a while. Her Something from Nothing series was an inspiration for this dish.  I just took a deep look into my pantry and the squash and deep corners of the fridge and voila! Thanks Karen, for inspiring me! Xo!
An excellent combination of carb and protein, quinoa black bean stuffed acorn squash is a great make ahead dish. The best part is that since it looks so 'cool', the teen did not mind packing it for her school lunch. A quick zap in the microwave and warm, home cooked delicious lunch was ready amidst an ever so busy school day. The best part I like about it is, how easy and quick it is and yet so full of flavor. I used quite a bit of spice in the recipe and it worked really well with the sweetness from the acorn squash. I topped it with a little melting cheese for the comfort factor. It is after all really frosty here in Colorado these days.
Quinoa and Black Bean Stuffed Acorn Squash
Ingredients
3

Acorn Squash Small size

3/4

Cup

Cooked Quinoa

3/4

Cup

Canned Black Beans

reserve the liquid

Salt to taste

1/2

tsp

cumin seeds

1/2

tsp

cumin powder

1/2

tsp

coriander powder

1/2

tsp

cayenne

2

tbs

chopped cilantro

3-4

Tbs

finely chopped onion

1/4

C

chopped tomatoes

2

Tbs

Melting cheese

I used Fontina

1

tsp

oil
Instructions
Preheat oven to 400*F

Line a baking sheet with parchment.

Slice the top off the acorn squashes to make an opening to scoop out the seeds. Keep the tops aside for later, don't throw them. Once the seeds are scooped out of the squash, sprinkle some salt inside the squash, place the squash cut side down on the baking sheet and bake for about 20 - 25 minutes.

Meanwhile heat the oil and add cumin seeds. Cook for a few seconds and then add the onions to sautee. Add in the cumin powder, coriander, cayenne,salt and tomatoes and cook until tomatoes are cooked through. Add in the beans along with some liquid that you reserved from the can.

Mix it all in and add the quinoa.Stir to combine.

Scoop the quinoa bean mixture into the squash, top it with some cilantro, then some cheese and close with the cut out tops. Bake for 10 - 15 minutes and serve hot with some chunky salsa or soup and a salad.
Recipe Notes
If you don't have precooked quinoa, you can cook it while the squash is baking. Take equal parts quinoa and liquid (water/ broth) ; wash the quinoa, bring the liquid to a boil. Add the quinoa in and bring it to a boil again, then bring the heat down to where the liquid is simmering, Close the lid on the pot and cook for 15 minutes. Allow it to rest for another 10 minutes. Then fluff with a fork and add into the recipe.