Dear Salads,
I had been oblivious to your existence for most of my life, but when I did discover you finally I fell in love. The reason it took me so long to finally find you was that in the Indian food scene, salads used to be (usually) a mix of some cucumbers, onions and tomatoes topped with a fiery green chilli and a dash of lemon. Not that you are not interesting in that avatar! You certainly are! But you also have to understand that it was kind of boring to be served a "garden salad" day in and day out.
When I did find you and when I finally got to meet so many interesting avatars of you, I felt exhilarated. My love for you is based on the facts that you do so much for me. On some days, you help me detox, on others you fill me with nourishment. On most days you refresh me and on many a days you are the only food I can quickly put together before I have to run a million errands.
Not only are you full of fresh, seasonal ingredients, but you are also full of flavor, texture and a whole lot of oopmh.
For example, when you are in your zesty chilli, spunky pineapple, spicy sprouts, tingling grapefruit and buttery avocado avatar, I feel very energized and refreshed. This Pineapple avocado grapefruit combo makes you full of immune boosting vitamin c and healthful fat. And the spicy sprouts added in enhance the nutrition even further.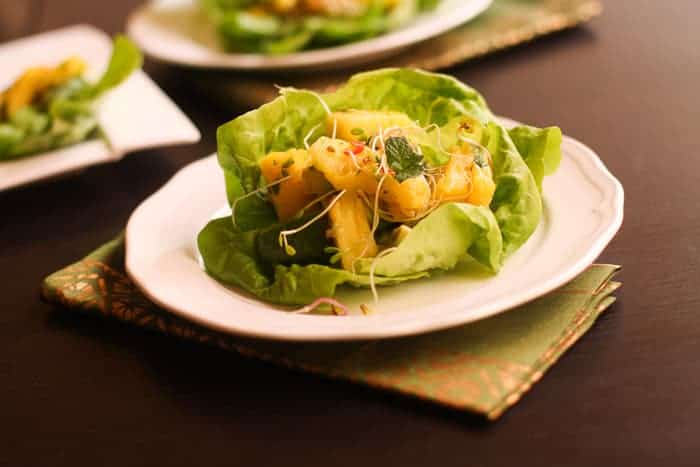 So thank you, dear Salads for making my days healthful and full of possibilities for nourishment, healing and general well being. I really feel very virtuous after a date with you. Now if only I could extend that goodness to other areas of my life.
Yours in gratitude
Ansh
Pineapple Avocado and Pink Grapefruit Salad
Servings
4
as a side dish
Ingredients
1

pink grapefruit

1/2

fresh

ripe pineapple

1

medium avocado

Zest from 1 small lemon and then the juice from the same lemon

2

Tbs

freshly chopped Cilantro

1

Thai chilli

minced ( Use less for less heat)

A couple of pinches of spicy sprouts

use any you like

Salt to taste

A few leaves of butter lettuce

Mint for garnish

optional
Instructions
Peel the grapefruit with a knife and cut into small segments. Be sure to save any juice that runs out while cutting.

Peel, slice and core the pineapple and then dice it - also reserving any juice that might get on to the chopping board.

Add in the grapefruit, pineapple to a mixing bowl. Add in the lemon zest, juice, cilantro, chilli and sprouts.

Toss it all together, Add in the avocado, the reserved juices if you saved any and salt, toss gently and serve on butter lettuce, garnish with a mint leaf.

Serve immediately.
Recipe Notes
If you want to make it ahead of time, add the avocado and salt at the last minute.