It has been a few months since I started baking with my #breadbakers group. I love the variety of breads that are showcased every month and I learn a lot from each and everyone. On most occasions I follow the rules of Bread "baking" completely, but I have been known to bend those rules ever so slightly every now and then.
Since I had already presented my fried bread a while ago, I thought it would be nice to introduce the bread bakers to a bread, that is naturally fermented and steamed. Idli, is a much loved bread in all of India, although it has it origins in the Southern part of  the country. Our wonderful host Rocio of Kids and Chic, suggested oats as the theme. So even though the traditional idli is made with rice and lentils, I thought of making the idli with oats and millet. In India, finger millet or ragi is used but I used pearl millet in my recipe.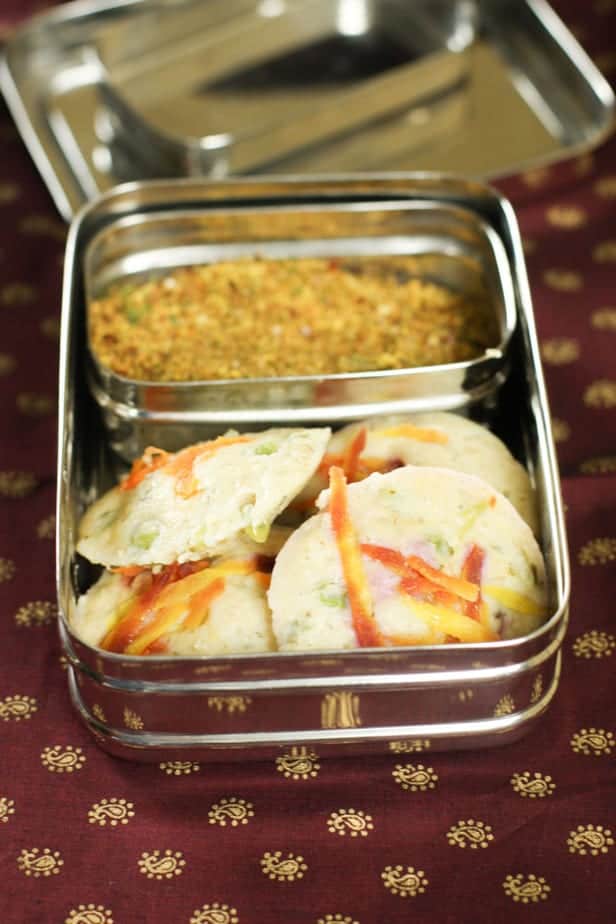 So on to the Steamed bread with Bread bakers! It's not a super quick bread. You do have to soak the grains and lentils, then process them and leave them to ferment. But once your batter is ready, you can make fresh batches of the bread in less than 10 minutes.
What's more you can take the same batter and make cripsy, savory crepes called Dosai with a little adjustment to the batter consistency or make a savory pancakes called Uttapam -topped with vegetables.
Although traditionally the batters of Idli and Dosa are made with different proportions of grains and lentils, I usually don't bother with it. I make a unified batch. Having a batch of Idli batter ready to go, is convenient and a healthy way to start the day.
I wanted to ensure a nutrition packed bread so I used whole oats and whole Millet and processed them at home. The freshness of flavors was felt in every bite. I made two batches of batter and both the times, the breads were consumed before I could grab my camera. This time around, I ensured I had the house to myself and the Oats and Millet Idlis too.  You do need the special idli steaming mold/ stand  for this and they are easily found on amazon.com or any Ethnic Grocery.

#BreadBakers is a group of bread loving bakers who get together once a month to bake bread with a common ingredient or theme.  Follow our Pinterest board right here. Links are also updated each month on this home page. We take turns hosting each month and choosing the theme/ingredient. If you are a food blogger and would like to join us, just send Stacy an email with your blog URL   to foodlustpeoplelove@gmail.com.
Thank you, Rocio  for a wonderful theme this month and for letting me steam my bread!
Oatmeal Bread #BreadBakers joining us this month :- 
Oats and Millet Idli #Breadbakers
Ingredients
2

cups

whole oats

2

cups

whole Millet

1

C

split urad dal

Salt to taste

Optional - frozen peas

chopped vegetables
Instructions
Wash whole oats, Millet and urad dal in separate containers . Soak the grains and the lentils in separate containers with at least half an inch of water above the surface of the grains/lentils.

Allow to soak for a few hours and then drain out the water.

Using a heavy duty blender, make a smooth paste of the Urad dal. Add in 1/4 C water to help with the grinding.

Next coarsely grind the millet and oats separately, adding some water to help with the process.

The resulting batter is thick pancake like so don't over do the water.

Mix all three in a big container and let it stand at room temperature for a few hours until bubbly on top and has a sourdough yeasty smell.

Mix well, add in salt and then spoon it up into the idli makers and steam for 10 minutes. Eat with podi and ghee.

I added some freshly chopped ginger, frozen peas (thaw them first), some carrots and herbs just before steaming.

Best served with a little podi ( a dry chutney powder mix ) mixed in with ghee