Dear Oatmeal,
I love you. I really do. But we need to talk. Don't worry. It's not that kind of talk.  I can't break up with you. After-all you enable me to be a better me and keep me going for quite a while in the mornings. When you are with me, even the daunting workouts at the gym seem to fly by fast and you make those long runs seem so easy because I have the energy to "just do them".
So why do we need to talk? It's not you, it's me. I have been going into a rut with the same old same old way of treating you every morning. I sweeten you up with dates or honey or with fruits. You know it, I know it and the whole world knows it. I don't like all things sweet and not on all days.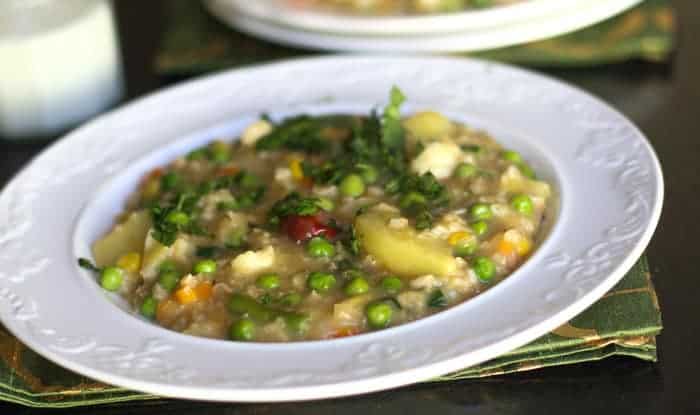 So I have decided to spice up our relationship and I promise you, it will be hot and steamy from now on.
So we will temporarily say adios to the bananas and mangoes and apples and say hello to the multi colored vegetables. And that's not all. We are going to bring in some hotness from Ethiopia too. Exotic spices always keep me, you know, interested. Oh you are going to be salty, spicy and hot. I promise to love you more than your sweet version. So are we on the same page? Ok great!!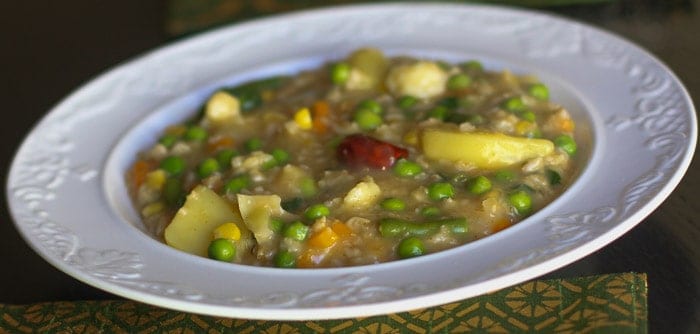 My Dearest, I am glad we had this talk and you agreed. Your new Avatar as Oatmeal Kedgeree with Ethiopian Berbere Seasoning is Rocking! I am now going to share this new magical you with my friends. I know some of them will LOVE you in your spicy best. I know I do.
Stay good and Delicious,
Ansh
Oatmeal Kedgeree with Ethiopian Berbere Seasoning
Ingredients
1

cup

steel cut oats

2

cups

water

1/2

tsp

oil

I used ghee

1/2

tsp

cumin seeds

1- 2

dry red chillies

2

Tbs

minced shallots

1

cup

frozen mixed vegetables

You can use any quick cooking frozen veggies of your choice

2- 3

fingerling potatoes boiled and peeled

optional

1/2

C

steamed cauliflower

optional

1/4

tsp

Berbere Spice Mix

use cayenne and some ground ginger if you don't have the Berbere mix

salt to taste

Cilantro to garnish
Instructions
Start by heating the water and add in the oats, stir and let it cook on low heat.

While the oats are cooking, heat the oil/ghee and add in the cumin.

Wait for it to crackle, then add in the chillies. Stir and now shallots and let them turn translucent.

Add in the veggies, stir and cover to cook until soft.

If using precooked potatoes and cauliflower, wait for the mixed veggies to soften a bit then add them.

Add in the salt, the berbere spice and the cooked oats. Stir and allow the flavors to combine, garnish with cilantro and serve with a cup of

spiced lassi
Recipe Notes
I used the potato and cauliflower to add an Indian Khichdi taste to this. You can use any vegetables you like.
You could also steam cook the veggies before you saute them.
I usually soak the oats in water and leave it in the fridge. It cooks faster and on some days, i just put it in a smoothie without cooking.