Nestled in the buzz called Chandni Chowk, right next to Dariba, the shopping haven for traditional jewellry and saris, is the Parathewali Gali. The epicurean grandness of the very rich Paratha manifests at the Parathewali Gali in Old Delhi. Yes, there is an exclsuive street named after a dish, which is dotted with shops making and selling parathas. Some of the shops in this street are more than a century old.
So what is a Paratha you may ask. The answer is not simple . It can be a multilayered, griddle fried bread. It can be a pan fried bread stuffed with various ingredients, it can also be a stuffed bread shallow fried in oil/ghee or like in parathewali gali's case -Deep fried in ghee!
The menu at one of the shops in Parathewali gali:   and the Paratha wala
On my last visit to India, I went shopping with my friend Dee . We stopped here for lunch. We spent hours looking at hand crafted silver jewelry in Dariba and trying on a few pieces, like this beautiful choker style silver necklace:
And finally bought a few intricately detailed miniature Tablas and sighed over the miniature dholki.
After a fun shopping experience it was time to enjoy some old Delhi food.   Parathewali gali was a natural choice. Not only is it a culinary destination because of its history, it was highly reommended by Dee herself. That was not something I would take lightly. Dee's Mom makes the ultimate parathas. Crunch on the outside, flaky and compltely stuffed on the inside. And her mango pickles? Oh I can write a book on those, If only I had the words.
During our online conversations before I went to visit, Dee had told me about a new paratha that was on the menu at the gali. The Nimbu paratha.
Lemon in a paratha? Now that was something I just had to try. And try we did. The lemony tangy pucker your mouth while eating paratha was quite an experience. We both shared one of those, but couldn't eat more than that. It was way too tangy. We both agreed that it would have been more delicious if it was not all that tart. Since we were in the parathewali gali and had many more options to choose from, we ordered another one of a different flavor to share and some lassi to beat the heat.
However, the kick of  eating  the Nimbu paratha was quite memorable.  And when one of my Facebook Foodie groups decided to have a Recipe challenge on Parathas, I just knew that I had to try and make it. This time around Ms know it all Google had no help for me. The search results came up with no recipe for a nimbu paratha. Hmm.. So I was on my own afterall.
If you do try this recipe, do let me know if you liked it or if you made any changes. And If you point the hat tip towards me, I would appreciate it.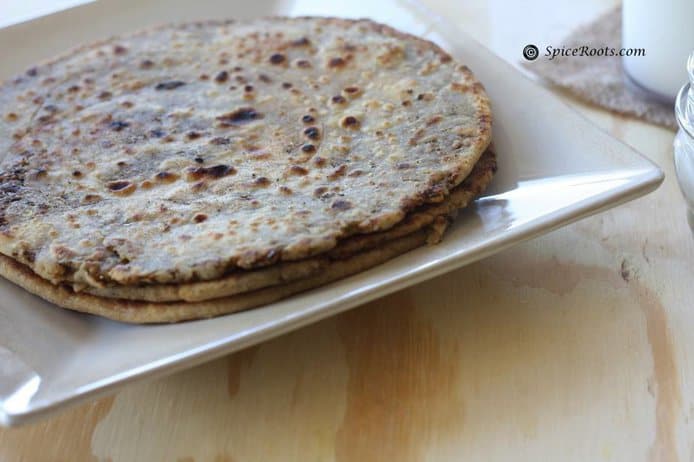 Nimbu Paratha (Lemony Flaky pan fried bread)
Ingredients
1

tbs

shredded ginger

2

green chilies

1

tbs

cumin

1

tbs

coriander seeds

1/4

C

washed and drained cilantro

1/4

tsp

citric acid crystals

nimbu ka phool (optional)

1/4

tsp

salt

1/4

tsp

anardana powder

pomegranate seed powder

3

tsp

lemon juice

Ghee to fry

Paratha dough for 2 parathas
Instructions
Dry roast the cumin and coriander seeds and pulse in your spice grinder for a coarse powder

Add the rest of the ingredients into the bowl of a food processor and pulse it to a coarse paste like texture

Take a griddle/ pan and set it to heat up at medium

Now take a golf ball sized dough and roll it out slightly, ensuring to keep the edges very thin

spoon out half the masala mixture and put it in the center of the dough circle

lift up the edges and bring them together and pinch to seal

with the palm of your hand, flatten this stuffed ball of dough and roll out.

Put some ghee on the griddle and then place the rolled out paratha on top to cook.

Repeat the same process with the other side.

Best eaten with plain yogurt or lassi
Recipe Notes
The cooking style of this paratha is slightly different. I have tried to stay close to the parathewali gali style cooking, but couldn't bring myself to deep fry these.