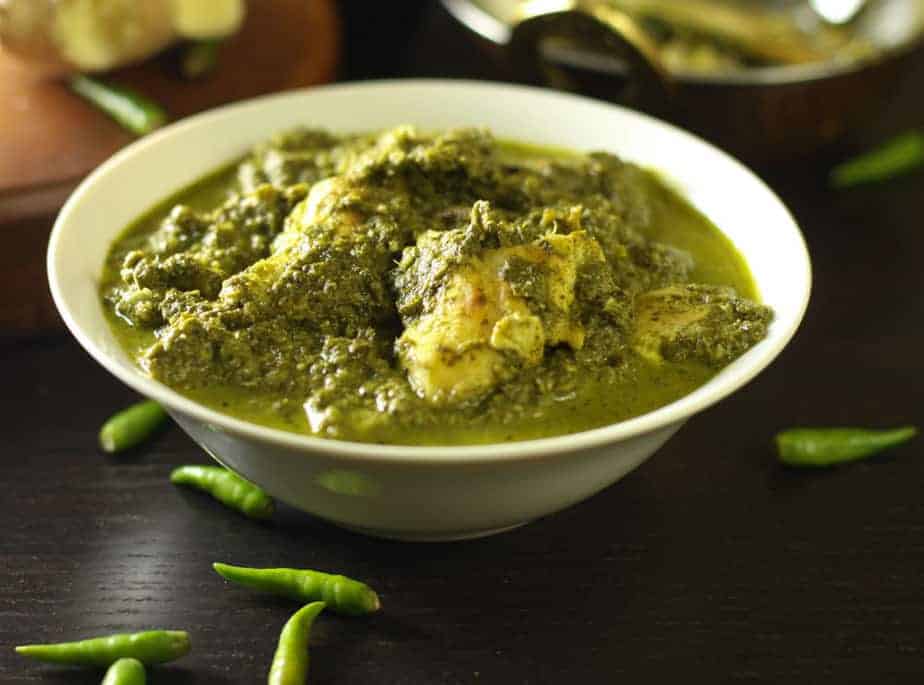 Would you believe me if I told you that until the age of 19, I didn't eat things that were not from the Kashmiri Cuisine? And if I ever did, I ended up not liking them. So much so that when my ex boyfriend insisted that I should widen my food horizons and try some Tibetian food, I broke up with him. Not because it was Tibetian food, but because I don't like being told what to do and because it was Tibetian food. You get the drift!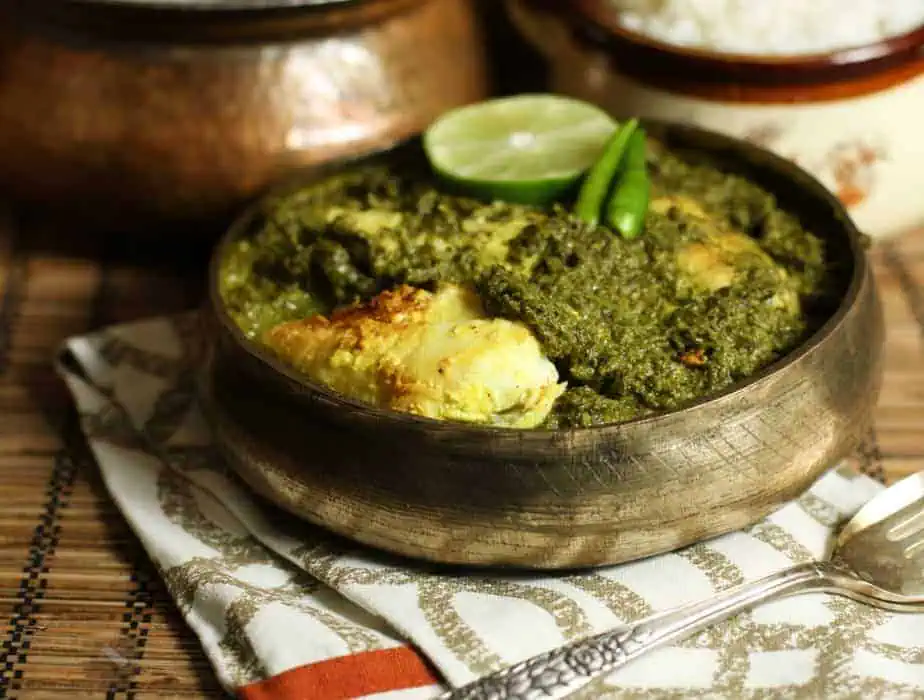 So how did that girl turn into someone who not only eats everything under the sun but also cooks dishes from around the world. It happened with a really simple meal and a really simple dish. This dish of methi machli – fish in fenugreek sauce.
It was a cold winter day and I was at my grandmother's home. The next door neighbors were great friends with her and treated us like family. I was great friends with their son, who was more like a big brother. So here I was, perched up on the brick fence, soaking some winter sun, talking to him through their kitchen window (it's a complete acceptable thing to do.. Honest.) and generally exchanging stories. And the aromas hit me. Small bursts of smells unknown, yet so familiar that I felt my mouth watering. I wasn't even hungry. And I never ate anything that didn't come from Moms or Grand moms kitchen. Yet, I wanted to know what he was cooking. So I asked and Bhaiya (It's how you address an older brother) invited me over for lunch.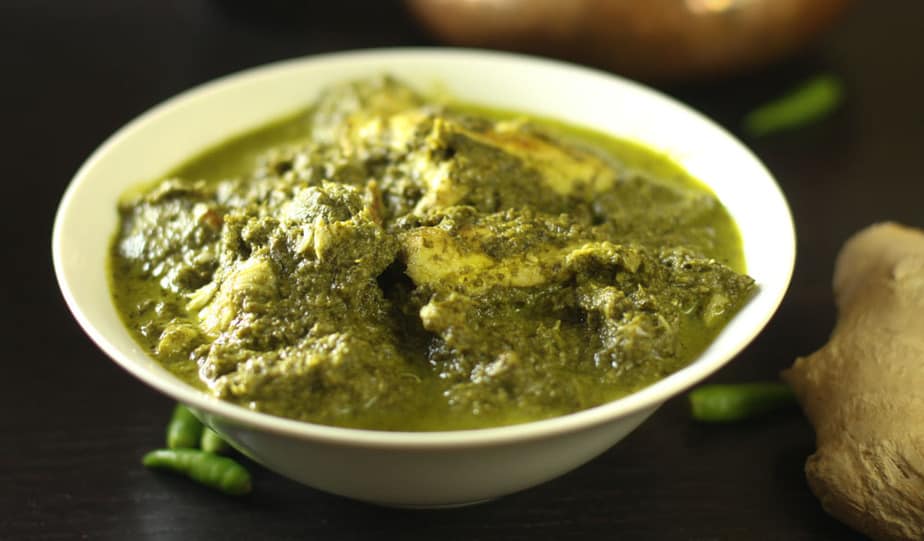 Precarious situation – I want to go and see for myself what it was and Yet I didn't trust myself to be polite if I didn't like it. I set caution to the winds and over the fence I jumped, and into their home. I went in for a taste test, I left after eating a huge portion and a promise that he will teach me how to make it.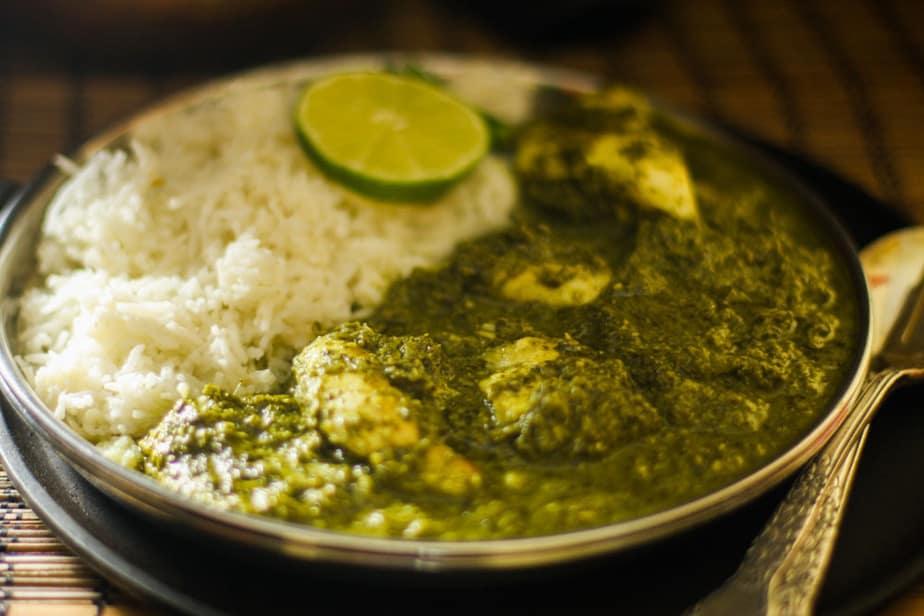 To say that I surprised myself would be an understatement. I was so surprised that a bitter tasting herb, paired with a mild tasting fish, cooked with a few spices could induce this lingering and warm feeling inside me. I know there was something that changed that day. I learned to appreciate new tastes. And I now LOVE Tibetian food.
For a fresh new taste of summer, Our Progressive Eats host, Barb of Creative-Culinary asked us to cook with herbs.
Methi Machli – Fish with Fenugreek Sauce
Ingredients
3

firm white fish fillets

4 Oz each

1

tsp

lemon juice

1/4

tsp

ground turmeric

1/2

C

Plain greek yogurt

2

Tbs

mustard oil

preferable or use any other oil

1/4

tsp

Fenugreek seeds

slightly crushed in a spice grinder

3/4

C

finely chopped yellow onion

3

Tbs

finely chopped ginger

1

C

firmly packed frozen fenugreek leaves

3 cups if using fresh leaves

2- 3

fresh green Thai chillies

1

tsp

ghee

1/2

tsp

ground cumin

1 1/2

tsp

ground coriander

Salt to taste

1

clove

finely powdered
Instructions
Cut the fish fillets in two's and smear on the turmeric and lemon juice on to the cut up pieces.

whisk the yogurt and dunk the fish pieces in it and let it marinate for a few minutes.

Heat mustard oil in a pan. Once it starts to smoke, add the crushed fenugreek seeds. Quickly add in the onions and saute until onions are caramelized and turn a light shade of brown. Add in the ginger and saute some more. Now add the fenugreek leaves and the thai chillies and cook for a few minutes. If using fresh fenugreek, cook until the leaves are completely wilted.

Add in a cup of water, switch off heat and allow to cool.

Process in a food blender just until smooth.

Heat the ghee in the pan you cooked the fenugreek in. Add in the fish fillets, reserving the extra marinade. Cook for a couple of minutes on each side and keep aside.

Using the same pan, add the processed fenugreek mix back into it and set to cook on medium heat. Add in the reserve marinade and cook for 5 minutes, covered. Add in the cumin, coriander and ground clove and salt. Stir to combine and cook until the sauce thickens and oil separates

Add in Half a cup of water and the fish and bring it all to a boil, cook on simmer for another 5 minutes. Serve with Rice or naan.
Welcome to Progressive Eats, our virtual version of a Progressive Dinner Party. This month's theme is all about herbs and is hosted by Barb Kiebel who blogs at Creative Culinary. With gardens coming on strong, it's a great time to add herbs to your menu and we've got them; from appetizers to drinks to desserts! If you're unfamiliar with the concept, a progressive dinner involves going from house to house, enjoying a different course at each location. With Progressive Eats, a theme is chosen each month, members share recipes suitable for a delicious meal or party, and you can hop from blog to blog to check them out. After a successful first year of more traditional themes, this year you'll see us doing more open ended themes beginning this month when we're Cooking with Herbs…and anything goes!
We have a core group of 12 bloggers, but we will always need substitutes and if there is enough interest would consider additional groups. To see our upcoming themes and how you can participate, please check out the schedule at Creative Culinary or contact Barb for more information.