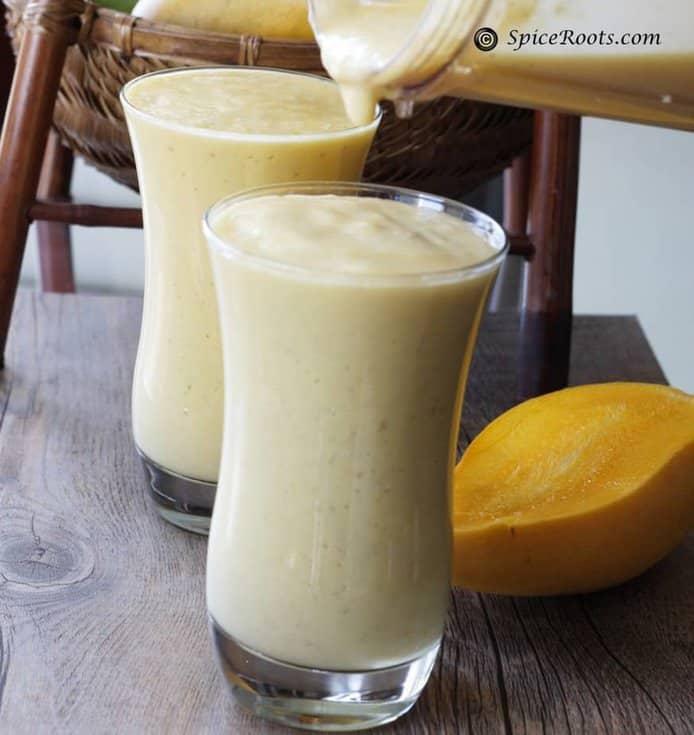 Feed your kid a big breakfast. Easier said than done. Give her a helping of fruits with the breakfast. Climbing Mt. Everest might be an easier task. And if you are blessed with someone who likes to count each morsel while she eats and you doze off to sleep because it is painfully slow, the alarm goes off- time to grab the bag, load the kid into the car with one shoe in hand, the other dragging behind attached to one of her legs – God bless you!
To keep her nourished, so she can get through a high energy, high focus day at school and then at her extra curricular activities is a task I take seriously. I get creative with food. It's not that she doesn't enjoy eating, she does. She just eats slowly. Which is why, we resort to drinking breakfasts.
Fruit smoothies, milk shakes and the likes. One of our most cherished breakfasts on the go is the Mango oats smoothie. Supreme taste with excellent nourishment and very easy to make. Good Morning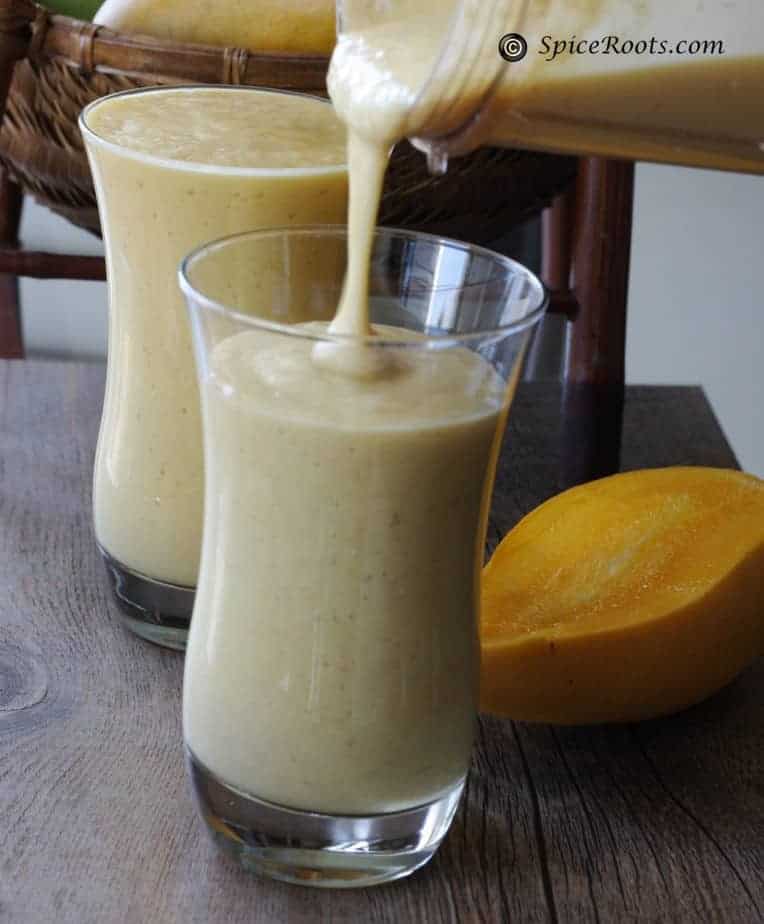 I am re-posting this for the Power food blog group Friday. As I wanted to add the benefits of eating a whole grain into this post.
Apart from helping you eat lesser by keeping you fuller for a longer time and hence help you lose and maintain your weight goals, oats is a great booster for your healthy immune system. The beta-glucan found in oats, significantly enhancesthe human immune system's response to bacterial infection.
In addition to that oats help reduce cardiovascular disease, lower bad cholesterol levels, stabilizes blood sugar.  Making oats a great part of your meals does wonders for your body. So go for it.
38 Power Foods blog group  focuses on one ingredient each week taking inspiration from the book ; Power Foods: 150 Delicious Recipes with the 38 Healthiest Ingredients from the editors of the whole living magazine. Each week we all  come up with recipes, stories, articles to encourage eating nourishing food.
Jeanette at jeanetteshealthyliving ; Martha at Simply Nourished Living ; Mireya at Myhealthyeatinghabits ; Alyce at More time at the table ; Casey at My Sweet and Savory;   Minnie at TheLady8Home
Mango Oats Smoothie
Child Friendly, Pre-preparable, Serve Cold
Ingredients
1/4

cup

Mango

peeled and diced

1/4

cup

Oats

I use old fashioned rolled oats

1/4

cup

Milk

1/4

tsp

Honey

1

pinch

Green Cardamom powder

really just a tiny pinch
Instructions
The night before, soak the oats in 1/4 C of water and keep it in the fridge

In the morning, using your smoothie maker or blender, blend the oats with all the other ingredients

Drink up a yummy breakfast
Recipe Notes
If you want to cook the oats just before you make the smoothie, cook it your usual way and add ice when you make the smoothie.