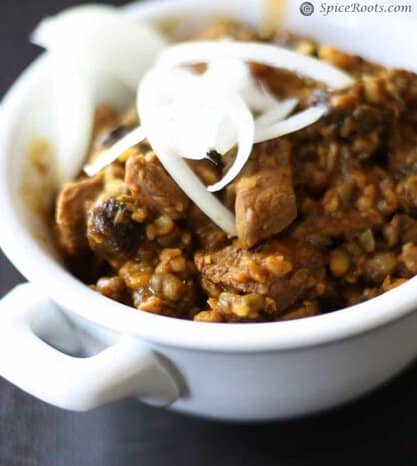 This is not a chili. This is not even a dalcha. It is kind of somewhere in between. But is it good? Yes! For today's 38 Power food's blog group the star ingredient was apricots.So I first thought of making a Dalcha. Dalcha is a lamb and lentil stew to which a souring agent like tamarind or lemon is added. But the lentil of choice in the dalcha is Channa dal.  Since Channa Dal takes a long time to cook and simmering dalcha for a long time was not on the cards,  I decided to make a chili. But chili takes a long while too and wouldn't use apricots effectively.
So I looked deep into the refrigerator and found a bowl of cooked moong beans.  Smiling a wide smile, I knew it would go well with lamb and also apricots. And this dalchili was born. Ok Let's just say it is a Lamb Apricot Stew – Indian Inspired.
I was born in Kashmir and apricots are a part of  who we are. We eat a lot of apricots.  When they are still green and unripe, girls love to eat them as a chutney or just as a tart tangy snack.  When they ripen they are eaten in chutneys, jams , ice creams and simply popped into the mouth for that exquisite sensuous flavor.  And when winter comes along, we have containers full of dried apricots. To munch on as dried fruit or to use in Biryanis, with lamb dishes or make a chutney. And when the girls grow up and move to a different country they think of ways to incorporate a little of childhood into their food, every now and then. Especially when she is cooking as part of the power food blog group.
38 Power Foods blog group  focuses on one ingredient each week taking inspiration from the book ; Power Foods: 150 Delicious Recipes with the 38 Healthiest Ingredients from the editors of the whole living magazine. Each week we all  come up with recipes, stories, articles to encourage eating nourishing food.
Jeanette at jeanetteshealthyliving ; Martha at Simply Nourished Living ; Mireya at Myhealthyeatinghabits ; Alyce at More time at the table ; Casey at My Sweet and Savory;
Alanna at Kitchen Parade Veggieventure;  Minnie at TheLady8Home
These amazing women have been powering through the power foods week after week and I always look forward to their posts. I learn a lot from them and have learned a lot about my food on this journey.
Lamb Apricot Chilli
Ingredients
1/2

C

thinly sliced lean lamb steak

1

C

cooked moong beans

1

tsp

chilli powder

1/2

tsp

garam masala blend

1/4

tsp

turmeric

salt to taste

1

tsp

oil

1/4

cup

dried apricots soaked in hot water for about half an hour

1/2

tsp

ginger garlic paste

1/2

C

water
Instructions
Heat a cast iron pan and add the oil

Add the lamb and cook it for a few minutes

Add in the salt.

As soon as you add the salt, the lamb with release some water.

Cook on medium heat until the water evaporates

Now add the ginger garlic paste, and cook until fragrant

Add all the spices and mix.

Add the water and cook it for a few minutes.

Add the moong and the apricots and cook for 5- 7 minutes, until apricots are tender and the dish has a chili like consistency.

Eat with a whole wheat roti/bread or add some sliced raw onions on top and dig in.
Recipe Notes
The Dried apricots used in this recipe are tart ones. It lends a tart & sweet flavor. The apricots I used are dried with their stone in and have a brownish color. You can source them in Indian / Mediterranean stores.
Alternately, if you use the dried apricots usually available in the stores, you may need to add some lemon juice to bring out the slightly tart flavor that the sun dried apricots have.