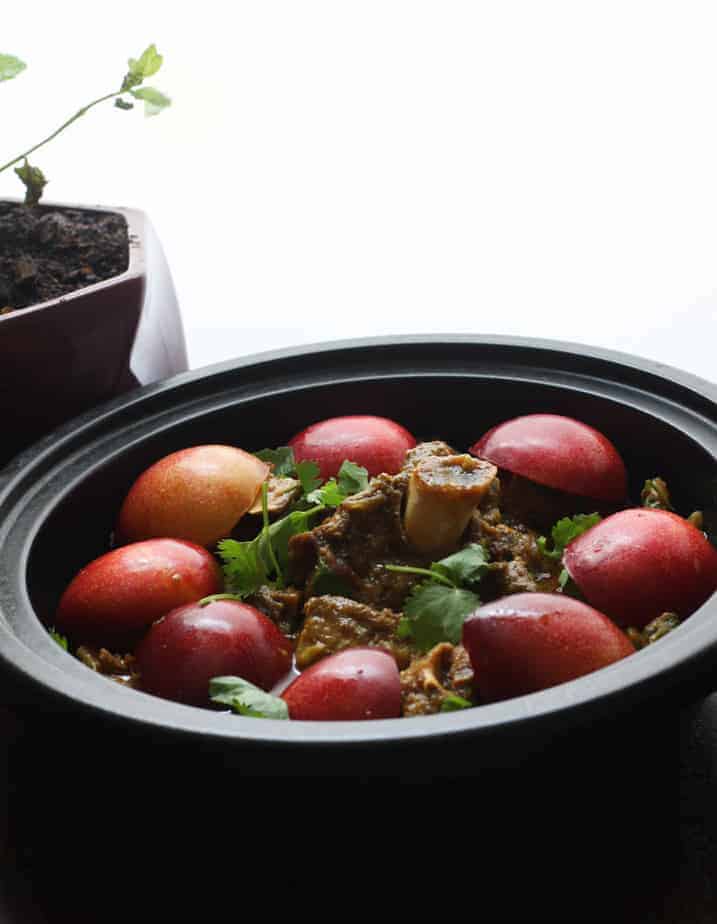 The first time I cooked some green apples in a savory dish with aubergines, my husband looked at the dish with some trepidation. He is usually a sport and enjoys eating new things. But a cooked apple in a savory form was not something he had imagined. A chutney may be, but a whole main dish? It was his first introduction to Kashmiri Vegetarian food. He prefers vegetarian food. But this was him trusting me and taking a leap of faith and trying out something completely new. And he was hooked. It is a dish he now requests often.
Cooking with fresh fruits was a way to use up the season's bounty without letting it get spoiled. After sun drying the fruits and vegetables for the winter's use, fresh fruits would be used up in main dishes to stretch them and bring in new flavors.
I chanced upon Stevie Parle's adaptation of the Moroccan Lamb and Plum Tagine and I knew that that was what I was going to make for this month's Progressive Eats. There are many Indian meat dishes in which dried plums are used to impart a distinctive tart flavor. But I knew the just softened pieces of plums with lamb would be a great combination and I am glad I persevered. We are now thinking about different ways we can use stone fruits in our main dishes to bring more of summer into our plates.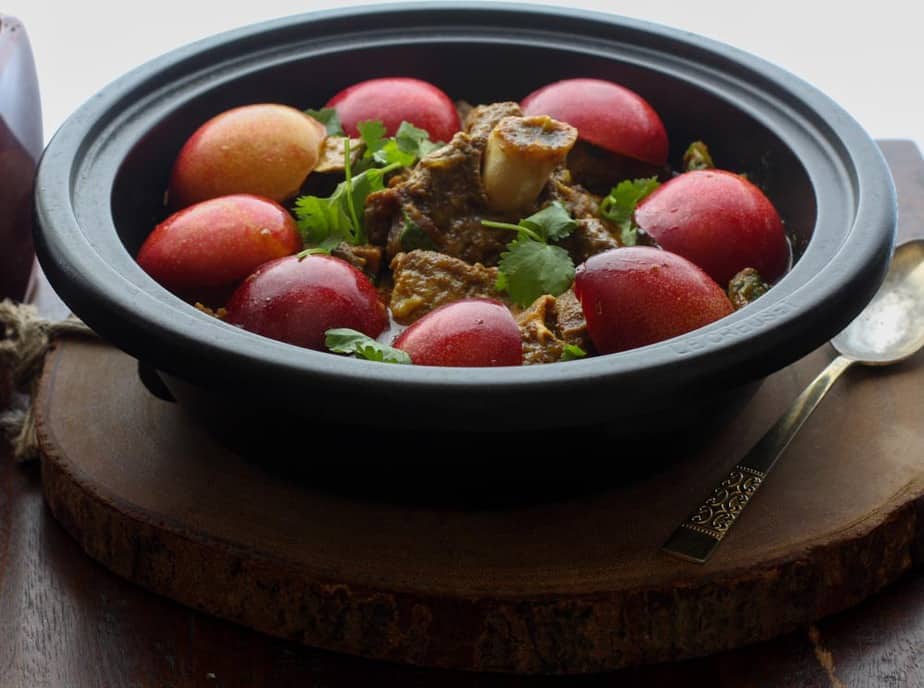 Welcome to Progressive Eats, our virtual version of a Progressive Dinner Party. This month's theme is all about Stone Fruits was hosted by Your's truly.  With Summer coming to an end, it's a great time to use the Summer's abundant bounty in everyday food. We have some great ideas this month to use all the stone fruit – from BBQ Sauce, to curries, to Duck and of course Desserts.
Here is what the #Progressive Eats group of talented bloggers have made for this month's partyStone Fruits
Appetizer
Salad
Main Courses
Side Dish
Desserts
If you're unfamiliar with the concept, a progressive dinner involves going from house to house, enjoying a different course at each location. With Progressive Eats, a theme is chosen each month, members share recipes suitable for a delicious meal or party, and you can hop from blog to blog to check them out.
We have a core group of 12 bloggers, but we will always need substitutes and if there is enough interest would consider additional groups. To see our upcoming themes and how you can participate, please check out the schedule at Creative Culinary or contact Barb for more information.
Lamb and Fresh Plum Tagine
Ingredients
3

tbs

olive oil

3

pounds

bone in lamb cut into medium pcs

1.5

cups

chopped onions

1

tbs

chopped garlic

1

tbs

chopped fresh ginger

1

tsp

cumin seeds

1

tsp

turmeric

1

Tbs

ground coriander

1/2

tsp

garam masala

salt to taste

1

tsp

cayenne

1/4

C

chopped cilantro

6- 8

dried plums

soaked in 1/4 c water

3- 4

fresh red plums cut in halves
Instructions
Heat a medium size tagine pot on medium heat. Add oil. Add the lamb in batches and brown on all sides.

Once the lamb is done, in the same pot, Add the onions, ginger, garlic, cumin, coriander , garam masala and salt, and fry until the onions begin to get translucent. Add the turmeric, cayenne and cook for a few minutes.

Add the meat back in, and add 2 cups of water. Cover the tagine with its lid and cook for 50- 60 minutes on a gentle simmer. Check after the designated time and if the meat is fall of the bone tender, add the , add the dried plums and cook for a few minutes.

Then add the fresh plums and allow to cook for a few minutes before serving. do not stir too much after the addition of fresh plums and they might turn into a mush.