It has been a very busy month.  The tween turned into a teen  tornado.  And we have been busy redoing the room from a baby pink and lavender to a royal turquoise and lilac. The furniture is more teenager like and so are the room accessories.  She is excited and so am I.  I had thought it would be a daunting experience because I wouldn't be ready.  But it has turned to be a great joy.  A whole new person is emerging right in front of my eyes and I suddenly have a new friend, interesting and refreshing take on the world,  and just an adorably good girl. ( well mostly)
My life has a fresh new perspective because of this young new person. I am eternally thankful and grateful to have her in my life.  We have the regular broody teen moments, but I think we will survive!
For today's Power foods  blog group we had the Kiwi.  It is one of my daughter's favorite fruits.  She loves things that are a little tangy.  I came up with the idea of healthy, filling Kiwi Mulberry Pomegranate Mixed Fruit Chaat for her and me to spend a Friday morning eating and just going over the plans for the first sleepover party in her new room! She is Excited.. Me ? well you know how it is!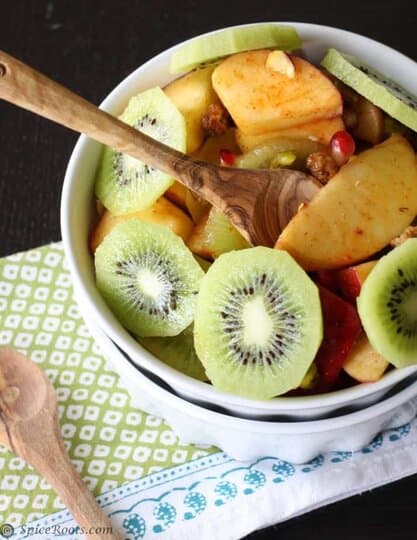 Kiwis have an abundance of vitamins and minerals and provide a wide array of nutrition benefits. It is naturally fat free as well. They help in increased iron absorption, have been known to boost the immune system and have phytonutrients that help the body protect against some cancers. It a great thing to eat if you are pregnant as it provides 10% of the required daily folic acid.
38 Power Foods blog group  focuses on one ingredient each week taking inspiration from the book ; Power Foods: 150 Delicious Recipes with the 38 Healthiest Ingredients from the editors of the whole living magazine. Each week we all  come up with recipes, stories, articles to encourage eating nourishing food.
Jeanette at jeanetteshealthyliving ; Martha at Simply Nourished Living ; Mireya at Myhealthyeatinghabits ; Alyce at More time at the table ; Casey at My Sweet and Savory;   Minnie at TheLady8Home
These amazing women have been powering through the power foods week after week and I always look forward to their posts. I learn a lot from them and have learned a lot about my food on this journey.
Kiwi Mulberry Pomegranate Mixed Fruit Chaat
Ingredients
2

peeled kiwi fruits

1

apple

1/4

C

pomegranate seeds

1/4

C

dried mulberry

add raisins or any other berries

1/2

tsp

chaat masala

1

tbs

shelled pistachios

Himalayan pink salt

you can use any salt

1/4

tsp

Cayenne powder
Instructions
Chop / slice the kiwis and the apple. Toss everything together.

Mix, check the seasoning and devour.

You can also add some cilantro for another layer of flavor.