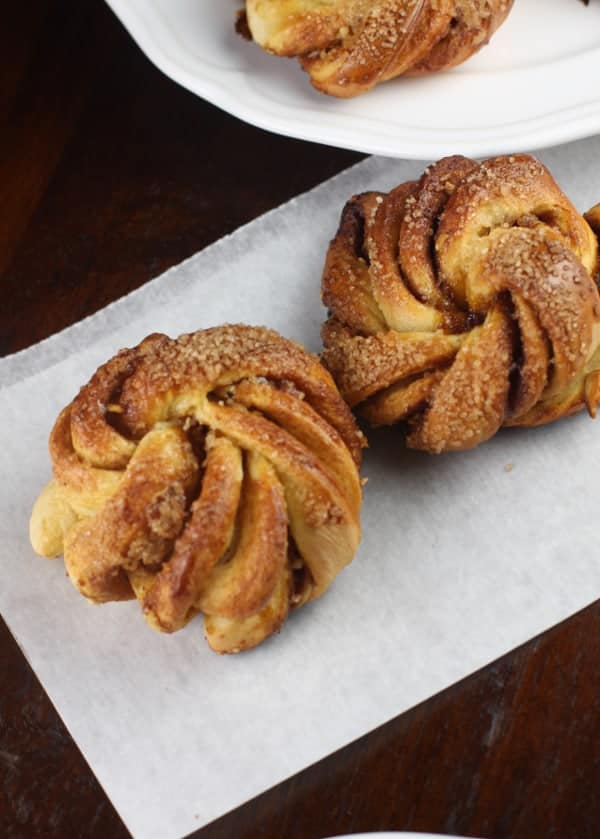 So another confession. I have never eaten a cinnamon roll. Yes! One more confession and one that I am not even ashamed to admit. I mean no disrespect to the American Cinnamon roll, but I just am not someone who can take in that much of sticky sweetness and then endure all that sweetness. I just don't have a sweet tooth. My teen on the other hand loves the sticky sweetness but not the cinnamon so much. So we never had to have the conversation about making the American Cinnamon rolls in our house or buying them from the store.
Then, as fate would have it, Aparna had to go and choose a cinnamon roll for our November We Knead to Bake. And the only motivation I had was they did not have too much sugar or a glaze, and they had spice. Ok that's Three motivations. Even though I had never had cinnamon rolls, it was time to make the Swedish Cinnamon roll and see for myself why everyone loves them so much.
For the teen I made a few without the cinnamon and they were as delicious as the ones with cinnamon. I baked a batch in cupcake liners and a batch on the baking sheet without any liners. And I also decided to make the buns instead of the rolls. I also used Madhava Coconut sugar for the filling instead of regular sugar as it is less sweet and that's just a personal preference.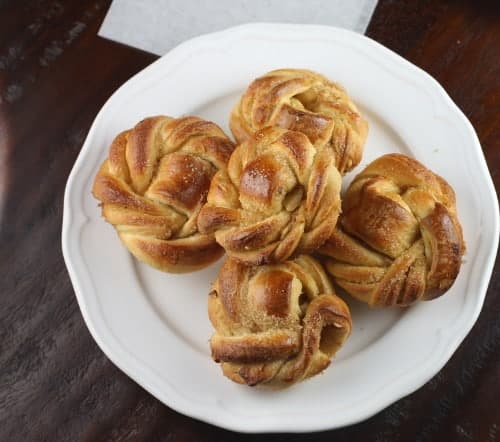 Sweden is known for many a culinary things and one of them is the Kanelbullar. The Kanelbullar even has its own day – October 4, which is celebrated as Kanelbullens Dag (Cinnamon Roll Day) . Ha! A whole day dedicated to celebrate baked goods. This iconic cinnamon roll is usually had with coffee and the tradition of serving coffee with a baked good is called Fika . Oh! fika! I already love the sound of it all. The sweet spicy bread is wonderful with or without coffee.
This Bread is being Yeastspotted .
Kanel Snegle/ Kanelbullar (Swedish Cinnamon Snails/ Rolls – # We Knead to Bake 11
Ingredients
For the Starter:
1

cup

warm milk

2

tsp

instant yeast

2

cups

all-purpose flour
For the Dough:
All of the Starter

2

cups

all-purpose flour

3/4

tsp

salt

if using salted butter, otherwise 1 1/2 tsp

6 to 8

pods cardamom

powdered

2

tsp

lemon zest

1/3

cup

caster sugar

60

g

butter

soft at room temperature

1

medium egg
For the Filling:
75

g

butter

soft at room temperature

1/2

cup

light brown sugar

loosely packed (or 1/3 cup caster sugar)

2

tsp

cinnamon

1/3

cup

coarsely ground almonds
For the Topping:
Egg wash

Pearl sugar or large sugar crystals
Instructions
Make the starter
Mix together all the ingredients for the Starter into a sticky dough, in a large bowl. Place the Starter dough in an oiled bowl and loosely cover it and then refrigerate it. Since it's cold here these days, I left it out on the counter for 7 hours.

The next day, about 30 minutes before you are ready to start on the dough, take the Starter out and leave it at room temperature. As always this can be kneaded by hand or in the stand mixer. Since my starter was already out, I moved to the next step.

Tear the Starter to large pieces and drop into the processor bowl. Now sift together the flour, cardamom and salt into a bowl. Add this, the lemon zest and sugar to the bowl and run the processor till well mixed.

Now add the soft butter and egg and knead well until you have a smooth and elastic dough. If your dough feels dry, add a little milk or if it feels wet then add a little flour till you have the required consistency of dough.

Now turn the dough out onto a lightly floured surface, and then roll it out into a approximately rectangle about 20" by 12" in size.

Apply the softened butter all over the dough, and sprinkle the sugar and cinnamon all over.

Sprinkle the coarse almond powder over this.

For the rolls - tightly roll the dough jelly/ Swiss roll style and cut it into 20 equal pieces with a sharp knife. Place these, cut side down on a lightly greased baking sheet leaving space between them, or in white cupcake cases.

For the buns - fold the dough over in half and cut into 20 long strips with a sharp knife, twist and shape them as desired. Place these, cut side down on a lightly greased baking sheet leaving space between them, or in white cupcake cases.

Let them rise for about 10 to 15 minutes till they look a little puffy but not swollen up. Brush the Snails/ Buns with milk (or egg wash) and sprinkle with pearl sugar, large sugar crystals or brown sugar.

I tried to follow this

video

to help me get the beautiful shapes.