Injera Fun Facts :-
Most of the Ethiopian restaurants in America do not make a 100% Teff flour Injera!  Most of the times, barley, sorghum or wheat flour are added to the Injera sourdough.
Traditional Injera is made from the flour of a grain called Teff.
Teff is Naturally gluten free and It is also an Ancient Grain.
Injera is cooked on a griddle fitted with a dome shaped lid called the Mitad. You can make it on a cast iron skillet and cover with a lid.
It serves as the utensil to eat. You basically tear a portion out and use that to scoop wot, farmer's cheese, Shiro, Azifa, Gomen, Tibs , Alicha etc. All those are placed on top a injera and you eat with your hands.
It is not unusual to feed the person next to you with your hands. In fact it is encouraged.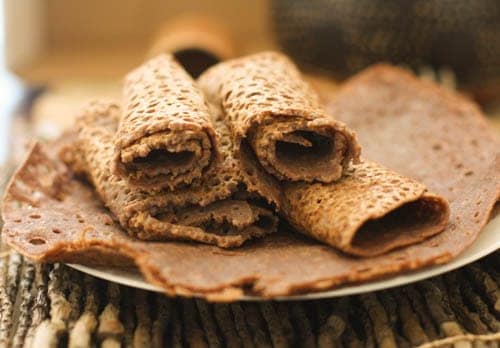 I fermented my Teff flour with a mix of whey and yeast. I gave it 2 days for it to ferment thinking if I do Anything more and we would have an unpleasant sour tasting bread.  I should have let it stay in for another day. Although I am not super happy with the texture of the bread , the flavors were good.  I am leaving a recipe for the process I followed, but I will soon update how longer fermentation helped or did not help with the texture.
This month's BreadBakers' theme is Ancient Grains, hosted by Robin at A Shaggy Dough Story. Ancient grains are generally accepted to mean grains that have remained largely unchanged/un-hybridized over the last several hundred years, which means NO MODERN WHEAT. Here's what our creative bakers came up with.
#BreadBakers is a group of bread loving bakers who get together once a month to bake bread with a common ingredient or theme. You can see all our of lovely bread by following our Pinterest board right here. Links are also updated after each event on the #BreadBakers home page.
We take turns hosting each month and choosing the theme/ingredient. If you are a food blogger and would like to join us, just send Stacy an email with your blog URL to foodlustpeoplelove@gmail.com.
Injera Bread – 100% Teff Flour #Breadbakers
Ingredients
2

cups

teff flour

1

C

teff flour

For adding later

2

cups

water

1

C

whey from yogurt

1/2

tsp

yeast

1/2

tsp

salt

A little oil/ ghee to coat the pan
Instructions
Stir together 2 Cups of teff flour and whey and water in a non reactive bowl/ glass jar. Add in the yeast and mix to combine.

Cover with a lid and leave in a dark closet for at least 24 hours.

Check the mixture for a risen, cracked, or bubbly surface which will tell you that your batter is ready.

When you are ready to make Injera, add the salt and and the remaining 1 C teff flour. Add water to make a pourable batter - like the pancakes and let it rest for another 20 to 30 minutes.

Heat a griddle/ pan to medium heat and lightly coat with oil. Pour about 1/2 to 3/4 C of the batter into the pan until the entire surface is evenly covered, about ¼" thick. Cover with a lid and cook for 2- 3 minutes. Cook only on one side without flipping it over.

Slide the injera out of the pan with a spatula and repeat the process using the rest of the batter.
Recipe Notes
The bread takes anywhere from 24 hours to 3 days to ferment. That time is not included in the prep time.