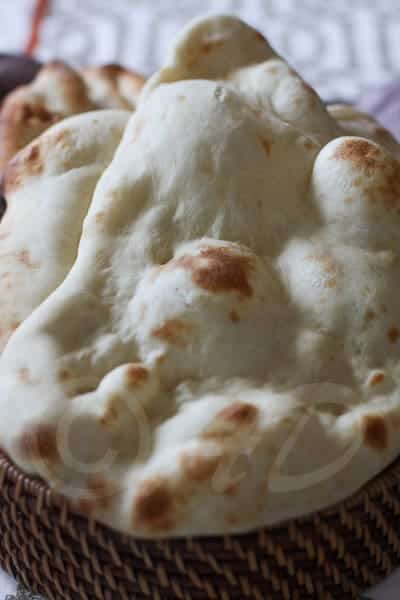 Tandoor is the first thing that comes to mind when people talk about Naan. No it is not 'Naan bread'. It is Naan, a kind of flat bread. The yeasted, doughy, soft, earthy bread that is so good to scoop up curries with.
Yes, traditionally they are made in Tandoor, but there is no reason why the common people like me can not make them in a simple oven. I agree, for years when I did not own a proper oven I made these on a regular gas stovetop. The stovetop Naan is good, but it does not have the wow factor in taste or appearance as the one made in Tandoor does. The oven baked one, however comes quite close.
Making naan does not start much differently than other breads – flour, water, yeast start the process. Then there are additions like yogurt and milk to give it the flavor and soft texture of the classic naan. Add in a little baking powder to help with the leavening . A pinch of sugar and a dash of salt. If you want your naan super soft, add an egg. That's all. Bake. Eat. Enjoy.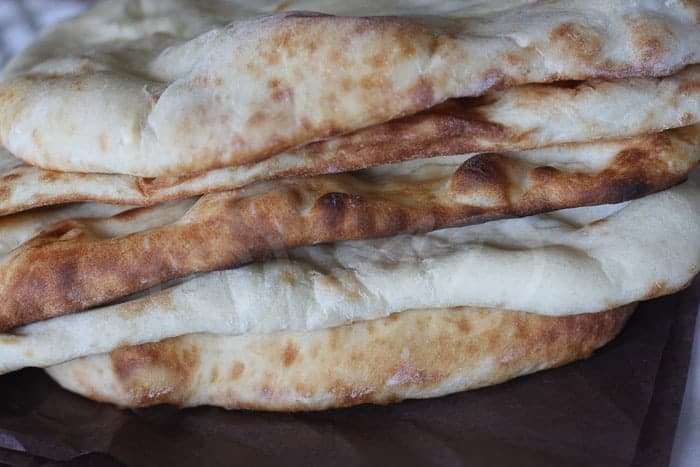 Today's homemade naan recipe is for a plain one. You can add in minced garlic, herbs, spices, raisins etc as a last step just before baking to get different flavors. You can also add in essences like rose, kewra etc for a fragrant naan.
Here are a few tips for the best tasting home made Naan :-
1) Hydration of the dough – keep it on the wet and sticky side for the doughy, soft & chewy naan.
2) Use a Pizza stone / Pizza steel or a cast iron skillet
3) Bake at minimum 550F
Homemade Naan
Make soft, flavorful naan in you home oven
Ingredients
150

ml

warm milk

2

tsp

active dry Yeast

500

gms

flour

1/2

tsp

salt

1

tsp

Baking powder

1

tbs

sugar

150

ml

plain yogurt

2

tbsp

oil (plus some for oiling the bowl)

1

large egg

1/4

C

warm water
Instructions
Add the yeast to the warm water. Stir to mix. Set aside for 5 minutes or until the yeast has dissolved and the mixture is frothy.

Sift the flour, salt and baking powder into the bowl of a stand mixer. Add the sugar, the yeast mixture, the 2 tbs oil, the milk, the yogurt and egg. Mix with the paddle attachment until everything combines and a somewhat sticky dough is formed.

Allow to rest covered for 5 minutes and then knead with the dough hook until it looks shiny. It will still be somewhat sticky, but don't be tempted to add more flour.

Form into a ball and take it out of the bowl. Now brush the base of the bowl with some oil and place the dough in it. Cover the bowl with a piece of cling film and set aside in a warm, draught-free place for an hour or until the dough doubles.

25 minutes before you are ready to bake, Pre-heat your oven to 550*F. Place a pizza stone in it to heat as well.

Punch down the dough and divide into 6 equal balls.

Working with one dough ball at a time,roll out into a tear drop shape. Wide on one side, narrow on the other.

Lift up and place it on the pizza stone. Bake for about 2 – 3 minutes.

Keep an eye on it after the first 1.5 minutes and take out when the gets a few brown spots. Remove from oven and brush with butter before serving.