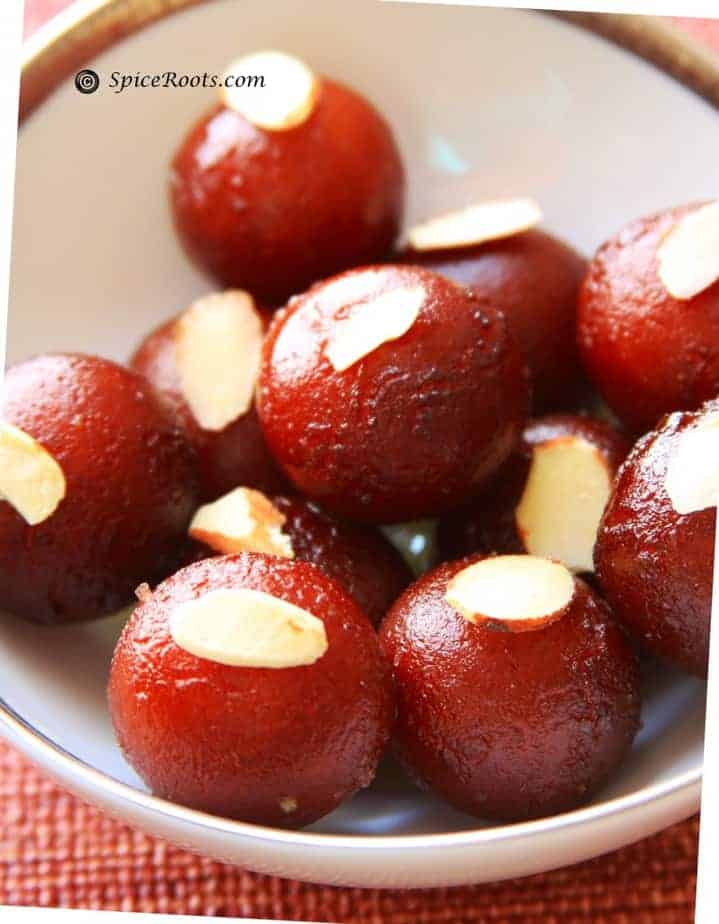 "Gulab Jamun is an innocent looking sin" , squealed some of my friends.  Well, they asked for it. They wanted to know what do Indians eat for desserts and I couldn't help but put my wickedest smile on and tell them, "I shall bring a dessert to the next meet". So I made a batch of  Gulab Jamuns and watched them eat  until they had their fill (read – they finished it all ) and then told them what all went into making them as heavenly as they were! The squeals followed.. and no surprise there.
My SO is from Gujarat, the region known for its sweet, tart & spicy combination of food. And a sweet dish after a meal is something he 'needs'.   I don't have a sweet tooth,  and oh yes!  it's not even in my DNA (Kashmiris do not traditionally have a "dessert" on the menu ). Since he 'needs' dessert, he often makes them – Here is one such recipe from him : His very famous fusion Gulab Jamuns.
Plan :
15 oz pack Ricotta cheese [ I use Frigo ,whole milk Ricotta]
Milk Powder [about 200 gms)
Ghee/ Oil for frying – 1Cup
1- 2 tbs all purpose flour
Sugar syrup/Chashni
4 cups sugar
4 cups water
a few strands of saffron crushed
1/4 tsp powdered cardamom
Procedure : (sugar syrup)
In a heavy pan, put together sugar, water, cardamom powder and the saffron
Bring to a boil on high heat. Once it starts boiling, switch to medium heat and let simmer until the syrup thickens – about 15 minutes
At this point do a consistency check -What you want is a single  

thin

string consistency
Stir the syrup with a spoon and then lift the spoon up – lift a tiny amount of the syrup with your  forefinger and press the forefinger to your thumb. Now gradually separate the thumb and the forefinger – if the sugar syrup is of 'one string' consistency, you should be able to see a single string between your thumb and forefinger. You do not want a thick string for the Gulab Jamun.
Once you achieve this consistency, your sugar syrup is ready… Add in three to four Tbs of water to this, bring to a quick boil and keep this warm until further use.
Procedure  : (Gulab Jamun)
Take out the Ricotta cheese out of the container and into a strainer. Ensure you drain any excess liquid out.
Start by placing the milk powder in a bowl and add in One Tbs flour and mix.  Now Add the cheese a Tbs at a time.
You may also add the second TBS of plain white flour. Most of the times I don't need to, but those of you living in humid climes may need to do this.
Stop  adding more ricotta cheese when the dough is soft and springy to touch and not too dry /wet.
Knead it all into a ball and let it rest for about 20 – 30 minutes, covered with a plastic wrap.
Then divide into 40 equal sized balls for medium sized Gulab jamun. You can vary the size as per your choice.
Ensure each of the dough ball you make is similar in shape. I like to make them  sphere shaped.
Heat a kadai or a wok with the ghee in it over a medium flame. The shape of the kadai is an enabler for frying in small quantities of ghee. Remember the bigger the wok, the more oil/ghee you need. If you don't have the kadai or wok , you can use a heavy pan for frying. Ensure that when you put in the dough balls into the oil/ghee they are completely submerged.
Now once the ghee heats up – here is how you test the temperature : pinch out a small portion of the dough and add it to the ghee . If it rises up too fast- the ghee  is too hot. If it stays in – the ghee is not yet hot. The ideal temperature is where this piece of dough will slowly rise to the top.
Once you are sure that the ghee is at the right temperature, slowly add the dough balls.
Do not add more than a few at a time as it will lower the temperature of the ghee. Fry at medium heat until dark brown in color.
Strain and drop them into the sugar syrup.
Repeat for the rest of the dough balls.
Let the Gulab Jamuns soak for at least a couple of hours before you attempt to taste. The soaking process is critical to let the sugar syrup seep into the Jamuns.
Now you can bite into those globes of sin and close your eyes to enjoy a moment of pure bliss. For the Diva dessert touch serve hot Gulab Jamuns with Vanilla Icecream.
Alternately, use a pack of 'Chitle bandu' Gulab jamun mix and repeat the whole process. Instead of milk powder and flour, you will be using the prepacked milk powder and flour combo. This is particularly helpful if you have never made Gulab Jamun before.