Believed to be of Persian origin and having travelled to India through travelers, merchants and Mughals, the Biryani is a much loved dish across India. Lizzie Collingham in her book , Curry: A Tale of Cooks and Conquerors, says that the Persian dish pilau was transformed into biryani in India. There is no definite text to authenticate when Biryani came into existence, but it is largely attributed to the Mughal Empire.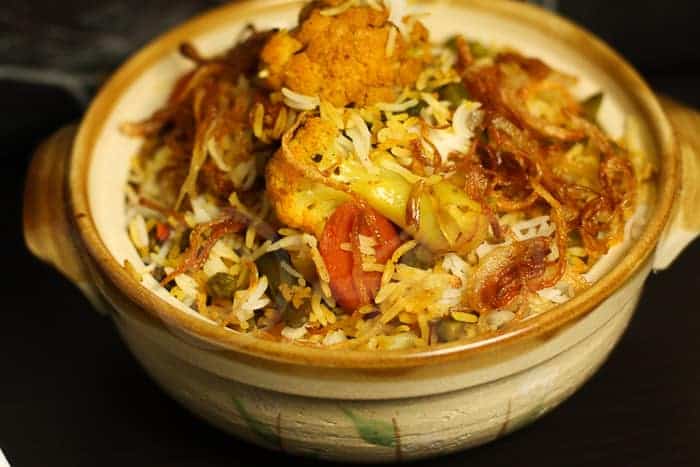 The present day Biryani essentially is rice and meat/vegetables/sea food/fish cooked in layers with aromatic spices using a process called Dum. The rice is partially cooked separately and the meat/ veg is cooked separately after a marination in the spices. Then the two are layered in a pot and cooked further using dum. The result is a fragrant dish where you can taste the gamut of spices and flavors in each morsel.
Though it usually involves a lengthy process, the surprising thing about Biryani is that it is highly adaptable. This easy vegetable biryani is one such example.  I first fell in love with a vegetable biryani in Hyderabad and prefer it to the poultry varieties. I do(did) however have a deep connection with the mutton biryanis. They are (were) my favorite kind.
Easy Vegetable Biryani
Ingredients
for fried onions
1

cup

thinly sliced onions

oil for frying
For Biryani
500

gms rice

500

gms vegetables

Mix of cauliflower florets, peas, sliced carrots, cut green beans

1/2

C

milk

8- 10

strands of saffron

1/4

C

mint

1/4

C

yogurt

1/2

tsp

turmeric

1/2

tsp

cayenne

1

tsp

garam masala

use your favorite brand

2

cloves

1

blade of mace

2

green cardamoms

1/4

stick of cinnamon

6-8

black peppercorns

1/2

star anise

1

tsp

grated ginger

salt to taste

1

tbs

ghee

1

tsp

cumin

1

Indian bay leaf

tejpatta
Instructions
Marinate the veggies
Mix the ginger and yogurt. Add the turmeric and cayenne and garam masala.
Fry the onions
You really have to fry the onions for that smoky taste of the onions. And if you simply saute them, they won't be crispy. So throw caution to the wind and fry away.

Fry the onions in oil until lightly browned and crisp. Remove onto a wire mesh, let drain.
Soak the rice
Wash the rice until water runs clean. Then fill a bowl with water, add in rice. let it sit.
Mix the Saffron
warm the milk and add the saffron in
cook the veggies
heat the ghee, add in the cumin and tejpatta, then add the veggies, save the peas till the end.

Cook covered for 10 minutes on medium heat and then add in the rest of the spices after slightly pounding them. (that mortar and pestle you never used? bring it out now)

Add in the salt and peas and cover and cook until veggies are slightly tender. Be sure to not cook them through at this point.
cook rice
Take a big stock pot and bring water to a boil. You can begin this before you start cooking the veggies.

Once the water boils, add in the rice. Stir once and let it come to a boil

Cook the rice al dente. .. about 5 - 7 minutes , then drain.
Assemble the Biryani
To the pot in which you have the vegetables, layer the rice on top. (ensure this pot has a tight fitting lid)

Add the milk and saffron combo to this layered rice and then top it with mint and some fried onions.

Close the lid, and cook on low heat for 30 minutes.

Serve with a raita of chopped onions and tomatoes mixed in with yogurt and seasoned with salt and mint. Add the rest of the fried onions while serving to individual plates.