How important is it to you that you know what is in the food you are eating, where it comes from and who grew it? I have had this conversation time and again with people. "what I don't know is not going hurt me" and "ignorance is bliss" were the tip of the iceberg sort of responses I received from a lot of people. When I first began to ask this question almost a decade ago, not many people I had conversations with thought it was important.
To some I seemed like a pretentious food snob, to others I was someone who was trying to do the impossible.
I agree. When you are trying to feed a family, are on a tight budget or don't have time to cook from scratch, the notion of farm to table / organic / from scratch cooking is daunting. After all, the way the present system is – eating fresh clean food is more expensive than getting take out. And you don't even have to do the dishes.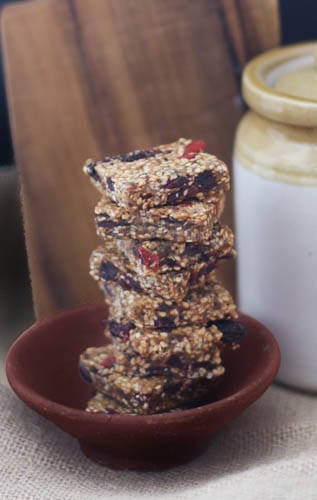 But, in the last decade a lot has changed in terms of awareness. More people are trying to eat home made, cleaner food. We may not always eat local – after-all having access to exotic ingredients from around the world is a big incentive to cook at home. What is happening though is that more and more people are reading labels, cutting out excess sugar from food, saying no to buying things that don't remotely have any real ingredients in them.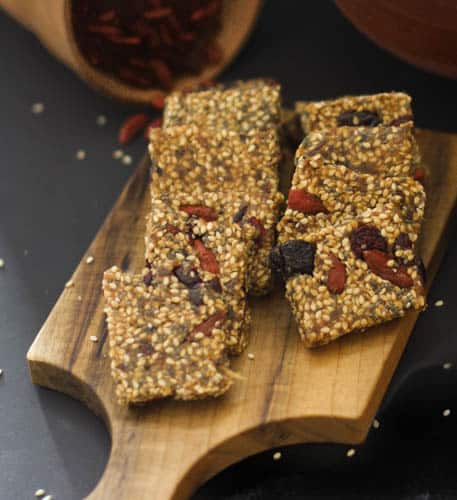 That brings us to today's recipe. It was created over a whatsapp chat. One of my friend, who avoids eating most processed foods, said that she had sesame seeds she wanted to use. And wanted to know a good, healthy, nutritious way to use them. I knew she liked energy bars so I thought about making an energy bar. So here we are with the recipe for date sesame bars. And if you are addicted to  Til Chikki – a delightful concoction of jaggery and sesame seeds, you will absolutely love these bars.  Try these Khajur til chikki instead of til chikki for a change in nutrients that dates have to offer!
Date and Sesame Bars
Ingredients
16

Fresh Dates - deseeded and chopped

1/8

C

goji berries

1/8

C

dried cranberries

look for no sugar cranberries

1/8

C

chia seeds

3/4

C

Sesame seeds
For assembly
A few drops of coconut oil

An 8 in plate
Instructions
Blend the dates into a paste. Do not use any water or oil.

A powerful blender / food processor will be ideal for this step.

Put the date paste in a mixing bowl and add in goji berries, dried cranberries & chia seeds.

On medium heat, put a small pan to heat up.

Add the sesame seeds to this pan and gently toast the sesame seeds, stirring once a while for evenly toasting them.

The sesame seeds will start to make a popping sound. Stir and give them another 10 - 20 seconds after you first hear the popping, then remove from heat.

Add the still hot sesame seeds to the date mix.

Mix this all together, until well combined You will need a strong spoon and arm.
Assemble
prepare the plate by applying the coconut oil on the inside - just like you would prep a cake tin.

Tip the date and seed mix into the prepared pan and using your hands or a flat spatula, spread the mix evenly onto the plate.

Press the mixture down so that it is compact.

Score lightly with a sharp knife into squares or rectangular bars.

Let it cool down before you refrigerate to store.