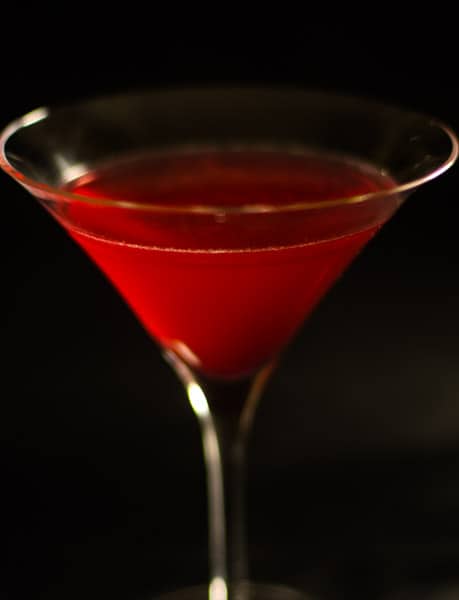 Incredibly sexy! That's how I see the Cosmo as. Does that image have anything to do with this drink being featured in episodes of "sex and the city"? May be! I am not confessing to watching the said show. Nope! I am not.
What I AM confessing today is how much I love a well made Cosmo. As far as drinks go, there couldn't be a simpler cocktail to mix. Cranberry juice, Cointreau, vodka and lime juice. Even I can do that. It's gorgeous to look at and tastes familiar, so it is a crowd pleaser too.
As with most cocktails the Cosmo went through a couple of phases to get to what we now consider a Cosmopolitan cocktail. The original however is credited to Cheryl Cook who bartended in South Beach, Miami.
As the story goes, in 1985 Cheryl received a brand new product from her Absolut rep called Absolut Citron she took on the challenge to create a new and pretty drink that looked cool to hold and could be served in cocktail glasses. Cheryl went to work and whipped up a mixture of "Absolut Citron, a splash of triple sec, a drop of roses lime juice and just enough cranberry to make it pretty in pink." The cocktail was named after the magazine Cosmopolitan which had the styles and design she was trying to project with her new drink.
This drink was wildly popular in Miami and then the drink made its way in this form to both San Francisco and New York. Then it was Toby Cecchini who made the current version using Absolut Citron, Cointreau, fresh lime juice, and cranberry juice. This is now the Cosmopolitan we like and drink today.
Source :- Mixologist: The Journal of the American Cocktail
The first Friday of every month, a group of bloggers blog about Ina's recipes and we call it the INA FRIDAYS . Here are the bloggers joining me this month for Cocktails/ Appetizers.
If you'd like to participate on a monthly basis, email Allyce at  afmorgan53@yahoo.com. If you'd like to join in occasionally, just follow the prompt for the "linky" or blog hop and add your post — Ina Garten recipes only.
Cosmopolitan – Ina Fridays
Ingredients
Ingredients

1

cup

vodka

1/2

cup

Cointreau

1/2

cup

cranberry juice

1/4

cup

freshly squeezed lime juice
Instructions
Combine the vodka, Cointreau, cranberry juice, and lime juice in a shaker over ice. Pour the mixture into frozen martini glasses, through a strainer. Add in a twist of lime peel and serve immediately.