Sundays. They were the best. Sundays meant no school, no waking up early to buy bread, and a lavish breakfast made by mom. Not all Sundays featured breakfast made by mom. We (my siblings and I), lived with our grandparents as Dad's job took him to remote places which did not usually have good schools. But some Sundays, when mom and dad were visiting, were deliciously divine.
They would start with the whiff of aromatic Kehwa being brewed.  We would land in the kitchen for a cuppa. And hover around to see what was being cooked for the special breakfast. And on days when mom cooked the Chole Aloo – Chickpeas & Potatoes; I used to be overly pleased.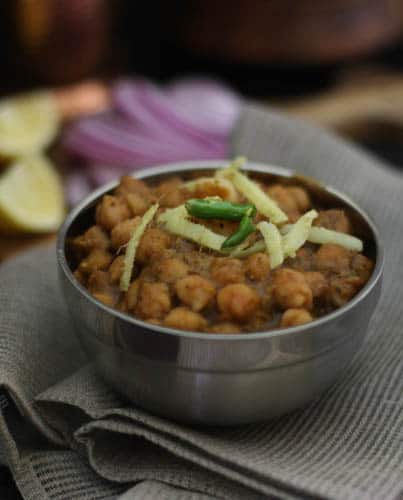 I continued the tradition of cooking a special breakfast/ brunch on Sunday mornings. And I tried to add the Chole Aloo – Chickpeas & Potatoes to the menu on rotation. But as my repertoire of recipes continued to grow, I stopped adding it to the weekly menu. Sundays became more of a gourmet adventure with "what new thing is cooking".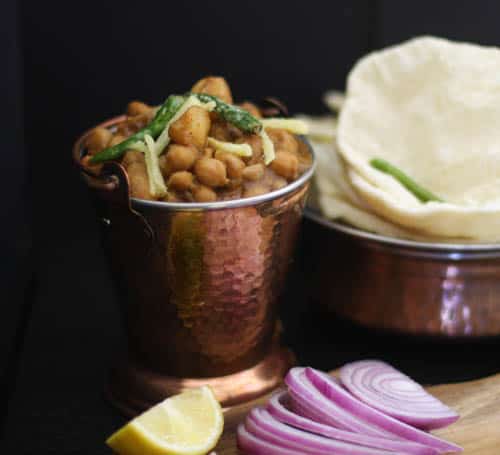 It was when our Progressive Eats Host, Lana announced the theme " Comfort food – memory lane" for January, I got reminded of the special times I had with my parents and memories with this particular dish.  And even though it is not on the menu every week, it is still a comfort food around here and we eat it with much joy as I did when I was a young girl.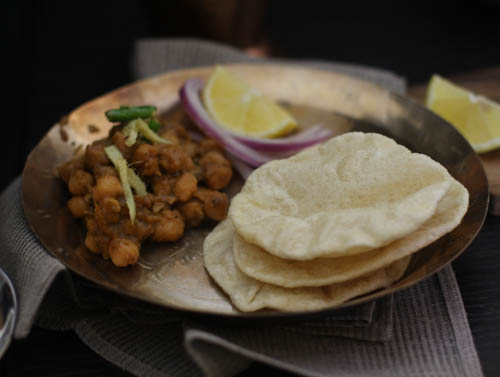 Memory Lane Comfort Food for this month's Progressive Eats dinner Party
Welcome to Progressive Eats, our virtual version of a Progressive Dinner Party. This month's theme is Memory Lane and is hosted by Lana Stuart who blogs at Never Enough Thyme. For our Memory Lane dinner, we all created recipes based on comfort foods which evoke feelings of nostalgia and warmth
If you're unfamiliar with the concept, a progressive dinner involves going from house to house, enjoying a different course at each location. With Progressive Eats, a theme is chosen each month, members share recipes suitable for a delicious meal or party, and you can hop from blog to blog to check them out.
We have a core group of 12 bloggers, but we will always need substitutes and if there is enough interest would consider additional groups. To see our upcoming themes and how you can participate, please check out the schedule at Creative Culinary or contact Barb for more information.
Chole Aloo – Chickpeas & Potatoes
Ingredients
2

C

white chickpeas/ Garbanzo beans

soaked in hot water for at least 3 hours or overnight

1/4

C

chopped fresh ginger root

3

Tbs

coriander seeds

2

Tbs

cumin seeds

6

cloves

2

tbs

Anardana

pomegranate seeds

Salt to taste

1/4

tsp

brown cardamom Powder

also known as black cardamoms .. use just the seeds to make the powder

2

whole brown cardamoms

½

tsp

cinnamon powder

½

stick cinnamon

1

bay leaf

Tej pata - Indian Bay leaf

1/4

tsp

Shahi zeera

black cumin

1

tbs

chilli powder

or as per taste [ try not to use the Kashmiri/degi variety. we don't need a deep red color in this dish]

2

tsp

freshly ground pepper

¼

tsp

garam masala powder

1/2

C

thinly sliced red onions

1.5

C

diced potatoes

1

cup

tomatoes chopped

4- 5

Tbs

Ghee or oil

2

tsp

ginger garlic paste

¼

cup

finely chopped cilantro

2

tsp

kasoori methi
Instructions
Drain the chickpeas and put into the pressure cooker with 5 cups of water.

Add 2 of the brown cardamoms, 3 cloves, the cinnamon stick and one bay leaf, ¼ tsp Garam Masala and 1/4 C chopped fresh ginger. This step helps getting the flavor of the spices right into the chickpeas and also lends a brown shade.

Based on your equipment, set the timing to cook the chickpeas.

I made these in the Instant Pot, so I set it up in manual, high pressure, 12 minutes. with a natural release for 15 minutes.

When the chickpeas are ready, Heat a non stick pan on medium-low heat and add the anardana, followed by cumin and coriander.

Keep stirring the spices until aromatic, slightly toasted. Do not let them turn burn. Remove from the pan.

Allow to cool slightly, grind in a coffee grinder, to make a fine powder (Or use your favorite electric spice grinder)

Heat a heavy bottomed deep pan on medium high heat and add the ghee/oil.

Add the cloves, Add the diced potatoes, cover and cook until potatoes are slightly tender. Reduce heat to medium. Add in the onions.

Add the shahi zeera and continue cooking the onions until caramelized .

Add the ginger garlic paste, cook for a minute.

Add the chopped tomatoes and Cook for a few more minutes.

Once the tomatoes are cooked, Add the chilli powder, salt, ground cinnamon, pepper powder, cardamom powder and stir well for 30 seconds.

Add the ground spices [ the ones you roasted and powdered) and add a little of Liquid from the boiled chickpeas to help the spices cook

Once the spices mix in, add a cup of the liquid from the boiled chickpeas to the pan.

Now add this mix back into the chickpeas.

Add in the cilantro and kasoori methi.

Cook on medium heat for 15 minutes or use the saute function in the instant pot stirring once a while.

Serve with naan or luchi