It's the strange but good sort of a day with the Bundt Bakers. And that's why you are being forced to partake in a recipe that uses tomato soup as one of it's ingredients. If you think adding tomato soup in my chocolate bundt is way too weird, wait till you see what the other strange (ahem) Bunt Bakers have come up with!
As weird as it sounds, it is not all that uncommon – the tomato soup cake! It has been known to have made it's presence in the depression era. And there are scores of recipes, old and new that make use of tomato soup in a chocolate cake. So I thought it fit the theme of strange but good-weird flavor combinations for Bundt Bakers and also gave me an opportunity to try making this cake in a bundt pan and see how it fared.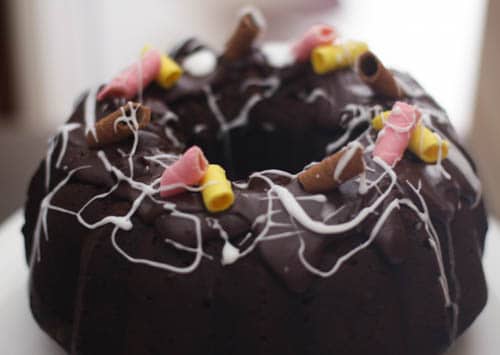 I really wanted to try the recipe from Rose Levy Beranbaum's,  Heavenly cakes. But using a can of tomato soup was not going to happen. Yes, some may argue that there isn't anything nutritious about a cake and that it IS made of processed flour and sugar. But the canned soups had way more unrecognizable ingredients than I could justify. So, I did end up using Rose's recipe but I modified it a bit for altitude and used a little jar of tomato paste.  I am really not sure how different is it from the original recipe, but one thing I can tell you – it was the silkiest chocolate EVER! The crumb actually MELTS in the mouth! I am going to make tomato paste a standard in chocolate cakes from now on. It's THAT GOOD.
Our Lovely host this month is Jen, Better known by her nom de plume, June. June blogs at How to Philosophize with Cake
Here are our strange but good-weird flavor combinations for this month! Go on! I know you are curious to find out just how weird we all are and I am happy to say we won't disappoint!
#BundtBakers is a group of Bundt loving bakers who get together once a month to bake Bundts with a common ingredient or theme. You can see all our of lovely Bundts by following our Pinterest board. We take turns hosting each month and choosing the theme/ingredient.
Updated links for all of our past events and more information about BundtBakers, can be found on our home page.
Chocolate and Tomato Soup Bundt Cake #BundtBakers
Total Time
1
hour
20
minutes
Ingredients
For the cake
4

large eggs

1

tsp

vanilla extract

1

tsp

baking powder

1/2

tsp

baking soda

3 1/2

stick unsalted butter

2

cups

baker's sugar

3

cups

cake flour

1

cup

unsweetened cocoa powder

1/2

tsp

salt
Instructions
Make the soup
Add the tomato paste into a measuring jug and add water a little at a time, mixing well until you make one whole cup of tomato liquid like thing. We will call this the tomato soup.
Cake
Preheat oven to 350 F ; prepare a bundt pan.

Whisk the eggs, tomato soup and vanilla extract until well combined. Add in the baking soda and baking powder and mix a bit and keep it aside.

In a stand mixer, beat the butter and sugar together until light and airy. Add in the flour and salt and mix until combined. Add in the cocoa powder and stir until everything mixes in.

Add the tomato soup mixture a little at a time until well combined.

Pour into the prepared bundt pan.

Bake on middle rack for 50 - 60 minutes.
Recipe Notes
I used a basic ganache to top the cake with. It goes well with the cake. You can also just dust it with powdered sugar or use any other icing.