"When you have come to the edge of all the light you have
And step into the darkness of the unknown
Believe that one of the two will happen to you
Either you'll find something solid to stand on
Or you'll be taught how to fly!"
– Richard Bach
This post for Ina Friday's is long over due. I have been meaning to post this on the blog for quite a while but life happened in the meantime and this just got shelved. It's been happening a lot to me lately. Despite my best intentions I just don't know where the time goes. At the end of the day I take stock of things that I had put on my to do list and things that got done and it does show that a lot got done, but it also shows that a lot still needs to be done.
I wonder if age is catching up and I am just unable to do as many things as I used to do before. But that can not be an excuse. If nothing else, experience should teach me to multi task better. Eh? I will introspect on that one and see if I find out what's going on.
In the meantime, what I did find out that making a chicken pot pie at home is deeply satisfying. Soul satisfying! And what made it more special was the fact that the teen loved it and asked for more. It was extremely satisfying to see her enjoy a comfy, homely dish with almost a reverence. She ate it in small bites, giving it all the time it deserved to be savored, morsel by morsel.
So may be I am after all doing something right. Raising a real food lover in this day and age is an achievement. Someone who can eat without having to have a TV or phone to look at, someone who cherishes family meal times and someone who thinks you are the best cook in the whole world. That feels like time well spent! Don't you agree?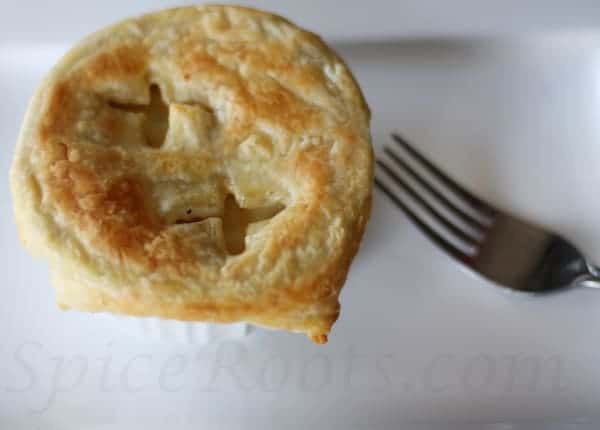 To see what rest of the Ina fans are cooking in June , do visit these great blogs –
More Time at the Table  , Moveable Feasts , My Picadillo,  My Catholic Kitchen , There and Back Again
Bizzy Bakes, Therockymountainwoman,  Simple Nourished Living , Lady8Home , Just A Girl from aamchi Mumbai, Ria's Collection
The following recipe is majorly inspired and adapted from : – Ina Garten
Chicken Pot Pie – Ina Fridays
Ingredients
3

chicken breasts

2

tablespoons

olive oil

Kosher salt

Freshly ground black pepper

5

cups

chicken stock

2

chicken bouillon cubes

1

stick unsalted butter

2

cups

chopped yellow onions

3/4

cup

all-purpose flour

1/4

cup

heavy cream

2

cups

medium-diced carrots

blanched for 2 minutes

2

cups

frozen peas

1/4

C

fresh parsley

chopped fine
Instructions
Preheat the oven to 350 degrees F.

Place the chicken breasts on a baking sheet and rub them with olive oil. Sprinkle with salt and pepper. Roast for 35 to 40 minutes, or until cooked through. Set aside.

Once cool, Cut the chicken into large dice. You will have 4 to 6 cups of cubed chicken.

Heat the chicken stock and dissolve the bouillon cubes in the stock.

In a separate pot, melt the butter and saute the onions over medium-low heat for 10 to 15 minutes, until translucent.

Add the flour and cook over low heat, stirring constantly, for 2 minutes.

Add the hot chicken stock to the sauce. Simmer over low heat for 1 more minute, stirring, until thick. Add 2 teaspoons salt, 1/2 teaspoon pepper, and heavy cream. Add the cubed chicken, carrots, peas, onions and parsley. Mix well.

Thaw the pastry sheets 30 minutes before you need to use them.

Preheat the oven to 375 degrees F.

Divide the filling equally among 4 ovenproof bowls. Divide the pastry sheet and roll each piece into an 8-inch circle. Brush the outside edges of each bowl with the egg wash, then place the dough on top. Trim the circle to 1/2-inch larger than the top of the bowl. Crimp the dough to fold over the side, pressing it to make it stick. Brush the dough with egg wash and make some slits on top.

Place on a baking sheet and bake for 1 hour, or until the top is golden brown and the filling is bubbling hot.

'); // ]]>