I had planned to base the cassata ice-cream cake on the Indian Cassata Ice-cream that I loved while growing up. But there were a couple of issues. First off, It's been a while since I established that I was gluten intolerant. No, I am not on the eating gluten free bandwagon. I love bread too much to give it up for no reason at all.  I am not allergic, so in small quantities it doesn't bother me. But it does bother me if I eat a slice of bread. So why is it a problem for an ice-cream post?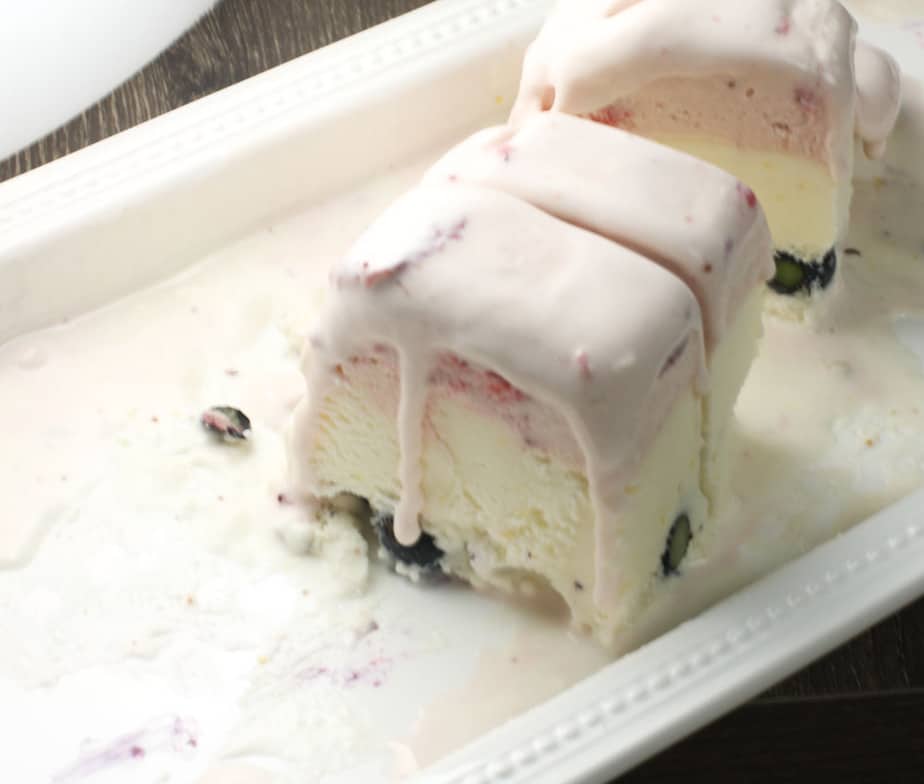 Well because the Cassata ice-cream is supposed to have a base layer of sponge cake, topped with nutty pistachio ice cream and a rum and raisin one with vanilla and a strawberry ice-cream. I have, for many months now, baked breads and cakes because I want to and then packed them off to send to friends or co workers. My family eats some, but they want to be supportive and end up not eating any because I can't. So off it goes. While sharing every now and then is not an issue, it seemed like a pointless exercise to cook or bake something that no one in the family was really going to eat.
I could have gone the "almond flour" or any other gluten free baking method way, but to be honest I did not know for sure how that would hold once I set it up for freezing. So I decided to make it without the cake!
Then, I had trouble finding unsalted pistachios! I looked for them in stores high and low and finally decided to order online. But forgot to put in an order. Life happens. Things get forgotten. Nuts stay in the shopping cart and don't make it to the check out! Blogger freaks out on the day of scheduled "cooking/ice-cream making".
Oh well! Life happens! Plans change! And sometimes for better. I made a Cassata ice-cream cake which is all red white and blue! Since it is made with fresh fruits and no artificial colors the colors might not be true, but I think it's the feeling that counts.  Celebrate this 4th of July with a sweet creamy cassata ice-cream cake and our Progressive Eats Dinner party.
Welcome to Progressive Eats, our virtual version of a Progressive Dinner Party. This month's theme is an Ice Cream Social and is hosted by Barbara Schieving who blogs at Barbara Bakes. With summer in full swing, now is the time to get outside and enjoy some ice cream with friends and family!
If you're unfamiliar with the concept, a progressive dinner involves going from house to house, enjoying a different course at each location. With Progressive Eats, a theme is chosen each month, members share recipes suitable for a delicious meal or party, and you can hop from blog to blog to check them out.
We have a core group of 12 bloggers, but we will always need substitutes and if there is enough interest would consider additional groups. To see our upcoming themes and how you can participate, please check out the schedule at Creative Culinary or contact Barb for more information.
Do check the delicious ice creams that everyone is sharing this month! I am ready to go dig in!
Ice Cream Social
Cassata Ice-Cream Cake
Ingredients
2

C

ricotta cheese

preferably homemade

4

oz

mascarpone

1

C

whole milk

1 1/4

C

sugar

1

tsp

vanilla extract

a good pinch of salt

1

C

heavy whipping cream

1/2

C

fresh strawberries

slightly crushed

1/2

fresh Blueberries

slightly crushed

1

tsp

lemon zest

Equipment : - Loaf pan

Blender and ice cream maker
Instructions
Blend ricotta and mascarpone, milk, sugar, vanilla extract and salt until really smooth. Add in cream and pulse to combine. Then freeze in your icecream maker as per manufacturer's instructions.

When the icecream is ready, take it out into three containers, diving the icecream in equal portions.

In one portion add the strawberries, in the next one add blueberries and the lemon zest in the last one.

Mix until combined and cover and put the lemon and strawberry ones in the freezer.

Cover the base and sides of a loaf pan with a cling/plastic wrap.

Evenly spread out the blueberry icecream in the pan, ensuring even distribution.

Freeze for 30 minutes, then spread the lemon ice cream on top of the blueberry one, creating a second layer.

After another 30 minutes , layer the strawberry one on top , evenly distributing the icecream.

Cover with a cling wrap and freeze until ready to eat or at least 4 hours

Take out the ice cream at least 10 minutes before eating and simply invert the pan onto a plate. Remove the plastic wrap, cut into slices and enjoy.
Recipe Notes
If the other two icecreams are too frozen to spread, leave them out for a few minutes before spreading into layers.