If you live in a city that goes by the name Mile High city ( Denver for you English speaking people), you know that baking at high altitude comes with a lot of challenges. And for someone like me, who had not baked before I landed in the US, it just meant that for quite a while I did not even know what on earth was going wrong with my cookies. Like any enthusiastic novice baker, I would bake batches of cakes and cupcakes and muffins and brownies and cookies. While my cakes got better and better – so much so that one friend commissioned me to bake one for her wedding, my cookie baking skills were not improving. The fact that I baked them only once a year during Holidays might have a lot to contribute to it.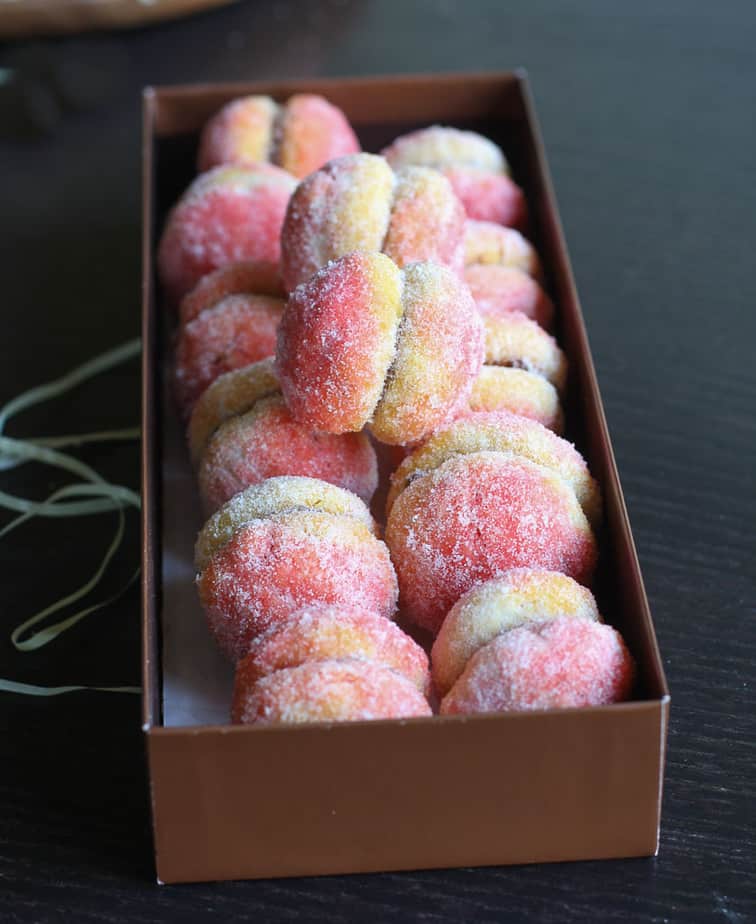 My friend Holly, who writes the beautiful blog, A Baker's House is the inspiration behind me joining the cookie Exchange. It was because of her beautiful cookies that I decided to jump into the Creative Cookie Exchange. I may not make the best cookies yet, but I will be trying to make them every month. And If I fail, I will be amongst friends of the cookie exchange who will tell me a thing or two about cookies. It is a win win!
The theme this month is Creative Uses for the Summer Bounty! Why should cookies be left out from the summer harvest? They shouldn't! If you are a blogger and want to join in the fun, contact Laura at thespicedlife AT gmail DOT com and she will get you added to our Facebook group, where we discuss our cookies and share links.
You can also just use us as a great resource for cookie recipes–be sure to check out our Pinterest Board and our monthly posts (you can find all of them here at The Spiced Life). You will be able to find them the first Tuesday after the 15th of each month! Also, if you are looking for inspiration to get in the kitchen and start baking, check out what all of the hosting bloggers have made:
Since this month's theme required that we make use of summer's bounty, peaches instantly came to my mind. August is the perfect time to enjoy fresh and juicy Palisade peaches. And as soon as they start showing up here in Denver, I start with making a peach jam. Since my peach jam was ready, my first thought was to do thumbprint cookies  with peach jam.  But that would have meant that I took the road often traveled. So I decided to try out the  Breskvice – Jam Filled, Peach Shaped Cookies. Spiked with a little booze and home made peach jam, these were a lot of fun to make and a lot of fun to eat.
I sourced the recipe from Cafe Chocolada and made a few changes to make the recipe work for high altitude. If you don't live at high altitude, do try the recipe from Cafe Chocolada.
Breskvice – Jam Filled, Peach Shaped Cookies
Ingredients
For the cookie dough
400

grams

of flour

150

gms butter

100

grams

sugar

2

medium eggs

a pinch of salt

3/4

tsp

baking powder
For the filling
cookie crumbs from the carving

1/3

cup

peach jam

1

tbs

rum

1

tsp

coco powder

2

tbs

of chopped nuts

optional - I did not use any
For coloring
Two small bowls filled with 1/4 cup water

1

tsp

sugar

1

tsp

Vanilla extract

1

tsp

rum

Yellow and red food colors
Final process
fine grain sugar for rolling the cookies in - about 1/2 cup
Instructions
Make the dough
Cream the butter and sugar together. Add in the eggs, sift in the flour, salt and baking powder. Mix until combined. If the dough feels dry, add in a bit of water or milk.

Cover and keep refrigerated for at least 30 minutes.

Preheat the oven to 375*F

Make equal size round dough balls and line them on a parchment lined baking sheet. Try and get an even number because we will be joining pairs. I got about 40 singles and finally 20 cookies from my recipe.

Bake for 12 - 15 minutes. The cookies won't brown at the top so check the bottom of the cookies for a light brown tinge.

Allow them to cool slightly.

Core out the center of the cookies from the bottom, Take care to not break them, I used an apple corer to core out the center from each cookie. Save the crumbs for filling.

We will use the crumbs mixed in with the jam to fill the cookies.
Make the filling
Using a fork, crumble the cookie crumbs and mix it with all ingredients of the filling. This should be a little thick so the cookie halves can stick together.
Assemble the cookies
Fill in the cavities of the cookies and put two cookies together joining them into a sandwich.
Color the cookies
Mix a few drops red in one bowl and a few drops of yellow in the other.

Divide the sugar, vanilla and rum and add them equally to both the bowls of colored water. Stir to mix well

With a paint brush, first color the base of the cookies in yellow. This will be the bottom edge where they are joined.

Then take the red paint mix and color all over.

While the cookies are still moist, roll them in sugar.

Allow the cookies to rest for a few hours at room temperature (covered) and then enjoy.