Family traditions counter alienation and confusion. They help us define who we are; they provide something steady, reliable and safe in a confusing world. Susan Libberman ,New Traditions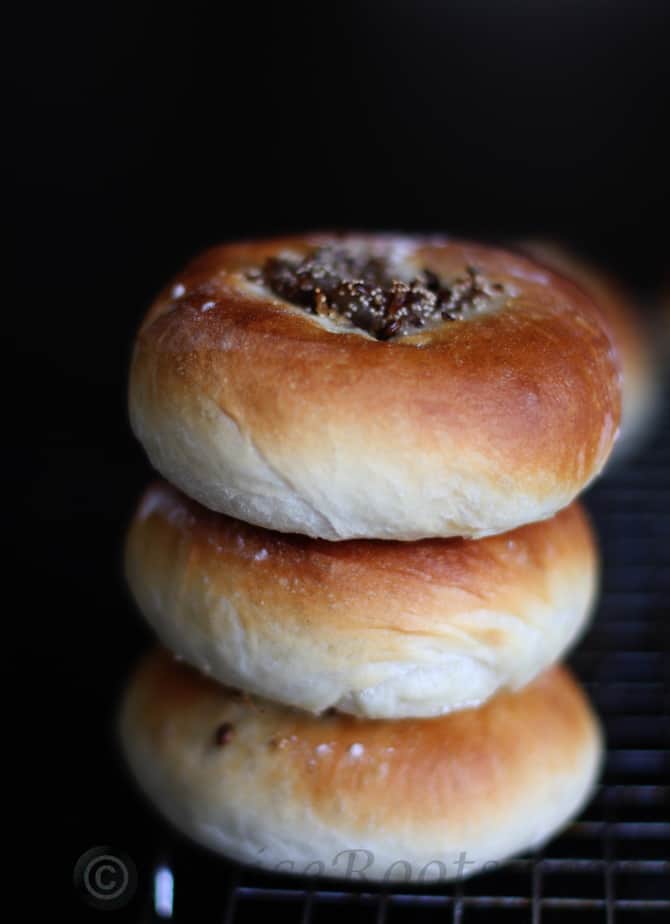 Until I got down to baking this month's bread,  Bialy to me,  was the mighty Bagel's fancy cousin – stuffed with toppings and looking all pretty. It's only when I started to read more on the bread & the history of Bialystok Kucken, that I started to admire and respect the human spirit and family traditions with a much greater zeal than I already did.
To be able to recreate a home away from home, people most often than not rely on the food they ate back home & follow family traditions. It keeps us connected to who we are and where we are from. The Polish people, keeping their family traditions alive, is how we possibly got to get a taste of the Bialy. The name of the bread comes from Bialystocker Kuchen which means "bread from Bialystok" which is in Poland and it is said that the town of Bialystok does not have any bialy bakers any more.
This  is Bread #5 of Aparna's We Knead to Bake Project.  This recipe is adapted from King Arthur Flour and has a very Indian twist. Bialy is also being Yeastspotted
Bialy – Bialystok Kucken # Project We Knead to Bake – 5
Ingredients
For the dough:
1

teaspoon

instant yeast

1

tbsp

sugar

1 1/4

cup

water

3

cups

all-purpose flour

use bread flour if you can find it or all-purpose flour + 1 tbsp vital wheat gluten

1

tsp

salt

Milk for brushing the dough
For the Onion Filling:
1

tbsp

oil

1

cup

onions finely chopped

1 1/2

tsp

coriander seeds

2

tsp

poppy seeds

Salt to taste
For Paneer filling
A few cubes of paneer

A handful of mint and cilantro chopped

Salt to taste

1

tsp

oil

1

green chilli chopped

1/2

tsp

cumin seeds
Instructions
Put the yeast, sugar, salt and flour in the stand mixer bowl bowl. Mix on slow for a minute or so and then add the warm water in a steady stream. Knead until the dough comes together as a mass and then let the dough rest for 10 minutes. This will help the dough absorb water. Knead again, adding a little more water or flour (not too much) if you need it, until your dough is smooth and elastic but not sticky.

Gather this into a ball and put it in a well-oiled bowl, turning the dough till it is well coated. Cover and let it rise till about double. This should take about 2 hours. If you're not making the Bialys right away, you can refrigerate the dough overnight at this point. When ready to make them, keep the dough at room temperature for about half an hour and then proceed with the rest of the recipe.
Make the onion filling.
Heat oil in a pan, and add the coriander seeds.

When they crackle, add the onions, and sauté over low to medium heat.

Sprinkle a little salt and continue sautéing until they become translucent.

Set aside to cool. The onions will finish caramelization while baking with the Bialy.
Make the paneer filling
Heat oil and add the cumin seeds.

Wait for them to crackle and add in the rest of the ingredients

Stir and fry for a couple of minutes until well mixed.

Set aside to cool
Shape and Bake
Sprinkle your work surface lightly with flour and place the dough on it. Divide it into 8 equal pieces and shape each one into a roll by flattening it and then pinching the ends together to form a smooth ball.

Place the rolls on a lightly greased baking sheet and cover them with a towel. Let them rise for about one hour (about 1 1/2 to 2 hours for refrigerated dough) till pressing with a finger on the top leaves a dent.

Work on one piece at a time, while you keep the others covered so they don't dry out. When the rolls are ready, pick them up one at a time and using your fingers, form the depression in the middle. Hold the roll like a steering wheel with your thumbs in the middle and your fingers around the edges. Pinch the dough between your thumb and fingers, rotating as you go and gradually making the depression wider without actually poking a hole through.

Remember not to press on the edges, or they will flatten out. Once shaped, you should have a depression about 3" in diameter with 1" of puffy dough around the edge, so your Bialy should be about 4" in diameter. Prick the center of the Bialy with a fork so the center doesn't rise when baking.

Place the shaped dough on a parchment lined (or greased) baking tray leaving about 2 inches space between them. Place the onion filling in the depressions of each Bialy. Brush the outer dough circle with milk. If using the paneer, add it to the Bialys in the last 5 minutes of baking.

Bake the Bialys at 230C (450F) for about 15 minutes till they're golden brown in color. Cool them on a rack. Serve warm/ toasted with some yummy butter.