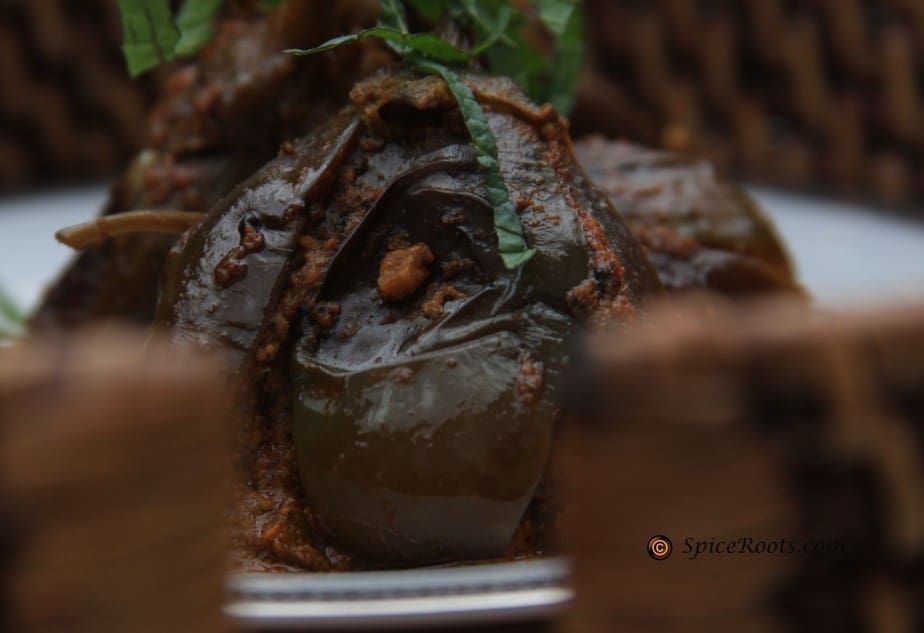 How does something so beautiful, glossy and downright gorgeous have the heavenly humility of complementing and balancing everything around it? Remember Ratatouille? What would Remy make if he had no aubergines to put in the dish? Aubergines as they are called in France, Brinjals as they are called in India and Eggplants as they are known in the US are terrific as complementary vegetable to a lot of ingredients. In the Indian cuisine we add them to almost everything. But once a while we let them shine on – All by themselves. They are after all drop-dead gorgeous in looks and terrific in taste.
The celebrated dish of Bharli Vangi requires elaborate preparations. It entails the precise blending of spices & various attentions to details just to make the very famous Goda Masala of Maharashtra. This masala, you then use with other spices and ingredients to make the Bharli Vaangi.  Now you can host a dinner party and cook Indian food and serve the same old paneer or potatoes to your vegetarian friends or you can go on a culinary expedition  and dazzle them with the fabulous Bharli Vaangi. The sweating it out in the kitchen is so worth the satisfied smile on their precious faces!
If you are going to do a lot of cooking with the goda masala, it is worth making a batch, else use a good prepackaged brand.  I have eaten many versions of this dish – some with only coconut, some with peanut and sesame and some with all. I prefer the one in which the nuts and sesame are all mixed in one. It adds to the complexity of the flavors.
Here is my version of this spectacular dish:
Serves 4- 6 as a side dish
Plan
8  Eggplants (small purple ones)
1/4thC fresh coconut (shredded)
3 Tbs Roasted peanuts
2 Tbs Sesame seeds
1 Tbs Coriander
1Tbs Cumin
2 Tbs Goda Masala
1 Tsp Tamarind pulp
1 – 2 Tbs  grated Jaggery
1-2 Tsp Chili powder ( based on how hot you like your food)
1 Tsp chopped garlic
½ tsp turmeric powder
a pinch of asafoetida
salt to taste
3- 4 Tbs oil
1/2 tsp black mustard seeds
Procedure:
If you have raw peanuts, you need to dry roast them before you can proceed to the cooking part.
On medium heat, put the peanuts in a dry non stick pan and roast them until you see brown spots on the skin. Roasting them on medium low heat is important, because you don't want them burnt yet raw.
Do the same thing with the sesame seeds.
Take your favorite grinder and put in the peanuts, sesame seeds, chili powder, salt, garlic, cumin seeds, coriander, tamarind,coconut and turmeric powder in it.
Grind to a fine paste, but do not add any water. The moisture from the garlic, tamarind and fresh coconut should help you out. Add in the Goda masala and the jaggery.
Leaving the stems on the eggplants, Make cross slits from top. It's like you wanted to slit the eggplant into four, but you will leave it connected at the base.
Fill  the paste into slit eggplants, dividing the stuffing equally. You basically fill the gaps in the eggplants you just made. Here is how.
Heat the oil in a heavy bottomed pan and add the mustard seeds once the oil is hot and wait for them to crackle.
Lower heat and add the asafoetida.
Now put the eggplants in a single layer, cover and cook for about 8 minutes.
You do want to cook this on low medium heat.
After 8 minutes, uncover and turn the eggplants over.
Cover and cook again for 7- 8 minutes.
You may need to add some water – like a Tbs or so  if the eggplants seem to be sticking to the pans.
The dish is done when the eggplants are soft from within and cooked completely on all sides.
Enjoy with roti or bhakri !
(Visited 29 times, 1 visits today)